Another Republican Senator Rejects Norquist's Tax Pledge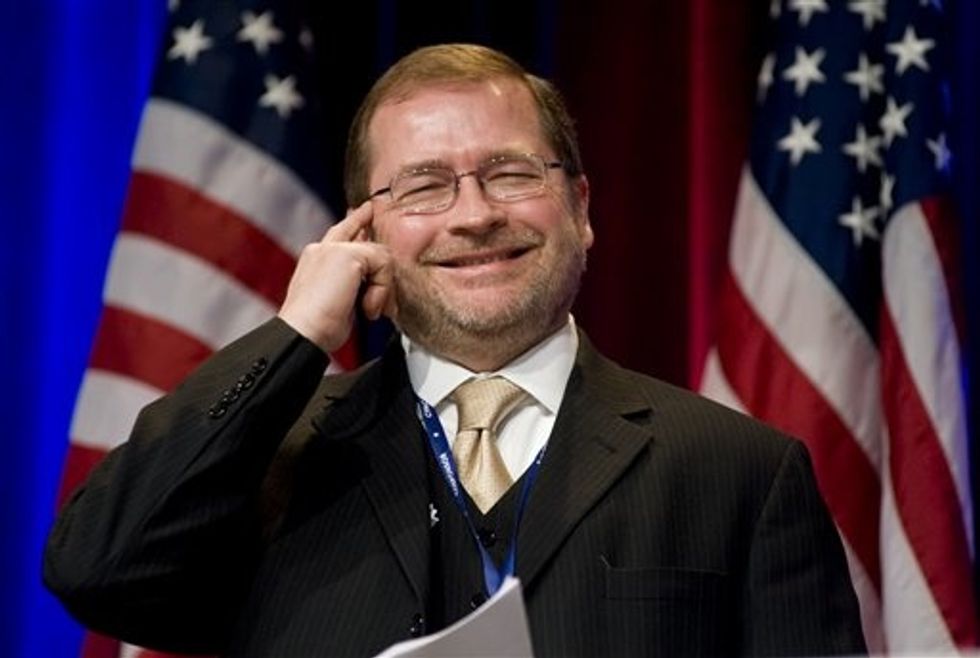 Senator Saxby Chambliss (R-GA) has declared that he's willing to vote for higher taxes, defying Grover Norquist's Taxpayer Protection Pledge and risking a primary challenge.
"I care more about my country than I do about a 20-year-old pledge," Chambliss told local Georgia news station WMAZ.
Norquist has enforced his pledge by vowing to defeat any Republican who votes for higher taxes. Chambliss is up for re-election in 2014.
"But I don't worry about that because I care too much about my country. I care a lot more about it than I do Grover Norquist," said Chambliss.
In the last congress, a total of 238 members of the House of Representatives signed the pledge, 236 Republicans and 2 Democrats. At least 41 sitting senators also have signed it, giving them enough votes to effectively filibuster any tax increase.
Adherence to the pledge has come to define the modern Republican Party. When George H.W. Bush violated his promise to not raise taxes, it was a factor in his defeat in 1992. Republicans then cut taxes drastically in 2001 and 2003. In 2009, Americans paid the lowest tax rates in 30 years, which helped create a record deficit. Chambliss has been working in the so-called Gang of Six with another Republican Norquist-critic, Senator Tom Coburn, on a deal that would dramatically cut the deficit through spending cuts, entitlement reforms and some tax increases.
Former Florida governor and possibly 2016 presidential candidate Jeb Bush has said that he'd be willing to raise taxes in order to substantially cut the deficit. Senator John McCain (R-AZ) recently said, "fewer and fewer people are signing this, quote, pledge." Influential Fox News commentator Bill Kristol shocked Fox viewers with the unorthodox view that raising taxes on millionaires "won't kill the country."
The question of taxes illuminates the challenge the GOP faces.
In one way, the party is as powerful as ever, with complete control over 24 state governments and a House of Representatives that's perfectly gerrymandering districts to give them control at least through 2020. However, on the state and national levels, the image of being unwilling to compromise and downright hostile to women and minorities led to a blown chance to win the Senate and a minimum eight-year exile from the White House.
In most polls, 6 out of 10 voters favor raising taxes on the rich.
The president and House Minority Leader Nancy Pelosi have both said that any deal to avoid going off the so-called fiscal cliff will have to involve higher rates for incomes over $250,000. This would directly violate the Taxpayer Pledge.
Photo credit: AP Photo/Cliff Owen, File