Another Snowstorm Wallops Northeast; Thousands Of Flights Canceled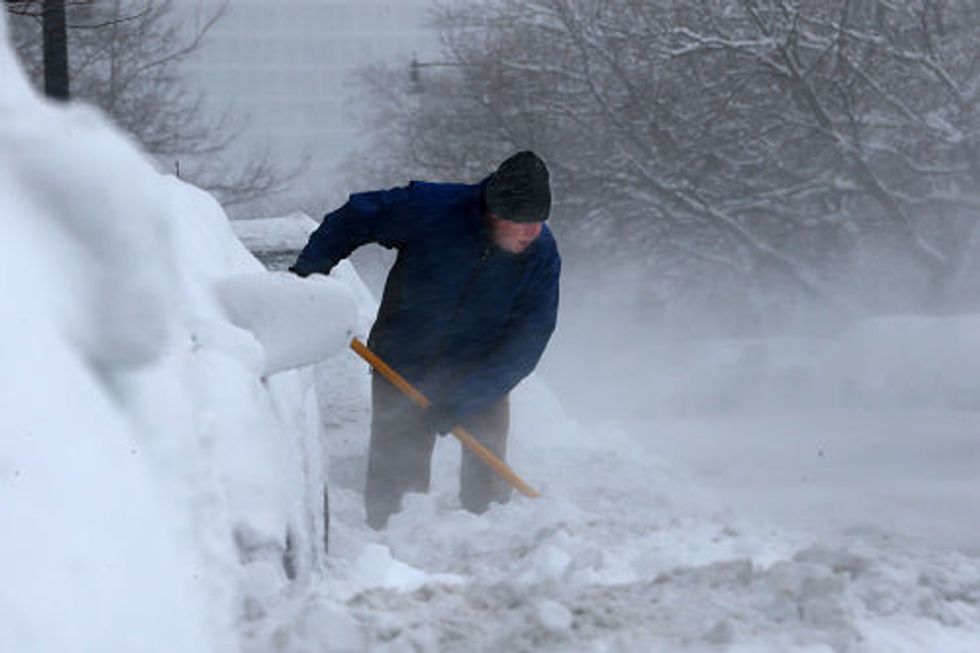 By Michael Muskal, Los Angeles Times (TNS)
It didn't take a groundhog to predict six more weeks of winter as the second major storm in a week created near whiteout conditions in much of New England on Monday after dumping more than a foot and a half of snow in the Chicago region and spreading a blanket of thick snow through the Midwest.
The storm was expected to bring up to 16 inches of fresh snow to the Boston area, when the precipitation stops on Monday, Groundhog Day, less than 24 hours after the New England Patriots won the Super Bowl. Boston officials on Monday announced that the victory parade would be held on Tuesday, proving that the post office is not the only institution to brave snow, sleet and rain.
The latest storm cut a wide swath through the Midwest, bringing 19.3 inches to Chicago, the city's fifth-largest storm ever. About 2,400 customers remained without power Monday morning, down from the 51,000 who lost electricity when the storm began.
More than 5,300 flights have been canceled from Sunday through Monday because of the storm, according to flight tracking service FlightAware. Schools in states across the upper tier of the nation were closed. Four deaths related to traffic or shoveling were reported in Ohio, Nebraska and Wisconsin.
Detroit reported its largest snowfall in four decades. The National Weather Service said 16.7 inches fell at Detroit Metropolitan Airport in Romulus on Sunday and Monday, the third-largest storm ever and the largest since a 19.3-inch storm in December 1974.
Also in Michigan, the Battle Creek area got 12 to 18 inches and Ann Arbor, 14.1 inches.
From the Midwest, the storm churned its way East, bringing six to 10 inches to the Buffalo region and eight to 14 inches in the Albany area.
In downstate New York, Long Island, especially hit hard last week, was bracing for an additional three to five inches.
New York City Mayor Bill de Blasio warned residents of snow and ice, but the output was expected to be less than last week when nine to 15 inches fell on different parts of the city.
A blizzard brought up to three feet of snow to some parts of Massachusetts last week. On Monday, the state planned to work a normal day despite predictions of up to 16 more inches of snow. Schools in many areas including Boston were closed.
"We are very concerned about this current storm and its implications. Working with city departments and our private partners, we will take every precaution necessary to keep our residents safe," said Mayor Martin J. Walsh. "I ask that every Boston resident look out for their neighbor, whether it be in the home next door, or on our city's streets."
"I'd encourage everyone to stay off the roads today," Walsh said.
Meanwhile, in Pennsylvania, Punxsutawney Phil reportedly saw his shadow, indicating six more weeks of winter, according to legend.
The Weather Service routinely notes that the Groundhog Day test has no predictive value, though it spawned a hit movie and rodent imitators around the country.
Photo: David Cislinski, whose car is buried in snow parked on Stockton Drive, tries to shovel it out despite high winds and blowing snow on Feb. 1, 2015 in Chicago. (Nancy Stone/Chicago Tribune/TNS)