Another Top Male Media Figure Busted For Harassment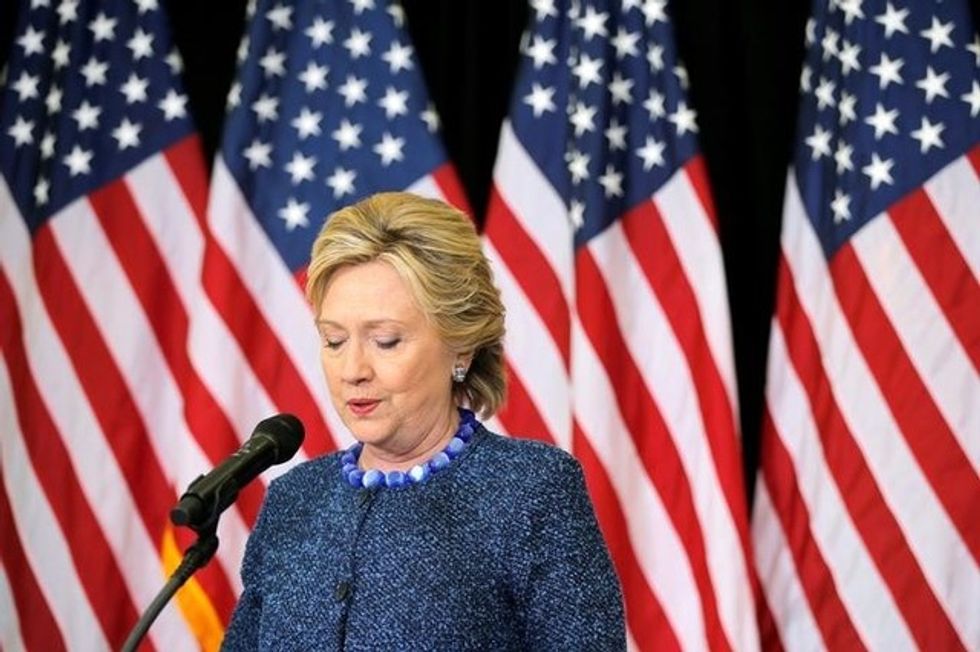 Reprinted with permission from Shareblue.com
Steve Chaggaris, the political director for CBS News, was fired by the network after "accounts of inappropriate behavior" surfaced. In a statement, CBS News announced it had "severed ties with Mr. Chaggaris for violating company policy, effective immediately."
Since 2012, Chaggaris served as the outlet's senior political editor, then was promoted to political director in March 2017.
Chaggaris — like many other male journalists who have recently been outed, disciplined, and fired for sexually predatory behavior — was in a position to shape the extremely negative and often blatantly sexist coverage of Hillary Clinton's historical presidential campaign.
As Rebecca Traister wrote in The New York Times, "Many of the male journalists who stand accused of sexual harassment were on the forefront of covering the presidential race between Hillary Clinton and Donald Trump."
She added:
A pervasive theme of all of these men's coverage of Mrs. Clinton was that she was dishonest and unlikable. These recent harassment allegations suggest that perhaps the problem wasn't that Mrs. Clinton was untruthful or inherently hard to connect with, but that these particular men hold deep biases against women who seek power instead of sticking to acquiescent sex-object status.
Complaints about the sexist nature of Clinton coverage were often dismissed or minimized, despite the mainstream media's well-documented pattern of such behavior.
Now with these firings and revelations, those concerns turned out to have been very real. Several of the men who were determining how to cover Clinton and which issues should receive the most focus — her emails, her trustworthiness, her likability — were at the very same time mistreating and abusing women.
In addition to Chaggaris, men at some of the nation's most influential outlets — including NBC, CBS, The New York Times, and PBS — were setting up Clinton while misbehaving behind closed doors.
NBC fired Matt Lauer after an employee of the network filed a complaint about his "inappropriate sexual behavior in the workplace." That complaint was coupled with reports from "several women" about Lauer's behavior while working for the network.
During the 2016 campaign, the morning show host was inexplicably given the opportunity to moderate the "Commander-in-Chief Forum" between Clinton and Trump. He repeatedly interrupted Clinton and pressured her about her email server, asking why it wasn't "disqualifying."
By contrast, Lauer gave Trump a complete pass when he lied and said that he had opposed the invasion of Iraq.
NBC fired Mark Halperin after multiple women who worked with him at ABC said that he sexually harassed them. Showtime also dropped him from the political TV show he hosted there, and publication of a book he co-authored on the 2016 election was canceled.
For years, Halperin has regularly attacked Clinton, and declared that she was "terrified" of the left. But during the campaign, when credible allegations of sexual assault by Donald Trump surfaced, Halperin was quick to defend him , arguing that there was "nothing illegal" about groping women.
The New York Times suspended Glenn Thrush after he faced allegations of inappropriate sexual behavior. After its internal investigation, Times executive editor Dean Baquet said "Glenn has acted offensively" and removed him from the team that covers the White House.
Since his time writing for Politico, Thrush has furthered negative narratives about Clinton. In a piece titled "What Is Hillary Clinton Afraid Of?" and co-written with Maggie Haberman, Thrush said Clinton had "surrounded herself with media conspiracy theorists." Just months ago, Thrush tweeted that criticized Clinton for "setting up an email server in Chappaqua when you know the right-wing-conspiracy is out to get you."
Charlie Rose was fired by CBS after multiple women accused him of sexual misconduct, and PBS canceled its deal to distribute his interview show.
In an interview with Clinton during the campaign, Rose asked her if "the email crisis contributed to the question of trust" about her. He repeatedly brought up the email story, asking her, "Do you think it contributed and became a controversy because it fed trust issues?"
Ryan Lizza was fired by the New Yorker after it found that he had engaged in "improper sexual conduct." Lizza previously wrote that Clinton's "decade of experience comes with a cost," which was "the accumulated grievances of many political opponents and a large percentage of voters who hold unfavorable views about her."
He also tweeted , "A good way for Dems to have avoided so much coverage of those emails would have been to nominate someone who wasn't under FBI investigation."
PBS suspended Tavis Smiley over allegations of sexual misconduct, noting, "multiple, credible allegations" against the host.
In June of 2016, Smiley said Clinton was "taking money" from Wall Street "like nobody's business." He also said he didn't think Sen. Elizabeth Warren would be selected as Clinton's running mate because "I don't think Hillary Clinton wants to roll the dice any more than she's already rolling trying to become the first woman to be president."
In addition to these instances within mainstream outlets, there was also the pattern of serial sexual harassment and abuse of women at Fox News by network founder Roger Ailes and star host, Bill O'Reilly . Echoing the network's ingrained sexism , Hillary Clinton was often a target of their ire — even as they left a trail of abused women behind them.
When it came to coverage of Hillary Clinton, sexism and double standards were baked in — some of it by men who we now know have their own record of mistreating women in their personal lives. Despite denials of unfair treatment of Clinton by the mainstream media, revelations in the last few months have shown that the problem was even worse than millions of people — especially women — believed, and that the fix was in.