Anthony Weiner Won't Be Silenced As New Film Puts Politician Back In Spotlight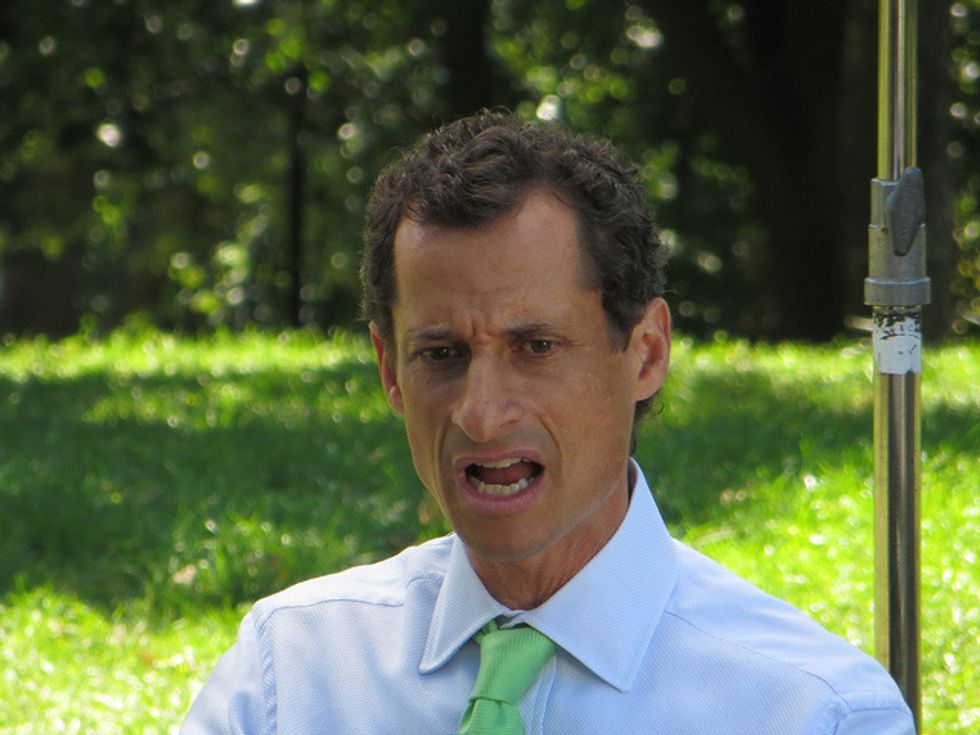 By David Kocieniewski and Henry Goldman, Bloomberg News (TNS)
NEW YORK — For a man who built a career on his ability to be combative on television and yell on the floor of the U.S. House of Representatives, Anthony Weiner now lives a surprisingly placid life.
He consults for clients on federal regulations through his advisory firm, Woolf Weiner Associates. He's trying to get funding for a charity project to train low-income residents of Far Rockaway, in Queens, N.Y., to get into the restaurant business. The main focus of his life is his 4-year-old son, Jordan, whom he takes to school and ice skating. He's assumed responsibility for preparing dinner, unpacking and cooking the Blue Apron meals ordered by his wife, Hillary Clinton adviser Huma Abedin. Once a week, Weiner plays goaltender in a late-night hockey beer league.
"I'm totally cool with this pace," he says. "I'm not doing much, and that's fine."
Yet even in this low-key mode, Weiner can't avoid attracting attention. On Jan. 24, Weiner, a documentary chronicling the demise of the former Democratic congressman's 2013 New York mayoral bid amid a sexting scandal — his second — will premiere at the Sundance Film Festival. Directed by Josh Kriegman, formerly Weiner's district chief of staff, the movie has been acquired by IFC and Showtime, which are planning a theatrical release in the spring and a TV air date shortly before the presidential election. Clinton's campaign didn't respond to requests for comment.
The film was the product of a deal Weiner cut with Kriegman: unfettered access to the former congressman's mayoral campaign, including Abedin, in exchange for footage the candidate could use in campaign ads. The timing of its release, almost three years after it was filmed, threatens to draw unflattering attention to his wife as the presidential nominating contest takes off.
"Having a profile like Anthony's, it's a double-edged sword," says Risa Heller, who, like Weiner, worked as a staffer for U.S. Sen. Charles Schumer of New York. "You have to be able to handle his past, but he also had an incredible run in Congress. He's a guy with boundless energy, big ideas, and a lot of smarts."
Weiner's latest brush with unwelcome publicity came in September, when he was dropped by MWW Group, a public-relations firm in New Jersey that had hired him to expand its New York presence. Weiner was pushed out in part because of his continuing activity on Twitter, the vehicle for his first sexting scandal in 2011. (That began after he posted a link to a photograph of his erect penis, concealed in a pair of boxer briefs, to his public feed rather than sending it via private direct message.)
After getting the MWW job, Weiner, who also appears as a political commentator on the New York local news channel NY1, posted tweets critical of former Gov. George Pataki, a Republican. A Republican MWW partner close to Pataki objected, Weiner says. The New York Post ran a story about the discord he was causing his new employer. MWW Chief Executive Officer Michael Kempner declined to comment on the circumstances of Weiner's departure from the firm.
Asked why he doesn't just quit social media, Weiner cites his rights as a citizen. "I have no choice but to not let it debilitate me," he says, speaking of the scandal. "It also doesn't make me care any less, or make me think that if I have something clever to say on Twitter I shouldn't say it, or if I have an idea I shouldn't espouse it, or if I have a company that needs my help I shouldn't help, or if someone calls me for advice on how to run for office I shouldn't sit down with him. I don't know what my alternative is."
©2016 Bloomberg News. Distributed by Tribune Content Agency, LLC.
Photo: Interview With Anthony Weiner in Isham Park – 9/7/2013. Barry Solow via Flickr