The Anti-Cantor: Dave Brat On Bringing Rationality To Washington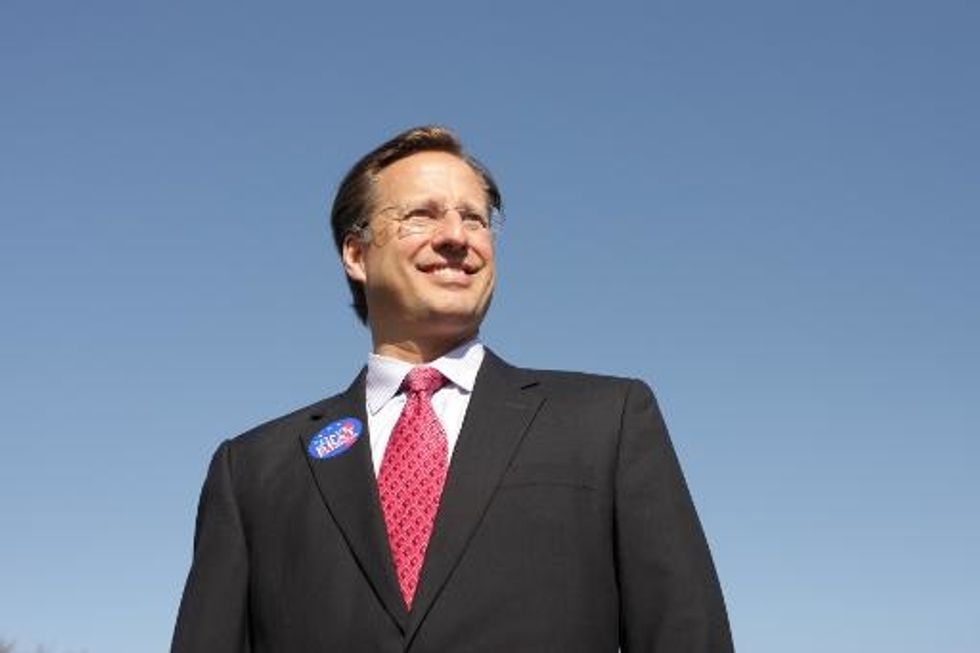 By Matt Fuller, CQ Roll Call (TNS)
WASHINGTON — It's 7:49 a.m. on Friday, Nov. 21 — the first day of Congress' Thanksgiving recess — and Dave Brat is 11 minutes early.
The man who unseated former Majority Leader Eric Cantor is meeting me at a Starbucks in Navy Yard before driving down to the Richmond suburbs for his first constituent town hall as a congressman. It's part of a pledge he made to visit all nine counties in his district every month, and Brat has every intention of keeping his word.
He genuinely doesn't seem to know exactly why or how he beat Cantor — "There's no perfect interpretation on this, right?" — and he seems less interested in changing Washington than he is in making sure Washington doesn't change him.
He orders a chocolate croissant, a Venti mocha latte for his campaign manager-turned-senior-adviser who's also in attendance, and a Venti half-and-half mocha latte for himself. "Extra hot," he tells the barista. Apparently, Dave Brat knows something about lattes we didn't. He may be new to Congress, but he's not new to Starbucks.
He pays $9.68 for the order, sits down in the quietest corner we can find, and begins telling — between bites of pastry — his life story.
"After the primary, when I got all the attention, people said, 'Who's Dave Brat?' All these stories," he says. "And so then I went around to all these business leaders and said, 'Hey, I got a thing called a biography!' You know, please check it out. The press, you know, they want to pigeonhole ya."
Brat, 50, explains that he grew up in Alma, Mich.; went to high school in Minneapolis; graduated from Hope College; and then worked for the Arthur Andersen accounting firm in Detroit and Chicago before going to Princeton Seminary. "I was going to teach systematic theology, be a professor," he says.
He speaks in the gravel-voiced tones of western Michigan, and in his frameless glasses, with his hair slicked back, he walks the line of looking like the proverbial Washington wonk and Congress' version of Gordon Gekko.
But despite the outsider image cultivated in his campaign, Brat is no stranger to D.C. During his time at Princeton, he did a semester in Washington at Wesley Seminary and realized just how much economic policy drove "everything up here."
He shifted his focus, received a doctorate in economics from American University, and then worked a few years in Washington — first at the World Bank and then for the Army before he took a teaching job 90 miles south at Randolph-Macon College.
He spent 19 years at the school, eventually becoming the college's Economics Department chairman before deciding to use his experience in local politics to challenge Cantor. (Brat had previously served on a number of state advisory boards and had unsuccessfully run for a Virginia House seat.)
His congressional campaign is now the stuff of political legend. Cantor outspent him nearly 40 to 1, and yet Brat emerged on June 10 as the winner of the GOP primary by 12 points. It was the first time a sitting majority leader had lost in a primary since the position was created in 1899.
He went on to beat Democrat Jack Trammell in the general election by 24 points.
Now that he's sworn in, Brat walks around the Capitol like a mini-celebrity. Members of Congress flock to him on the House floor to introduce themselves. Members of the press swarm him in the halls to give him their cards. And his constituents flood his email him with messages that say, "Keep being Dave."
"There's been outpouring, yeah," Brat says, almost surprised to hear that not all members of Congress are greeted with a Roman triumph.
"I don't know what's normal," he says. "Everybody's been totally gracious."
When asked who specifically has tried to befriend him, he mentions Bill Huizenga — the Republican who represents a part of Michigan where Brat still has family — and conservative MIT-graduate Thomas Massie of Kentucky. He also enumerates fellow GOP members of the Virginia delegation Reps. Robert W. Goodlatte, Morgan Griffith, and J. Randy Forbes.
Even GOP leadership has been nice to him. "Boehner's got just a tremendous personality," he says of House Majority Leader John Boehner of Ohio.
Asked what it's like to be "the-guy-who-knocked-off-Cantor," Brat says he doesn't view it that way — and he wants to look forward, not backwards. "That's all in the rearview mirror," he says.
While immigration was seen as the central issue in Brat's campaign, and thus the key reason he beat Cantor, Brat thinks his success was more about fiscal issues, actually.
"I think that was the central message, that the economics is broken," he says. "And then immigration also fits in there, right? So when your labor markets are already broken, it seems to me the answer isn't to import, you know, 10 million new people."
On the morning after President Barack Obama's immigration announcement, Brat calls the executive action "the height of cynicism." But he stops short of calling it unconstitutional. When asked about impeachment, Brat says he'll go through the executive order in "slow motion" with "the smartest lawyers in the room and navigate that.
"And then, based on my principles, nobody gets to violate the Constitution," he says. "If, in fact, anyone has violated the Constitution, yeah, then we have serious, serious issues to deal with."
And that's how Dave Brat wants to deal with issues: slowly, methodically, like a rational economist.
AFP Photo/Jay Paul