In Order To Succeed, The Anti-Trump Movement Must Look To Its Predecessors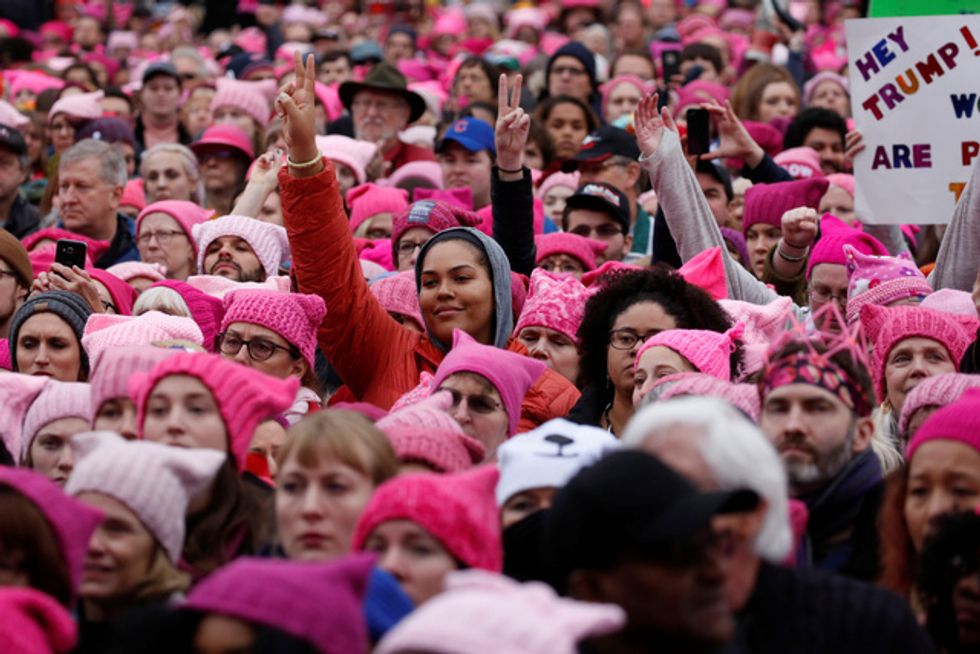 Reprinted with permission from AlterNet.
While nearly twice as popular as its right-wing counterpart, the anti-Trump resistance movement pales in comparison to the amount of support needed to topple a dictator.
"Historical studies suggest that it takes 3.5 percent of a population engaged in sustained nonviolent resistance to topple brutal dictatorships," Erica Chenoweth, coauthor of Why Civil Resistance Works: The Strategic Logic of Nonviolent Conflict pointed out in a Guardian piece published last week.
"If that can be true in Chile under Gen. Pinochet and Serbia under Milosevic, a few million Americans could prevent their elected government from adopting inhumane, unfair, destructive, or oppressive policies—should such drastic measures ever be needed," she added.
With a population of approximately 325 million, 3.5 percent is approximately 11 million people.
Eleven million people in the United States are undocumented immigrants.
Eleven million spend half their income on rent.
Eleven million were enrolled in Obamacare in mid-2016.
Of America's 200 million registered voters, about 70 million voted against Donald Trump. According to the 3.5 percent rule, it'd take about 1 out of every 6 of those voters to topple the regime.
"Every single campaign that did surpass that 3.5 percent threshold was a nonviolent one," Chenoweth advised. "In fact, campaigns that relied solely on nonviolent methods were on average four times larger than the average violent campaign."
And they were often much more representative in terms of gender, age, race, political party, class, and urban-rural distinctions.
Chenoweth explained the psychology behind successful movements' exponential growth in her September 2016 talk at TEDxBoulder.
"Say your neighbor comes to you and says, 'We're going to have a demonstration in the main square down the street at 8pm tonight. I hope you can make it.' Now, I don't know about you all, but I'm not the person who is going to show up at 7:55 to see what's up. I'm going to wait until about 8:30 or so, check out my window, and see what's going on," she admitted. "If I see only six people assembling in the square, I'm probably going to sit this one out. But if I see 6,000 and more coming down the alleyway, I might join them."
Watch: The success of nonviolent civil resistance: Erica Chenoweth at TEDxBoulder
Alexandra Rosenmann is an AlterNet associate editor. Follow her @alexpreditor.
IMAGE: People gather for the Women's March in Washington. REUTERS/Shannon Stapleton