Anti-Trump Protesters: A Patchwork Of People And Facebook Pages
@reuters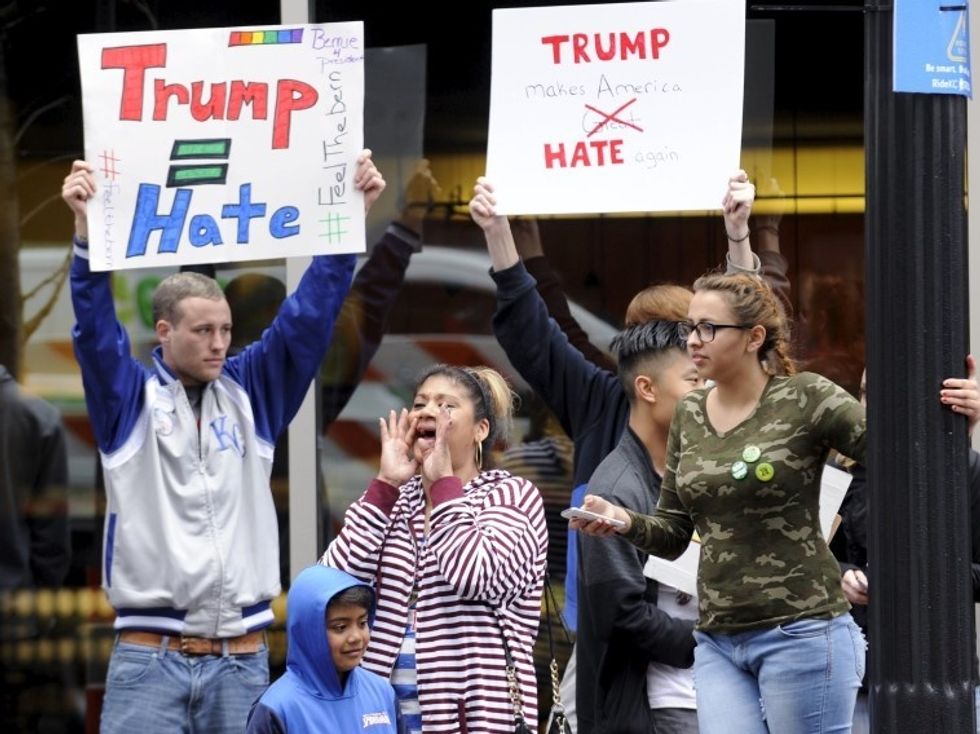 By Kevin Murphy and Bob Chiarito
KANSAS CITY, Mo./BLOOMINGTON, Ill. (Reuters) – Donald Trump has called them thugs, professional organizers and supporters of Democratic presidential contender Bernie Sanders.
But the protesters who have stepped up their actions against the Republican presidential front-runner are a disparate group from different walks of life, with no national organization to speak of. They assemble through a patchwork of Facebook pages and myriad advocacy groups.
After demonstrators swarmed a large Trump rally in Chicago on Friday and forced its cancellation over security concerns, protesters are looking for ways to keep up the momentum as the billionaire businessman seeks in primaries this week to clear a path toward the Republican nomination for the Nov. 8 election.
Trump has drawn fervent support as well as harsh criticism, including from within his own party, for his calls to build a wall along the U.S.-Mexico border and impose a temporary ban on Muslims entering the country.
Kevin Bailey, 25, who helped lead an anti-Trump protest on behalf of the Progressive Youth Organization at the candidate's Kansas City, Missouri, rally on Saturday, said protesters had two goals – to disrupt proceedings as much as possible and signal their outrage over Trump's divisive rhetoric. Trump spent a good part of his time on stage shouting down the protesters.
Bailey said his group watched a similar protest staged by a sister organization in St. Louis on Friday as well as other protests to see if there were lessons to be learned.
"We want to learn what works as far as, especially, going inside and disrupting rallies," he said.
Using smaller groups of protesters to enter rallies and station themselves around the venue, as well as staggering the disruptions to maximize their duration, are some of the strategies that seem to work best, Bailey said.
Before Friday's rally at the University of Illinois at Chicago, organizers used Facebook and worked with student groups on campuses in the Chicago area to encourage them to attend. Inside the stadium, there might have been as many protesters as supporters and a long line of people were waiting to get in when the Trump campaign scrapped the event.
Skirmishes broke out between the two camps, making for some tense minutes that received national television coverage and raised security concerns around the Trump campaign.
One organizer, Nathaniel Lewis, a 25-year-old graduate student, said the cancellation was "the last thing we expected to happen. It shows the power of unity."
PROTESTS BEFORE KEY PRIMARIES
It happened just days before five nominating primaries on Tuesday in which Trump, 69, is trying to cement his lead over his remaining Republican rivals – U.S. Senators Ted Cruz of Texas and Marco Rubio of Florida and Ohio Governor John Kasich.
Trump's Republican and Democratic rivals accused him of sowing tension with divisive rhetoric. But on Sunday, he said: "I don't accept responsibility. I do not condone violence in any shape."
He called the protesters professional "disrupters" sent to his events by Sanders, the U.S. senator from Vermont.
"Be careful Bernie, or my supporters will go to yours!" Trump said on Twitter on Sunday.
Trump's campaign rallies have been boisterous, with the real estate mogul often pausing to scold protesters and ask security officers to take them away.
The threat of violence affected Trump personally on Saturday. Secret Service officers rushed on stage to protect Trump when a man broke through a security barrier at a rally in Ohio. Trump said the man "was looking to do harm."
Over the weekend, President Barack Obama made a call for civility in the political process and "resolving our differences without encouraging or resorting to violence."
Cruz said the Chicago protesters "were in the wrong."
"When you come up and you use violence … when you try to shut down and shout down speech, that's not what the First Amendment allows," said Cruz.
While young people are a visible contingent among the protesters and some are supporters of Sanders, the demonstrators are a mixed group operating in small clusters.
For a Trump rally in Bloomington, Illinois, on Sunday, Sonny Garcia, a 44-year-old facilities manager, said a loosely organized group called "Dump Trump Illinois" rallied protesters through a "Dump Trump" Facebook page. Some 2,000 people gathered.
Forty members of the local chapter of a national anti-hate advocacy group called "Not in Our Town" showed up to protest, wearing white armbands. High school student Aishwarya Shekara, 16, joined them.
"I'm here because Trump stands for everything I don't," she said. "He's the definition of a demagogue."
(Additional reporting by Joseph Ax in New York, Brendan O'Brien in Milwaukee, Jeff Mason in Dallas, Alex Dobuzinkis in Los Angeles and Curtis Skinner in San Francisco; Writing by Mary Milliken; Editing by Peter Cooney)
Photo: Protesters yell across the street at supporters of U.S. Republican presidential candidate Donald Trump waiting in line for a campaign rally at the downtown Midland Theater in Kansas City, Missouri, March 12, 2016. REUTERS/Dave Kaup