Carlson's Favorite Colonel Is A Coup-Curious Conspiracy Monger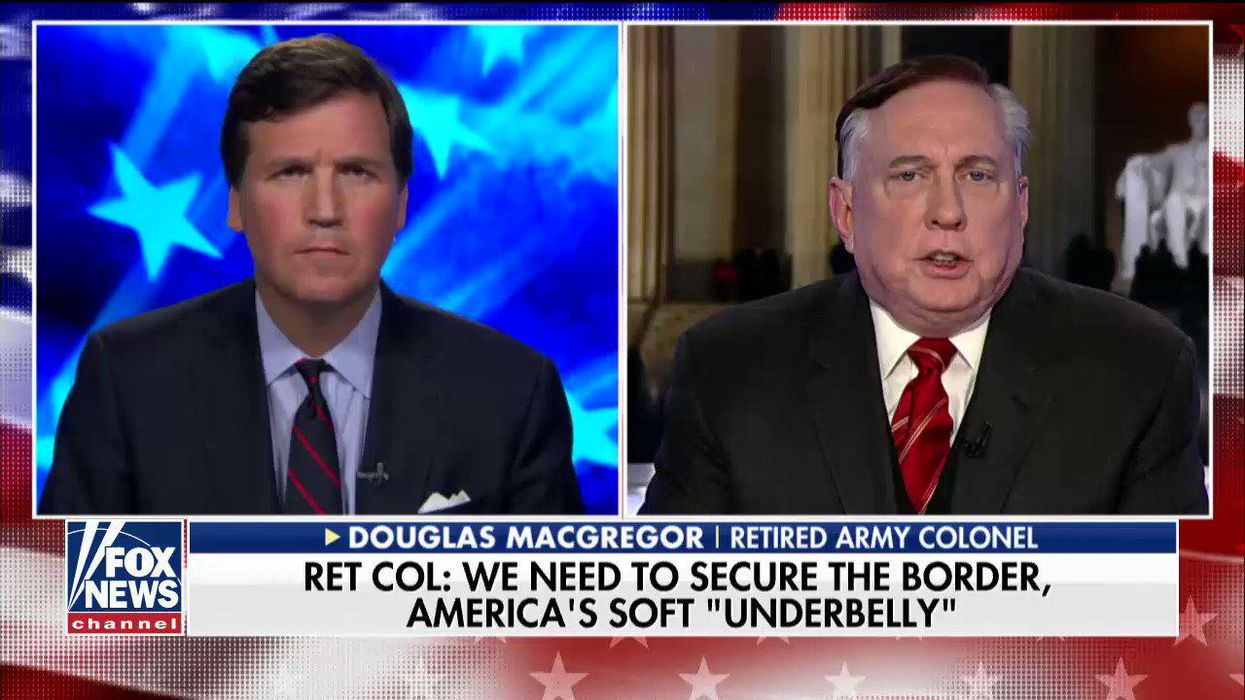 Tucker Carlson chats with far-right colonel
Retired Army Col. Douglas Macgregor, Fox News host Tucker Carlson's go-to voice on foreign policy, is a skeptic of U.S. overseas interventions – albeit one very much in Carlson's own right-wing nationalist mode.
Macgregor has called for the deployment of the U.S. military to the U.S.-Mexico border in order to prevent an invasion of immigrants that he claims Democrats are encouraging for political gain, claimed that the military's diversity agenda and vaccine mandates are intended to purge the services of white Christians, and warned that Biden's globalist agenda may necessitate a coup by "patriotic" service members and first responders or a civil war, Media Matters found in a review of his dozens of Fox appearances and columns for conservative publications in recent years.
Macgregor drew media attention last week after a February 27 Fox appearance in which he argued that the United States should "absolutely" allow Russian autocrat Vladimir Putin to annex as much of Ukraine as he wishes. Jennifer Griffin, the network's national security correspondent, criticized his "distortions" and "appeasement talk" in an interview on the same program minutes later.
But when Carlson introduced Macgregor for discussion of the Russian invasion of Ukraine two nights later, the host stressed his guest's trustworthiness. Carlson warned that while other unnamed TV news guests were bent on "manipulating you, the consumer of news," Macgregor would tell the unvarnished truth.
"Unlike so many of the TV generals you see all day long, Macgregor is not angling for a board seat at Raytheon," Carlson explained. "Unlike so many of the so-called reporters you see on television, he is not acting secretly as a flack for [Defense Secretary] Lloyd Austin at the Pentagon. No, Doug Macgregor is an honest man."
Buttressed by that lofty introduction, Macgregor told Carlson's audience that Vladimir Putin's goal was preventing "further attempts to influence or change Ukraine into effectively a platform for the projection of U.S. and Western power into Russia," blamed the invasion on U.S. President Joe Biden, and argued that the United States should accept Russian annexation of eastern Ukraine and a "neutral" Ukrainian government controlling the remainder of the country. "Doug Macgregor, a man you can believe. It is a commodity in short supply right now," Carlson concluded the segment.
Macgregor's interview once again demonstrates Carlson's status as the most powerful figure at Fox. Carlson apparently responded to Griffin's criticism of Macgregor by endorsing him, letting him make similar points to his much larger audience, and offering a barely-veiled criticism of Griffin as a "so-called reporter" working on behalf of Biden's defense secretary. The move was reminiscent of Carlson's on-air feud with longtime "news side" anchor Shepard Smith, which ultimately contributed to Smith's abrupt resignation from the network.
But the interview also underscores the increased profile Carlson has provided to Macgregor. The Gulf War combat veteran and military strategist has made at least 60 Fox weekday appearances since August 1, 2017, 48 of which came on Carlson's show. The Fox star regularly lavishes praise on Macgregor during those interviews, describing him as "our first choice for foreign policy analysis" and "one of the people we trust to give us real information." Carlson has a history of pro-Kremlin rhetoric, and in recent days he has hosted Macgregor in service of his argument that Biden has gone too far in defending Ukraine, even as his Fox colleagues criticize the president for not going far enough.
Macgregor's Carlson interviews put him on the radar of then-President Donald Trump, a Fox superfan who often hired staff based on their turns on the network. After Macgregor urged Trump to replace senior national security officials whom he claimed were "part of this bipartisan globalist elite" during a May 2019 Tucker Carlson Tonight appearance, Trump repeatedly considered him for jobs in his administration. Macgregor interviewed for the White House national security adviser post vacated by a former Fox contributor and lost out on a Defense undersecretary role to another frequent Fox guest. Trump then nominated him to succeed a former Fox contributor as German ambassador, though that nomination stalled after CNN's KFile reported on Macgregor's past disparagements of immigrants. But following a wave of Pentagon firings in the wake of the 2020 presidential election, Macgregor was finally installed as a senior adviser to acting Defense Secretary Christopher Miller – and instructed by the White House to "get us out" of Afghanistan, Iraq, Syria, Germany, and Africa.
If Trump runs and wins the presidency again in 2024, it's not far-fetched to imagine Macgregor getting tapped for another high-ranking post, perhaps even defense secretary. And he'll owe the post in no small part to Carlson.
An anti-immigrant conspiracy theorist who wants martial law on the Mexican border
Macgregor is a consistent voice against the use of military force abroad, even questioning the necessity of U.S. involvement in World War II. An anti-immigrant conspiracy theorist, he instead wants the armed forces deployed to the U.S. border with Mexico to stop undocumented immigration. "Any American citizen in or out of military uniform who is still fixated on events in Afghanistan, Iraq, Syria, Northeast Asia, Africa, or Europe is deluded. The life or death of the American republic is being decided along the Rio Grande, not in the Eastern Hemisphere," he explained in an October 2021 essay for the Trumpist publication American Greatness.
Macgregor "often demonized immigrants and refugees" and "repeatedly advocated to institute martial law at the US-Mexico border and 'shoot people' if necessary," CNN's KFile reported in August 2020 after reviewing Macgregor radio and television interviews and blog posts.
"The U.S. Army belongs on the border right now and it's perfectly obvious to everyone on the border," Macgregor argued during one such interview, an April 2019 appearance on Carlson's Fox show. "We need martial law on the border. I just spoke this afternoon to people on the border with New Mexico, Arizona and Texas and they all said the same thing, 'Please send troops. Send the United States Army.'"
Macgregor went on to say that Democrats oppose such measures because "they see voters moving across the border" which will allow them to create "a human foundation for a permanent dictatorship of the left," an allusion to the white nationalist "great replacement" conspiracy theory that Carlson regularly invokes.
Macgregor related that conspiracy theory in more detail during another Tucker Carlson Tonightinterview in June 2019.
"The Latinos, the Mexicans, are the base of the Democratic Party. The Democratic Party has decided they are the future for the left in the United States," he said. "The more of these people that can be brought in illegally, as well as legally, the better it is for the Democratic Party. Because their goal is to transform the United States into a facsimile of California. So that any election is impossible from the standpoint of the right, from the standpoint of the Republican Party, to win anything. "The real interest is to create demographic change that will make them the permanent power inside the borders of the United States," he added.Macgregor also pushed the false conspiracy theory that progressive businessman and philanthropist (and Media Matters donor) George Soros financially supported migrant caravans traveling to the United States.
"Mr. Soros in particular has funded or helped fund these massive migrations out of Central America," Macgregor said during a December 2019 appearance on Fox Business. He added that Soros bears some "responsibility for the massive criminality pouring into the United States from Mexico and the war in Mexico that no one wants to talk about."
Macgregor: Biden is using CRT, vaccines to purge white Christian men from military
Macgregor is also in sync with Carlson's fixation on the proliferation of diversity initiatives and so-called "critical race theory" in the U.S. military. Macgregor warns that the military's purportedly politicized leadership is using these activities, along with pretextual COVID-19 vaccine mandates, to purge white Christian men from the armed forces.
Macgregor authored a May 2021 piece headlined "Transforming the Military to Transform the Country," for The American Conservative, a paleoconservative magazine. In it, he wrote the appointment of a senior advisor to the Secretary of Defense for diversity and inclusion who "advoca[tes] for Critical Race Theory" may signal "the implementation of a new system inside the U.S. Armed Forces tasked with the responsibility to identify alleged extremists for removal."
Macgregor compared this to how, "in the aftermath of the Bolshevik seizure of power in Russia, Communist Party officials called commissars were installed throughout the military to ensure the loyalty and obedience of the officer corps to the orders and directives of Lenin and the new Bolshevik state." He went on to warn of the initiation of a "woke witch hunt" which he suggests will target "white men and women."
Macgregor has repeatedly claimed that the Biden administration is trying to purge the military in his Fox appearances, in part through the installation of COVID-19 vaccine requirements.
"I think the Biden administration has decided that anyone who refuses to take the vaccine and is in uniform is presenting resistance to the Biden administration's new order inside the military," he said on the December 27, 2021, edition of Tucker Carlson Tonight.
"If you don't take the vaccine, well, then you're also opposed to CRT, equity, social justice, these other things that they seem to be ready to ram down everybody's throat," he added. Macgregor went on to suggest that the vaccine mandate is unnecessary because "we've only had 82 fatalities, since this pandemic began inside the Armed Forces," adding, "it may be of interest to your viewers to know that in the last month, we lost two people in uniform, reservists, and both of them were fully vaccinated."
Macgregor returned to this theme on Fox two nights later, arguing that the Biden administration's military vaccine mandate was "an ideological attack, designed to eliminate anyone who might raise objections to anything this administration wants to do inside the military."
"The vaccine and resistance to it is simply a metaphor for everything else in the minds of President Biden and his administration that they want to achieve with CRT, social justice, equity and so forth. All of these Marxist programs that have been implemented are at the forefront of their greatest concern," he explained. "So, this is a good opportunity in their minds, to get rid of people. It has nothing to do with COVID."
"So, Colonel, you are agreeing, this is a political purge," guest host Sean Duffy responded. "They want to take out who they think are conservatives that might be vaccine hesitant or Christians who have a religious exemption to taking the vaccine?"
"Oh, absolutely," Macgregor replied. "I don't know what the demographic breakdown is, what the racial makeup of the people they're throwing out is. But I suspect that the majority of them are probably white Americans. And a white American who is a Christian is probably the least desirable person from the vantage point of this administration to have in uniform, even though that's exactly what has populated the Armies, Air Forces, Navys and Marines of this country for hundreds of years."
Macgregor suggests a military coup or civil war may be necessary in the US
Macgregor warns that the Biden administration is implementing a globalist agenda that is putting the United States on a collision course with a radical and justifiable right-wing response – one which may include a military coup or a civil war.
When 20 retired French generals signed a letter floating a military coup to halt the nation's "disintegration," in the spring of 2021, Macgregor endorsed them in a May 2021 piece for American Greatness. Macgregor claimed that they were justified because France's elected leaders are "globalists" who want a "Marxist dystopia" have welcomed a "tsunami of Muslim migrants."
"As the crisis spirals out of control, the French army – the last, true repository of national identity and French values – appears to be drawing a red line," he wrote. "The French, and the Western nations watching from the sidelines, face a truly gut-wrenching choice: Either act with force to restore French sovereignty or watch their nation perish."
He added: "The crisis also raises important questions for Americans. What happens when a government treats its national boundaries with disinterest, even neglect? What does it mean when governments fail to enforce the rule of law? What happens when democratic governments release hardened criminals into society, imprison citizens who criticize it, and ignore the destabilizing human and economic impact of a hostile foreign invasion under the guise of immigration?"
Macgregor concluded by suggesting that the U.S. will likely "face the same predicament" and that a military coup may be necessary here as well.
"It's painfully obvious that many, if not most, of the senior military leaders like Chairman of the Joint Chiefs General Mark Milley are committed to globalism and multiculturalism, but one wonders what the majority of patriotic American soldiers, sailors, airman, and Marines, along with the courageous police officers and firefighters across the country, really think," he wrote. "What will these guardians of national order and security do when they confront more chaos and disorder on the scale of last summer's criminal violence against American symbols, citizens and property in the months and years ahead?"
Likewise, Macgregor wrote in an October 2021 American Greatness piece that America may be facing a "John Brown moment" that could lead to a Civil War. He explained that Brown's execution following the 1859 raid on Harper's Ferry had "compelled Americans on all sides to confront the questions: Who are we? What do we stand for?" and that those questions were answered by the Civil War.
"Today, these questions are being raised anew," he continued, because "the borders of the United States are in chaos" which could trigger the "death of the American republic"; "Inside America's cities, the rule of law is increasingly nonexistent"; and Biden's "highly partisan $3.5 trillion climate and entitlement bill" could lead to "a financial meltdown and economic implosion worse than anything since the Great Depression."
"What should Americans do?" he added. "Well, we might begin by reaffirming the basic truths that are contained in the Pledge of Allegiance, and in the Ten Commandments, which most good men and women follow, whether they are churchgoers or not. Americans should also demand that the president and Congress care for the well-being of the American people, and not act in ways that harm the security and standard of living of Americans. But these things may not be enough."
He concluded:
Many Americans are now on the lookout for their own John Brown moment.
We don't know when, or which specific issue from the laundry list of crises and disputes, will be the decisive moment. It's impossible to anticipate precisely. But when it happens Americans will begin to answer the same basic questions: Who are we? What do we stand for? The outcome will be historic.


Reprinted with permission from Media Matters