Apple Found Guilty In E-Book Conspiracy Case
@AFP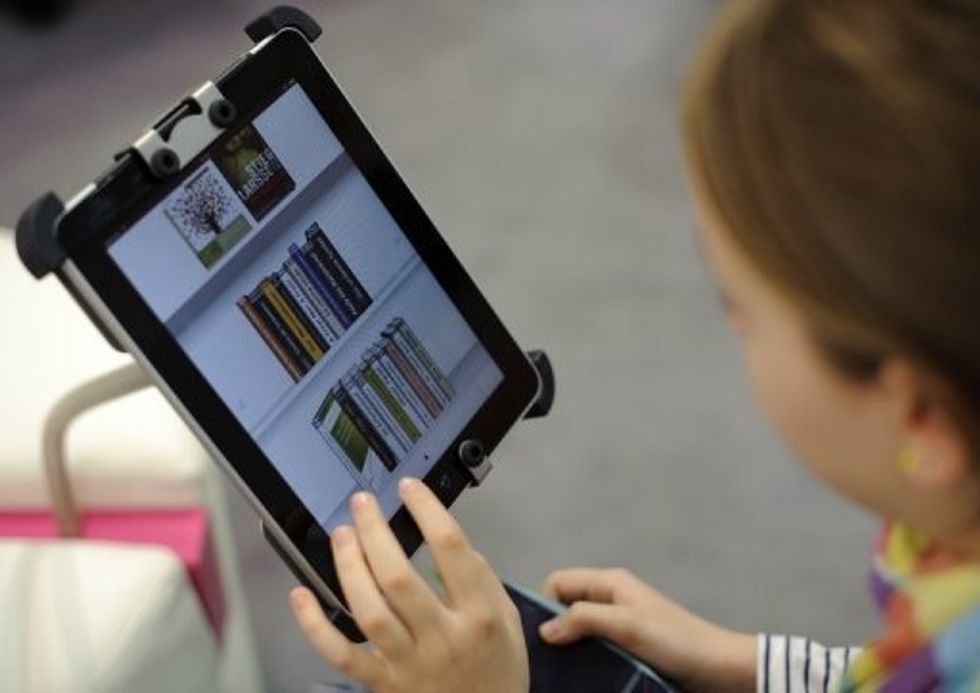 NEW YORK (AFP) – A U.S. judge ruled Wednesday that Apple violated antitrust law in a price-fixing case, saying the company "conspired to restrain trade" with publishers to boost the price of e-books.
In a sweeping ruling, U.S. District Judge Denise Cote, who presided over a bench trial in New York, said in her opinion that "Apple is liable here for facilitating and encouraging the (publishers') collective, illegal restraint of trade."
She ordered a new hearing to determine damages.
Cote rejected all the arguments from Apple, which claimed its entry into the e-book market promoted competition. The judge also determined that comments from late chief executive Steve Jobs proved the government's allegations of a conspiracy.
The trial focused on a six-week period in late 2009 and early 2010 during which Apple negotiated contracts with publishers ahead of its iPad launch and proposed a new and more profitable business model.
Publishers at the time were unhappy with Amazon's practice of charging $9.99 for bestsellers but were unable to effect change until Apple helped organize the group, Cote said.
"Understanding that no one publisher could risk acting alone in an attempt to take pricing power away from Amazon, Apple created a mechanism and environment that enabled them to act together in a matter of weeks to eliminate all retail price competition for their e-books," Cote said.
"The evidence is overwhelming that Apple knew of the unlawful aims of the conspiracy and joined that conspiracy with the specific intent to help it succeed."
Each of the five publishers originally named in the U.S. government's civil lawsuit settled the case, leaving Apple to stand trial alone.
Apple's chief executive Tim Cook had said ahead of the trial that the California firm would not settle, claiming it had done nothing wrong but was merely pursuing normal business practices.
Apple said it would appeal the ruling.
"Apple did not conspire to fix ebook pricing and we will continue to fight against these false accusations," said an Apple spokesman in a statement.
"When we introduced the iBookstore in 2010, we gave customers more choice, injecting much needed innovation and competition into the market, breaking Amazon's monopolistic grip on the publishing industry. We've done nothing wrong and we will appeal the judge's decision."
The Justice Department meanwhile hailed the ruling.
"As the department's litigation team established at trial, Apple executives hoped to ensure that its e-book business would be free from retail price competition, causing consumers throughout the country to pay higher prices for many e-books," said Assistant Attorney General Bill Baer.
"Companies cannot ignore the antitrust laws when they believe it is in their economic self-interest to do so. This decision by the court is a critical step in undoing the harm caused by Apple's illegal actions."
Amazon held "wholesale" contracts with publishers in which it set prices. Apple's contracts shifted to an "agency" model where publishers set the price in exchange for a 30 percent commission to Apple.
As Apple was finalizing the new model with publishers, several publishers successfully pressured Amazon to accept the agency model and higher prices, threatening to withhold books from Amazon unless it made the shift.
Much of the testimony during trial centered on whether Apple had orchestrated the industry's efforts to get out of the Amazon model.
Cote rejected Apple's arguments that it was indifferent to price, concluding that "Apple convinced the Publisher Defendants that Apple shared their goal of raising e-book prices, and helped them to realize that goal."
Cote also rejected Apple's contention that it's entry into the e-book market was pro-competitive because Amazon enjoyed a market share of around 90 percent.
The innovations of Apple's iPad, while admirable, are irrelevant to the case, Cote said. Apple's agreements with the publishers "did not promote competition, but destroyed it."
Cote also cited a number of statements from Jobs that the government touted as proof of the conspiracy. These included a Jobs remark to his biographer boasting that the publishers "went to Amazon and said, 'You're going to sign an agency contract or we're not going to give you the books.'"
Apple defense attorneys said during the trial that Jobs' comments had been misinterpreted.
But Cote concluded that "Apple could find no effective way at trial to escape the import of Jobs' remarks."
Photo Credit: AFP/Robert Michael