Are E-cigarettes A 'Gateway' To Teen Smoking? A New Study Investigates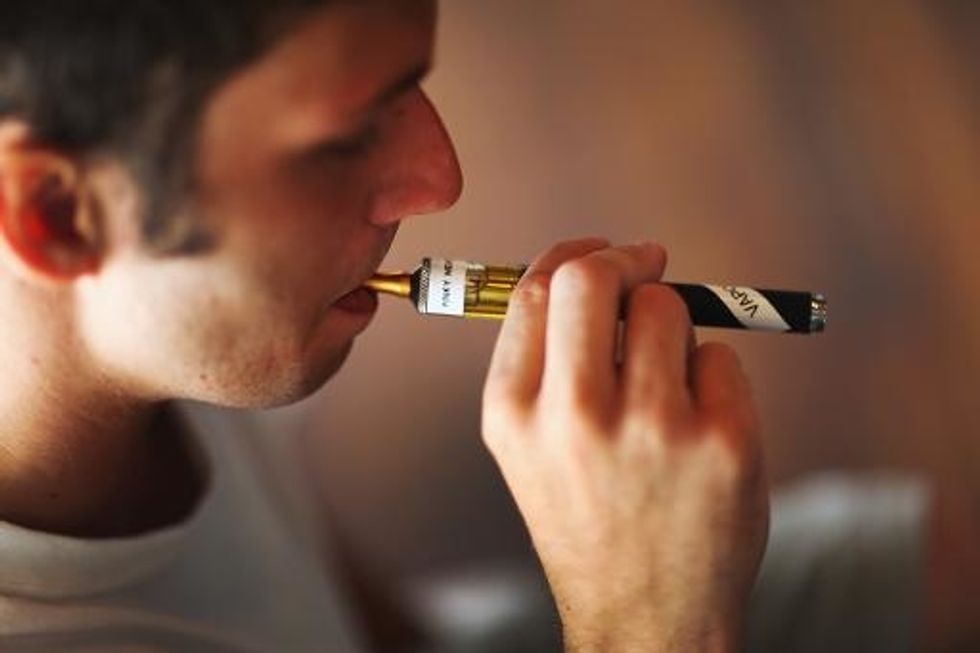 By Amina Khan, Los Angeles Times (TNS)
LOS ANGELES — Even though teenage smoking rates have plunged in recent decades, teen use of electronic cigarettes has been on the rise in the last few years. Now, a new study involving more than 2,500 students at 10 Los Angeles schools has found that teens who began using e-cigarettes were far more likely than their peers to start smoking traditional cigarettes and other combustible tobacco products.
Although they don't establish a causal link, the findings published in the Journal of the American Medical Association have some experts worrying that e-cigarettes might lead more young people to take up the habit.
"What is extremely worrisome is that these findings further indicate that e-cigarette use by our nation's youth, which is a major concern in itself, may also be a gateway to smoking," American Heart Association Chief Executive Nancy Brown said in a statement. "This new study truly underscores just how dangerous of a habit e-cigarette use can be, especially if it is leading to teens taking up additional tobacco products."
E-cigarettes heat a liquid laced with nicotine and other chemicals to generate a vapor that can be inhaled. That method, known as "vaping," presumably sounds better than traditional combustible tobacco products, which are burned to produce a smoke filled with chemicals, many of which are known to cause cancer. The problem is, there isn't enough evidence yet to say whether, on balance, the devices are helpful or harmful, scientists say.
"E-cigarettes raise many questions for which there are few answers," Dr. Nancy Rigotti of Massachusetts General Hospital, who was not involved in the paper, wrote in an editorial. "The evidence base is limited because e-cigarettes entered the marketplace without being regulated as either drugs or devices."
Many think that e-cigarettes might allow smokers to transition away from traditional cigarettes, which contain cancer-causing substances. Others argue that e-cigarettes, which often appear to be marketed to youths, could act as a sort of "gateway device" into smoking traditional cigarettes, full of those carcinogenic materials.
That's a serious matter, given that nearly 90 percent of adult cigarette smokers first started smoking before age 18, according to the Centers for Disease Control and Prevention. A recent study showed that the number of high school smokers tripled from 2013 to 2014, and another showed that teens who vaped also smoked regular cigarettes.
But such studies have looked at a snapshot of these two behaviors, and have not watched to see how they change over time _ which would better describe the relationship between the two activities.
So for this study, a team led by researchers at the University of Southern California's Keck School of Medicine tracked the behavior of 2,530 students attending L.A. high schools who said they had never before used any combustible tobacco products. The scientists focused on high school freshmen, given that ninth-graders, fresh out of middle school and now exposed to new pressures and older adolescents, are at a critical turning point in their lives.
"The first year of high school is a vulnerable period for initiating risky behaviors," the JAMA study authors wrote.
The researchers asked the students whether they had ever tried e-cigarettes _ 222 had already tried e-cigarettes at that time. Then they followed up six months later and 12 months later to see if they had ever smoked regular cigarettes or other tobacco products (including cigars and hookah) during the previous six months.
The scientists found that 30.7 percent of students who had ever used e-cigarettes at the start of the study had also used combustible tobacco products at the six-month mark. In the same time period, only 8.1 percent of those who had never used e-cigarettes at the start of their freshman year had smoked tobacco. This pattern held at the 12-month mark as well.
The findings show a link between the two habits, but not a cause. That means it's possible that there's some other underlying factor that might be contributing to both behaviors. And the results can't distinguish between students who may have just tried a few cigarettes and those who ended up as regular smokers, Rigotti noted.
"The latter is the greater concern, and the current study cannot determine whether e-cigarette exposure was associated with that outcome," she wrote. "Similarly, the single exposure measure, lifetime e-cigarette use, did not permit the authors to look for a dose-response relationship between the degree of prior e-cigarette use and subsequent smoking, which could have strengthened a causal inference."
Further work will be needed to determine whether there is a cause-and-effect relationship between vaping and smoking, the study authors said.
Regardless, experts said, this doesn't mean that children should be taking up e-cigarettes at all. But many e-cigarette products appear to be marketed toward youths, they added.
"Knowing the long-term consequences of tobacco use, it is mind boggling to think that anyone would assume e-cigarette use is acceptable among children, when for many it can function as an entry drug," Dr. Kim Allan Williams, president of the American College of Cardiology, said in a statement. "This research provides one more piece of evidence that what common sense tells us is likely true: inhaling an addictive chemical is not good for anyone."
Brown, of the American Heart Association, urged the federal government to take action to regulate the products.
"These findings are yet another wake-up call to the Food and Drug Administration that final regulations are needed now to protect our kids from tobacco," Brown said in a statement.
(c)2015 Los Angeles Times. Distributed by Tribune Content Agency, LLC.