Are You A Pie Person Or A Cake Person? You Can't Be Both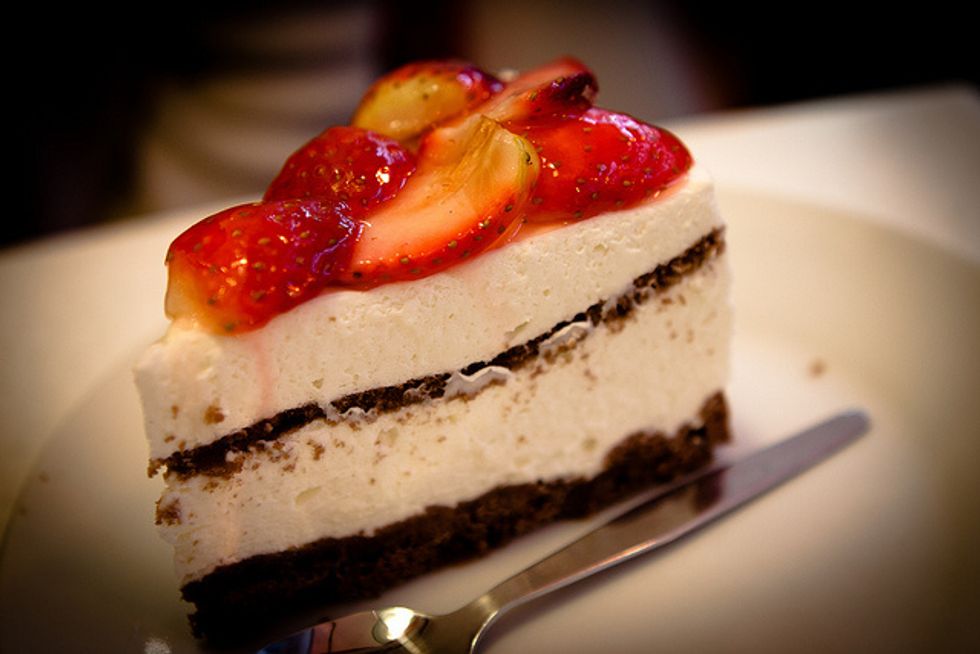 By Daniel Neman, St. Louis Post-Dispatch (TNS)
I always thought Simon got a raw deal.
Here he was, minding his own business, on his way to a fair. He encounters a man selling pies–tempting, delicious pies. Naturally, he asks for a sample. Who wouldn't?
But the pie man, whose name has apparently been lost to history, was having none of it. He wanted to charge Simon for a sample, unlike so many of today's grocery stores that offer samples for free. Simon did not have a penny to spare–fairs aren't cheap–so the pie man sent him on his way, hungry and forlorn.
And for this, Simon has universally come to be known as Simple. Obviously, Mother Goose was a cake person.
There are two kinds of people in this world, pie people and cake people. You're either one or the other. Never have I heard anyone say, "I like cakes and pies equally," and I'll bet neither have you.
Personally, I'm in Simple Simon's camp. It's pies all the way. Just think of it: A buttery crust baked to a golden brown and filled with toasted pecans suspended in a sweet amber nectar. Or sweet cherries balanced by just the right amount of tartness. Or smooth and silken chocolate topped with a decadent dollop of whipped cream.
On the other hand, you have cake. It's just cake. Pedestrian, ordinary, sponge-like, bland cake.
And cakes often come out of a box. Even the ones that don't come out of a box sometimes taste like they came out of a box. Sometimes they taste like the box.
Yes, the frosting is good. I'm all in favor of frosting. If only you could put it on something that wasn't cake.
Pies are always festive and special; they are a party unto themselves. But you can buy a cake in a sheet.
Newsrooms are particularly fond of sheet cakes; in some respects, newsrooms are a sheet cake's natural habitat. This particular newsroom has ordered so many sheet cakes from Federhofer's Bakery that some people here use "federhofer" as a verb, as in "We'll be federhofering Joe in the front of the newsroom at 4 p.m."
Any occasion at all becomes an occasion for a sheet cake. You're having a birthday? Have some sheet cake. You're retiring early so that other employees won't be laid off? That's remarkably selfless and generous of you. Thank you so much. Have some sheet cake.
Sheet cakes just don't seem terribly celebratory anymore. Maybe it's the repetition, but I think it is more that they are just cakes. Meanwhile, Federhofer's also makes sheet pies, in case anyone was wondering.
Even in their smaller versions, pies win out every time. Mini tarts? Great. Cupcakes? Overpriced trendy treats.
The greatest non-pie expression of pies is chicken pot pie, so creamy, delicious and flaky that, when made right, it can actually have more calories than a real pie.
In contrast, the greatest non-cake expression of cakes is a pancake. Admittedly, pancakes are wonderful. Even pie people love pancakes. Call it a wash.
Oh, wait. Pizza also comes in a pie. Advantage, pie.
I'm sure some cake people are perfectly nice. A little bland, perhaps, but nice. They are probably well-intentioned. Their hearts are likely in the right place.
But pie people are where it's at. We're exciting, dynamic, vibrant. We don't need to call cake people "Simple" just to feel better about ourselves.
Photo by Jirka Matousek via Flickr