Arizona Governor Brewer Vetoes Anti-Gay Bill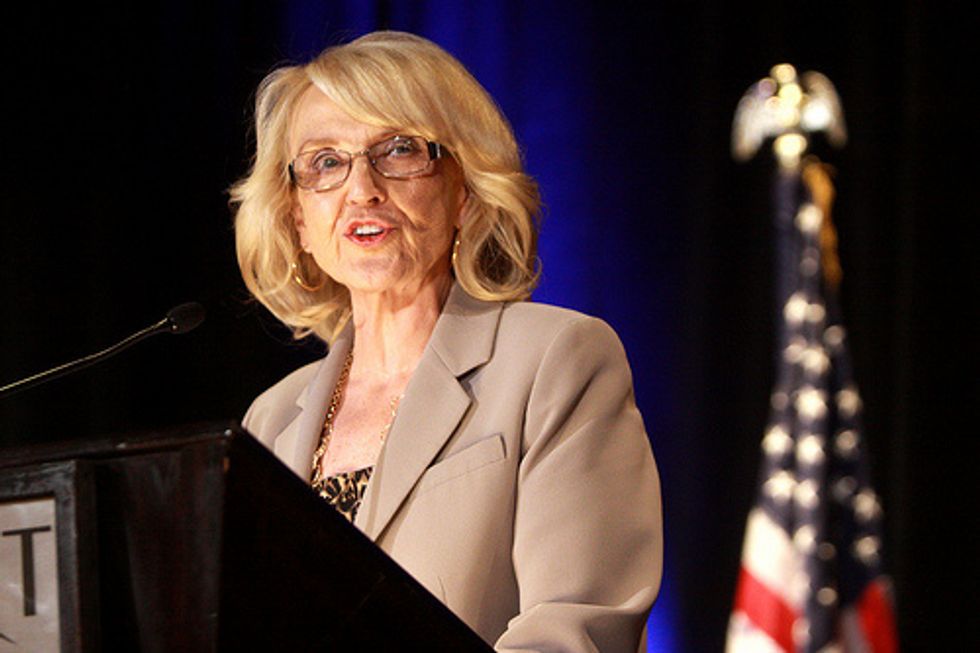 By Cindy Carcamo, Los Angeles Times
TUCSON, Ariz. — In a victory hailed by gay rights advocates, Arizona Gov. Jan Brewer vetoed a bill Wednesday that would have bolstered a business owner's right to refuse service to gays and others on the basis of religion.
The veto, delivered the same day a federal judge struck down a law against same-sex marriage in Texas, came amid an intense national outcry by the gay community, its supporters, business owners and Arizona political leaders.
"Senate Bill 1062 does not address a specific and present concern related to religious liberty in Arizona," Brewer said in televised remarks from Phoenix. "I have not heard of one example in Arizona where a business owner's religious liberty has been violated."
She said she worried that the bill had "the potential to create more problems than it purports to solve." Cheers from the bill's opponents, who had gathered outside the Capitol, could be heard as Brewer finished her statement.
Critics had described the bill as anti-gay, unconstitutional and divisive — and potentially harmful to Arizona's economy and reputation.
Brewer also said the bill's wording was "too broad." She echoed concerns from constitutional scholars who had said the law could affect not just gays but others. Would the bill allow, they asked, a merchant to deny service to someone of another religion? Could a merchant cite their religious beliefs and decline to serve an unwed mother?
Proponents of SB 1062 say the bill was misrepresented. They argued that it was not discriminatory but intended to protect religious freedom.
The Center for Arizona Policy, a conservative group that helped craft the bill, called Wednesday "a sad day."
"SB 1062 passed the Legislature for one reason only: to guarantee that all Arizonans would be free to live and work according to their faith," Cathi Herrod, the group's president, said in a statement. "Opponents were desperate to distort this bill rather than debate the merits. Essentially, they succeeded in getting a veto of a bill that does not even exist."
The bill, approved by the Republican-controlled Legislature last week, was met with immediate and widespread criticism, prompting three Republicans who voted for the measure to reverse course and join a chorus of people calling for a veto.
The Arizona House Republican Caucus released a statement after the veto, saying it respected Brewer's decision, "especially in light of the concerns brought up over the past week."
Some foes of the legislation threatened to boycott Arizona if the bill became law, much as some groups boycotted the state after the passage of a tough anti-illegal immigration law in 2010.
That possibility worried executives of some companies and business organizations who also urged Brewer to veto it. Among the companies rising in opposition were Apple, American Airlines, Marriott and Delta Air Lines. The Arizona Super Bowl Host Committee also came out against the bill, saying it would "deal a significant blow" to the state's economy. Arizona is scheduled to host the 2015 Super Bowl.
Hours before Brewer's veto message, the Hispanic National Bar Association announced that it would move its 40th annual convention, scheduled for 2015 in Phoenix, to some other location because of SB 1062.
Republican leaders also urged a veto. Among them were former presidential candidate Mitt Romney and Arizona's U.S. senators, John McCain and Jeff Flake.
Technically, the bill would have expanded the definition of the free exercise of religion, allowing a faithful person to adhere to his or her beliefs in practice. It would have also expanded the definition of "person" to include any business, association and corporation.
Arizona's bill was similar to proposals in other states, including ones that failed in Kansas and Idaho.
The legislation came on the heels of two cases in which state courts elsewhere sided with gay couples in wedding-related lawsuits.
In New Mexico, the state Supreme Court allowed a gay couple to sue a photographer who refused to photograph their commitment ceremony. In Colorado, a state judge ruled against a baker who had refused to sell a wedding cake to a gay couple.
Even though SB 1062 was vetoed, similar bills may be coming down the pipeline affecting the gay community, said state Rep. Demion Clinco, a Democrat from Tucson.
Clinco, who is the only openly gay representative in the House, said the failed legislation is part of a series of "preemptive bills" in anticipation of same-sex marriage possibly being allowed in Arizona.
The House may vote as early as this week on a bill that would expand the definition of minister to include various officials who may preside at weddings, such as judges and justices of the peace.
HB 2481 would allow them to refuse to officiate at same-sex marriages on "sincerely held religious beliefs."
"I think it's just part of this climate of attacks on the LGBTQ community," Clinco said. "Ultimately it creates opportunities for discrimination under the guise of religion."
Photo: Gage Skidmore via Flickr