Arizona Inmate Dies Belatedly In Apparently Botched Execution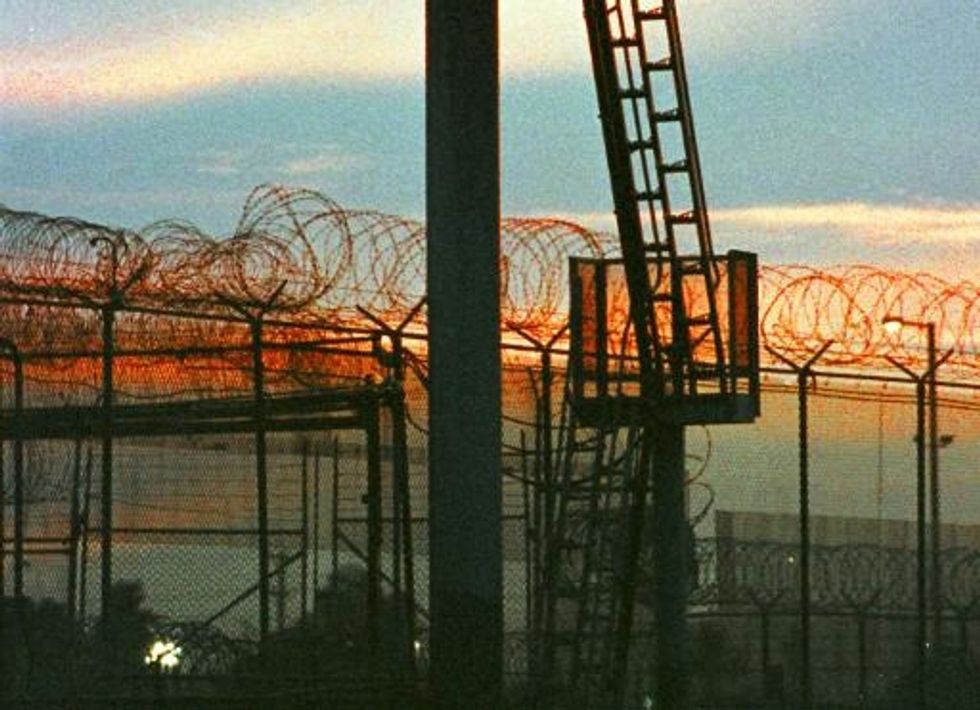 By Matt Pearce, Cindy Carcamo and Maya Srikrishnan, Los Angeles Times

TUCSON, Ariz. — A convicted murderer in Arizona gasped and snorted for more than 90 minutes after a lethal injection Wednesday, his attorneys said, dying in a botched execution that will probably reinvigorate the national debate over the death penalty in the United States.
Joseph Rudolph Wood III's execution began at 1:52 p.m. at the Arizona State Prison Complex in Florence. He was declared dead at 3:49 p.m. Wood had fought in court without success for more information about the drugs that would be used and the expertise of his executioners.
According to The Associated Press, his last words before the procedure were, "I take comfort knowing today my pain stops, and I said a prayer that on this or any other day you may find peace in all of your hearts and may God forgive you all."
It took so long for Wood to die after receiving an injection of midazolam combined with hydromorphone that his attorneys had time to file an emergency appeal asking officials to save his life as the drugs apparently failed to fully take hold.
"At 1:57 p.m. (officials) reported that Mr. Wood was sedated, but at 2:02 he began to breathe," said the legal filing in federal court from public defender Jon M. Sands. "At 2:03 his mouth moved. Mr. Wood has continued to breathe since that time. He has been gasping and snorting for more than an hour. At 3:02 p.m. … staff rechecked for sedation. He is still alive."
Wood was not pronounced dead until nearly two hours after the procedure began.
Another attorney for Wood, Dale A. Baich, witnessed the execution. He told the Los Angeles Times that during the 1 hour and 40 minutes that Wood was gasping and snorting, he could not tell whether Wood was conscious. "There was no sound in the witness room, so we could not hear," Baich said.
A spokeswoman for the Arizona attorney general's office, Stephanie Grisham, disputed that account. She said she witnessed the execution too and did not think Wood was gasping.
"There was no gasping of air. There was snoring. He just laid there. It was quite peaceful," Grisham said.
Baich responded: "My observation was that he was gasping and struggling to breathe. I couldn't tell if he was snoring. Even if he was snoring, it took two hours for him to die?"
Attorney General Tom Horne did not issue a statement on the execution, Grisham said, because he did not witness it and hadn't been briefed.
"I really wish people would recognize that the families have been dealing with this for 25 years and remember how the victims of these crimes were brutally murdered," Grisham said.
The Arizona Supreme Court ordered the Department of Corrections to preserve all the drug labels and whatever was left of the drugs.
Wood, 55, was sentenced to death in 1991 for the August 1989 shooting deaths of his estranged girlfriend, Debra Dietz, and her father, Eugene Dietz, in Tucson.
Wood's prolonged execution drew an instant outcry from death penalty opponents, who had watched Wood's case closely as he battled prosecutors and state and federal judges unsuccessfully for more information on the drugs to be used for his execution.
"It's time for Arizona and the other states still using lethal injection to admit that this experiment with unreliable drugs is a failure," Cassandra Stubbs, director of the American Civil Liberties Union's Capital Punishment Project, said in a statement. "Instead of hiding lethal injection under layers of foolish secrecy, these states need to show us where the drugs are (coming) from. Until they can give assurances that the drugs will work as intended, they must stop future executions."
"The prolonged, gruesome execution of Joseph Wood is the consequence of an experimental procedure that was shrouded in secrecy," said Megan McCracken, staff attorney with the Death Penalty Clinic at the University of California, Berkeley School of Law. "We see that when the state is allowed to carry out an execution with an experimental drug combination without scrutiny and oversight, the consequences are absolutely horrific."
Wood's death comes at a time when the death penalty has come under steepened criticism, which reached a peak with the botched April execution of Oklahoma murderer Clayton Lockett, who had also writhed and gasped for life before succumbing to his lethal injection.
The drugs used in executions have become the source of much of that criticism, as they have become much harder to find. Death penalty opponents have increasingly criticized the quality of those drugs and the qualifications of the officials hired to administer them; details about both the drugs and the personnel are kept secret in many states.
Wood had launched a First Amendment attack on that veil of secrecy in Arizona, arguing that the public has a right to know more details about the state's gravest responsibility. The 9th U.S. Circuit Court of Appeals agreed and issued a preliminary injunction halting the execution, but the U.S. Supreme Court overturned it Tuesday, and the execution was back on. Arizona's state Supreme Court also gave approval for Wood's execution to go ahead on Wednesday.
AFP Photo / Mike Fiala
Interested in national news? Sign up for our daily email newsletter!