In Arizona, Swings In Medicaid Access Show Program's Impact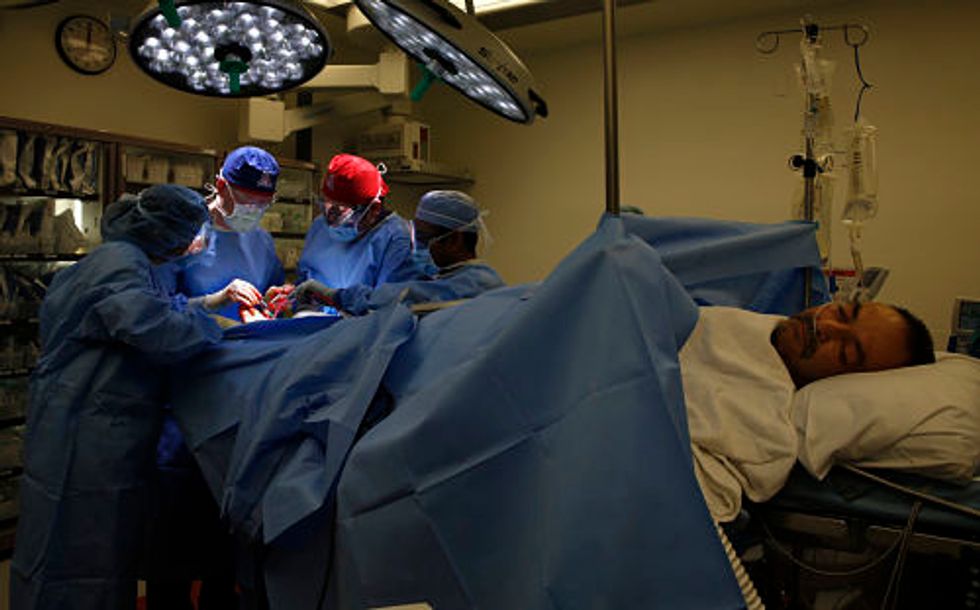 By Noam N. Levey, Tribune Washington Bureau (TNS)
TUCSON, Ariz. — Bad timing turned Karen Slone's medical problem into a crisis.
Slone, 53, a former administrative assistant with diabetes, followed doctors' advice for years, getting regular checkups. Then, last year, she lost her job and her insurance, and stopped going to the doctor.
When she spotted a sore on her foot, a common complication of diabetes, Slone tried Neosporin and Band-Aids. By the time she went to an emergency room weeks later, she had a raging infection. Surgeons had to remove bones in two toes.
"It was awful," Slone recalled. "If I'd have been covered, I would have gone to the doctor sooner."
For low-income adults like Slone, Arizona was once a trailblazer in health care, providing broad access to Medicaid, the government health plan for the poor.
But during the last recession, Arizona cut coverage for tens of thousands of people. This year, the state expanded Medicaid again, although the decision faces a legal challenge.
Arizona's on-again, off-again approach makes it a useful place to look at the impact of a program that covers more than one in five Americans.
In 27 states, low-income adults are guaranteed Medicaid coverage through the Affordable Care Act, which provides billions of federal dollars to states to expand the program.
Poor adults are largely shut out of coverage in the remaining states, mostly in the South and interior West. These states declined federal aid, citing concerns about Medicaid's effectiveness and cost.
Around Tucson's high desert valley, the effects of Arizona's shifts in insurance have shown up in breast clinics and emergency rooms, operating theaters and jails.
The changes have affected how sick people became, and even how long they lived, researchers found.
"We've gotten to live through a good Medicaid program and a bad Medicaid program," said Judy Rich, a former nurse who heads Tucson Medical Center. "It made a difference."
Arizona was the last state to join Medicaid, setting up a program in 1982, nearly two decades after President Lyndon B. Johnson signed the law that offered federal aid to states to insure poor families and the disabled.
The program initially provided more limited benefits than most states. But in the late '90s, Arizona took an unexpected turn.
Pushed by doctors, civic leaders and hospitals — many from the more liberal Tucson area — voters approved ballot measures to dramatically expand Medicaid, paying for it with Arizona's share of a legal settlement between states and the tobacco industry.
In most states at the time, Medicaid was reserved primarily for poor children, mothers and the disabled. Arizona joined a handful offering coverage to low-income working-age adults, even if they didn't have children.
The vote fueled the fastest Medicaid expansion in the country: Enrollment more than doubled between 2001 and 2010 to 1.3 million people.
In Tucson, that spawned new clinics and programs for the needy. It also appears to have improved residents' health.
Mortality rates in Arizona, New York and Maine, which all expanded Medicaid between 2001 and 2003, fell 6 percent compared with neighboring states that did not expand, researchers found.
The decline was most pronounced in places with large poor populations such as Tucson and surrounding Pima County, where Medicaid probably had the biggest effect, according to the study in the New England Journal of Medicine.
"The expansion was very effective," said Neal Cash, president of Community Partnership of Southern Arizona in Tucson, which manages behavioral health services for more than 200,000 poor patients. "Before, people were literally being treated in the streets."
When tax revenues plunged during the 2008-09 recession, however, Arizona froze Medicaid enrollment for childless adults and dropped services. The retrenchment was one of the most severe in the country.
Doctors and others quickly noticed changes.
At Dr. J. Manuel Arreguin's gynecology clinic on the lower-income south side of Tucson, women began delaying recommended surgery for fibroids, noncancerous growths that appear in the uterus and can cause serious bleeding.
Pima County jail officials noticed that more inmates needed extra medical attention, even kidney dialysis. Many had lost health insurance and access to medications and medical services before they were arrested.
In rural health clinics, patients started drifting away; many sought care or drugs in Mexico, said Amanda Aguirre, president of the Regional Center for Border Health.
And at Tucson Medical Center, doctors and nurses struggled to get patients to seek follow-up care.
"It seemed like all of a sudden, half the people didn't have health coverage," said Dr. Michelle Williams, assistant medical director of the hospital's emergency department. "I didn't want to ask about coverage because it is not what I'm supposed to do as a physician. But you had to.
"I'd make a plan for a patient, and then they would say, 'That's not going to work because I don't have insurance.' "
Among the Medicaid services the state cut four years ago was podiatry, an important benefit for diabetics, many of whom lose feeling in their feet and become more prone to infections as the disease wastes nerves and arteries.
At the University of Arizona Medical Center in Tucson, Dr. David Armstrong still sees the impact.
Nearly every day, Armstrong and Dr. Joseph L. Mills, who co-direct the Southern Arizona Limb Salvage Alliance, don surgical scrubs and step into an operating room to amputate limbs or cut away diseased bones and flesh of patients with diabetes who put off seeing a doctor.
One afternoon, Armstrong's team labored to save the black, gangrenous left foot of a 30-year-old diabetic, sawing out infected bones, stitching healthy tissue and grafting skin in a bid to spare him life in a wheelchair.
"If it was just a couple of months earlier, we probably could have stopped some of these problems," Armstrong said later. "We're constantly shaking our heads."
Armstrong and other researchers documented a 37 percent increase in hospital admissions for diabetic foot ulcers between 2006 and 2011, according to a study they published in the journal Diabetes Care.
Patients also stayed longer in the hospital with more severe outcomes, they found. Amputations, surgical complications, life-threatening infections and deaths increased by nearly half.
"These people's feet were literally killing them," Armstrong said.
What's frustrating, he said, is that the solution is straightforward. "It doesn't need big, fancy machines. … It's just good, quality primary care."
Sitting in her living room in a modest apartment complex in Tucson, Slone counts herself lucky that her injury wasn't worse.
She can walk. And she got a new job at a call center this summer, which soon should give her health insurance again.
She is still struggling with more than $30,000 in medical bills, however, and has had a new flare-up on her foot.
Many other Arizonans have gained coverage since January after Republican Gov. Jan Brewer's push for Medicaid expansion. Enrollment surged 26 percent this year to more than 1.6 million, state figures show.
Although podiatry services haven't been restored, the expansion of the safety net is already being felt.
At Tucson Medical Center, the number of life-threatening cases in the emergency room has declined.
Doctors instead are seeing more patients with severe headaches or abdominal pain. The symptoms can indicate a very serious condition, but uninsured patients often ignore them, fearing the high bills they may face.
At the hospital's breast clinic, the waiting list for screening through the hospital's charity program, which had been three months, is now half as long.
Officials at the Pima County jail have been busily signing up inmates for Medicaid all year. Capt. India Davis, the assistant corrections director, said officials expect the improved access to health care, especially behavioral health services, will not only lessen the burden on the lockup but also reduce recidivism.
But the state's swings in policy may not be over.
A group of GOP state lawmakers is suing to roll back the Medicaid expansion.
And Gov.-elect Doug Ducey, a Republican who will succeed Brewer in January, hasn't specified whether he will maintain the new safety net coverage.
Photo: Foot surgeon Dr. David Armstrong, center with blue cap, removes infected bones from diabetic patient Jesus Duarte on Oct. 27, 2014 at the University of Arizona Medical Center in Tucson, Ariz. Armstrong is a member of Southern Arizona Limb Salvage Alliance and has seen a huge increase in serious foot problems from diabetics since Arizona stopped Medicaid coverage for podiatry exams. "People's feet are killing them,"  he said. (Don Bartletti/Los Angeles Times/TNS)