Arkansas Assesses Tornado Damage As Storms Keep Moving East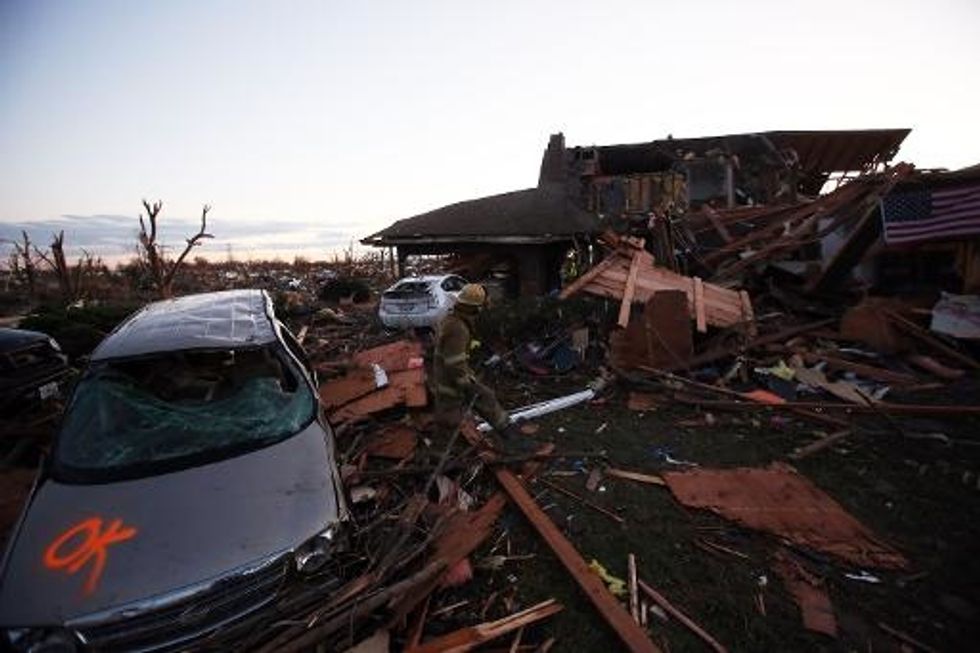 By Molly Hennessy-Fiske, Michael Muskal and Matt Pearce, Los Angeles Times
VILONIA, Ark. — Parkwood Meadows subdivision is the sort of place where neighbors know each other. Their children play together at a communal basketball hoop set up in the street.
But on Sunday, a fierce tornado leveled more than three dozen of its single-story brick homes. The wind blew belongings into surrounding fields and dense woods. Roofs were ripped off, walls toppled, garages imploded. Eight of about 50 homes remained standing, but the subdivision's brick sign survived unscathed — as pristine as the pair of brown cowboy boots propped against it.
Linda Mulligan, 42, weathered the tornado in a closet with her husband and two stepdaughters, ages 18 and 10.
"It lifted us about 30 feet," said Mulligan, field coordinator for an elevator company. "If it wasn't for my husband holding everyone's hands and praying, we wouldn't have made it."
As they looked at the damage on Monday, they took comfort in just being alive. "They carried one out today," she said of a body. "It's a terrible, terrible thing."
Police Chief Brad McNew said eight people had been killed in Vilonia, but he couldn't be sure how many were from Parkwood Meadows.
According to Kathy Wright, a spokeswoman for the Arkansas Department of Emergency Management, 15 people died statewide — 11 in Faulkner County, three in Pulaski County and one in White County. At least two other weather-related deaths, one in Oklahoma and the other in Iowa, were also reported, bringing Sunday's toll to 17.
Even as Arkansas continued its cleanup efforts, tornadoes spread Monday afternoon to Mississippi, where a severe weather system brought "significant damage to some businesses and hotels" in northwestern Tupelo. About 100 miles to the south, the Winston Medical Center in Louisville, Miss., was damaged.
In Alabama, the coroner's office confirmed two deaths west of Athens, Limestone County Emergency Director Rita White told The Associated Press.
Tornado watches were also in place for Tennessee.
Earlier Monday, Arkansas officials had put the state's death total at 16, but revised it downward by two because some people had been counted twice. Then another confirmed death brought the tally to 15. The final toll is still a question mark, however.
"We don't have a count on injuries or missing. We're trying to get a handle on the missing part," Arkansas Gov. Mike Beebe said at a news conference. "Just looking at the damage, this may be one of the strongest we have seen."
About 120 injuries of varying severity were reported in Arkansas alone. At least nine people remained hospitalized Monday at the Conway Regional Medical Center, with several in serious condition, spokeswoman Lori Ross said.
Early reports said the tornado that touched down in Arkansas on Sunday was at least half a mile wide and cut a swath as much as 80 miles long. The twister could have carried winds of more than 136 mph, which would make it an EF-3, one of the strongest measured. But weather officials warned that a final determination will require analysis of the damage.
President Barack Obama, who is traveling in Asia, called Beebe to express his condolences. Federal Emergency Management Agency Administrator Craig Fugate was traveling to Arkansas on Monday to ensure the appropriate federal resources were available, the agency announced.
FEMA said it was preparing for widespread, severe storms — including tornadoes, damaging winds and large hail — through Monday night over parts of the eastern United States from the Mississippi Valley to the Appalachians.
In southeastern Iowa, a woman was killed Sunday when a tornado or powerful straight-line winds caused a farm building to collapse. Another tornado was blamed for one death in Quapaw, Okla., before the twister crossed into Kansas, where it destroyed more than 100 homes and businesses and injured 25 people in the city of Baxter Springs, according to Kansas authorities.
But Arkansas remained the hardest hit. Rescuers continued looking for people and trying to assess the damage. Among the ruins in Vilonia was a new intermediate school that was to open this fall — built to replace the school destroyed by a 2011 tornado.
"There's just really nothing there anymore. We're probably going to have to start all over again," Vilonia Schools Superintendent Frank Mitchell told reporters after surveying what was left of the building.
The weekend was the third anniversary of a tornado outbreak that struck from April 25 to 28, 2011, when parts of Mississippi, Alabama, Tennessee, Virginia and Georgia were hit by 358 tornadoes. More than 300 were killed then, including five in Arkansas, with four of those in Vilonia.
On Sunday, Dawn Neely, 41, weathered the Vilonia twister at her home in the Parkwood Meadows subdivision.
Neely, a house cleaner with two children who were not at home, said she hid in a 3-foot-square bathroom closet, her two dogs on the floor outside.
After the twister passed, she couldn't get out until a neighbor cleared away debris from the closet door.
When Neely emerged, her bathroom ceiling was gone and so were most of the walls. One of her dogs was trapped under debris. The other was missing.
She freed the first dog, which was unharmed. Monday morning she got a call: The second dog, a Labrador mix named Georgia Belle, had been found about a mile away, alive.
Her husband, an airman deployed in the Middle East, was due home Tuesday. Some of his colleagues helped her search the rubble for valuables. Monday morning, they found her wedding ring. By evening, they had found his, a gold band sparkling with diamonds.
Neely held the ring up to the hot afternoon sun like a prize, smiling. Then her face crumpled. In front of her sat the skeleton of her home.
"That will make you cry," she said, slipping the oversized ring on a slim finger. "That will get you."
She has not allowed her children, ages 14 and 10, to see the house, she said. It's just too much.
AFP Photo/Tasos Katopodis