Former U.S. Army Interpreter Sues Trump Over Immigration Order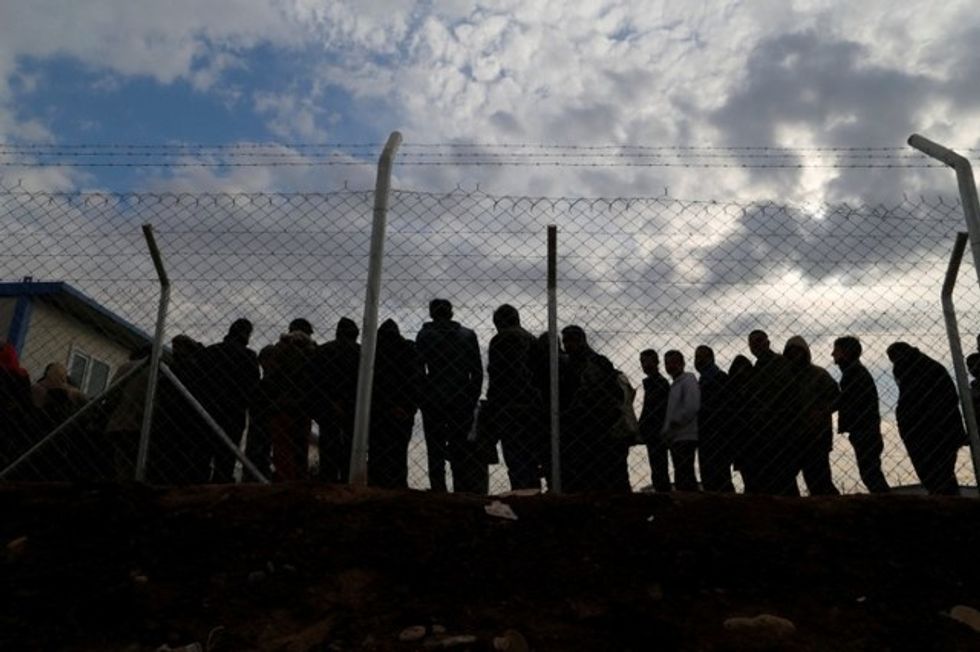 NEW YORK (Reuters) – An initial volley in a potential barrage of legal challenges to President Donald Trump's new restrictions on immigration came on Saturday on behalf of two Iraqis with ties to U.S. security forces who were detained at New York's JFK Airport.
In a lawsuit filed in federal court in Brooklyn, New York, the men are challenging the directive on constitutional grounds. The suit says that their connections to the American forces made them targets in their home country, and the pair had valid visas to enter the United States.
The lawsuit, which seeks to block Trump's order on behalf of a class of visa-holders and asylum-seekers, highlights some of the legal obstacles facing the new administration as it tries to carry out the directive.
The plight of one of the men, a former U.S. Army interpreter, is especially compelling, said David Leopold, a former president of the American Immigration Lawyers Association who is not involved in the suit.
"Here is a guy who was a translator who worked for the U.S. military for years who himself was targeted by terrorists," he said. "It is clear that if he is sent back, he facing a direct threat to his life."
That man, Hameed Khalid Darweesh, was released later on Saturday and told a crowd of reporters outside John F. Kennedy International Airport that he did not have ill feelings about his detention.
"America is the greatest nation, the greatest people in the world," he said.
Darweesh, 53, worked for the U.S. Army and for a U.S. contractor in Iraq from 2003 to 2013 as an interpreter and engineer, the lawsuit said.
The second plaintiff, Haider Sameer Abdulkhaleq Alshawi, 33, was still being held. He is the husband of an Iraqi woman who worked for a U.S. contractor in Iraq, and she already lives in Houston, the suit said.
Ten other travelers not named in the suit were being detained at JFK Airport on Saturday afternoon, U.S. Representative Jerrold Nadler, a New York Democrat, told reporters.
Trump, a Republican, on Friday signed a sweeping executive order that put a four-month hold on allowing refugees into the United States and temporarily barred travelers from Iraq and six other Muslim-majority countries. The order would help protect Americans from terrorist attacks, the president said.
Representatives for the White House could not immediately be reached for comment on Saturday.
Supporters of the order say the president has wide authority to limit the entry of foreign nationals from specific countries when it is in the national interest.
"If we decided to give green cards only to redheads who can play the spoons, we can do that," said Mark Krikorian, executive director of the conservative Center for Immigration Studies.
The lawsuit on behalf of the Iraqis challenges Trump's order on several grounds. It says the order violates the U.S. Constitution's guarantee of due process by taking away their ability to apply for asylum, and violates the guarantee of equal protection by discriminating against them on the basis of their country of origin without sufficient justification.
It also says the order violates procedural requirements of federal rulemaking.
Another legal challenge is expected on Monday, when the Council on American-Islamic Relations has said it plans to announce a lawsuit arguing that the order targets Muslims and violates the U.S. guarantee of religious freedom.
Trump's order does not mention specific religions, but in an interview on Friday with the Christian Broadcasting Network, Trump said he was acting to help Christians in Syria who were "horribly treated."
Comments like that could come back to haunt the president in litigation over his order, said Hiroshi Motomura, an immigration expert at UCLA School of Law.
"There were comments during the campaign that focused very much on religion as the target," Motomura said. "If the record showed that the origins of a particular measure were based on targeting a particular group, that could be challenged in court."
Eric Rothschild, senior litigation counsel at religious liberties group Americans United For Separation of Church and State, said Trump has created a perverse situation for asylum-seekers.
"People will be quizzed on their faith in order to gain access to the country, maybe motivating them to deny their faith," he said.
(Reporting by David Ingram and Mica Rosenberg; Additional reporting by Doina Chiacu in Washington, and Jonathan Allen and Andrew Chung in New York; Editing by Alan Crosby and Franklin Paul)
IMAGE: Displaced Iraqi people, who fled the Islamic State stronghold of Mosul, gather at Khazer camp, Iraq December 13, 2016. REUTERS/Ammar Awad