As Budget Crunch Approaches, House Republicans Are In Total Chaos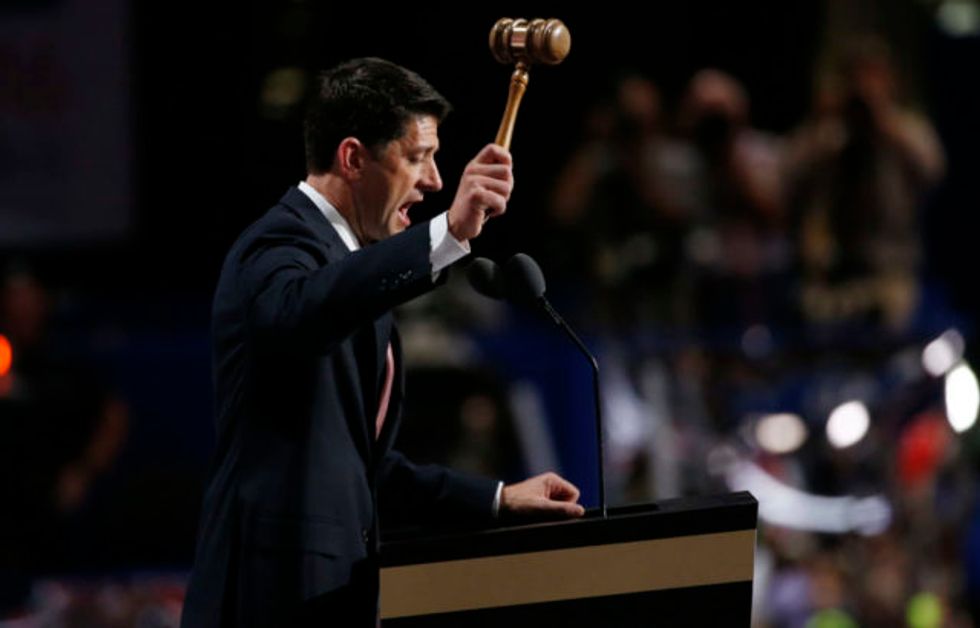 Reprinted with permission from DCReport.
Consider all of the following now that the House of Representatives has left Washington until after Labor Day:
Paul Ryan (R-Wis.) is a lame duck speaker who no longer seems to care about supporting Trump or Trump's legislative agenda.
Ryan has no heir-apparent who, as Ryan increasingly checks out, has the authority to take over what was an already very unruly House Republican caucus.
There are three candidates to replace Ryan who are openly campaigning for the job and dividing the GOP caucus. This competition will likely get worse when the House reconvenes.
One of the three speaker candidates is Jim Jordan (R-Ohio), the former chairman of the House Freedom Caucus. But the caucus, which had been so influential in determining the House legislative agenda this decade, now seems to be on its last legs. And Jordan has been accused by dozens of people of knowing about but not reporting sexual abuse when he was an assistant wrestling coach at Ohio State University.
That means Jordan may not be in the best position to become speaker (or minority leader if there's a Democratic majority) in the next Congress but, if he can hold the Freedom Caucus together, he may be able to determine who does.
House Republicans seem to be content to do things that are totally symbolic and remarkably unimpressive.
More House Republicans are not running for re-election for one reason or another than in any other recent election. Retiring members or those defeated in their primaries tend not to be as responsive to their constituents, their party or the White House toward the end of their terms. They also can't be counted on to vote as reliably as might have been the case before.
The most recent generic polls show Democrats with a big lead over Republicans on who should control the House in the next Congress. The biggest reason for the Democratic lead is a strong desire for there to be a check on Trump, and he isn't going away anytime soon.
The House only has 11 legislative days left before the start of fiscal 2019 but doesn't seem to have any agreed-upon plan on how to avoid a government shutdown on Oct. 1, except to hope that Trump doesn't veto the continuing resolution that will be needed to prevent it.
While the shutdown clock continues to run, House Republicans seem to be content to do things that are totally symbolic and remarkably unimpressive.
The most purely symbolic gesture last week was the weak version of a resolution to impeach Deputy Attorney General Rod Rosenstein that Ryan completely shot down less than 24 hours after it was introduced by Jordan and current House Freedom Caucus Chairman Mark Meadows (R-N.C.). The resolution never had a chance in the House and the GOP controlled Senate had no interest in it. It was never going to happen.
When the House reconvenes, the GOP plans to devote a significant amount of the limited time it has left before fiscal 2019 begins to three tax cut bills that have no chance of being enacted any time soon because…wait for it…the Republican-controlled Senate has already said it's not interested.
And none of this even begins to anticipate what the House Republicans who are running for re-election and think they will need to energize the Trump base will do in September as the Manafort trial and Cohen investigations continue and as the Mueller probe moves forward.
In other words, this year's legislative crunch time is about to get very real but House Republicans have little leadership, no plan, a very divided caucus, are very likely to be distracted and are relying on a notoriously unreliable Trump to do the right thing.
This is almost a textbook definition of political and legislative chaos.
Stan Collender is an expert on the federal budget, federal spending and revenues, the deficit, the national debt and the congressional budget process. He writes thebudgetguy.blog, where this article first appeared, and you can follow him on Twitter @thebudgetguy.