As Prosecutors Probe His Coup Attempt, Trump Erupts In Ranting Post
@next2godwin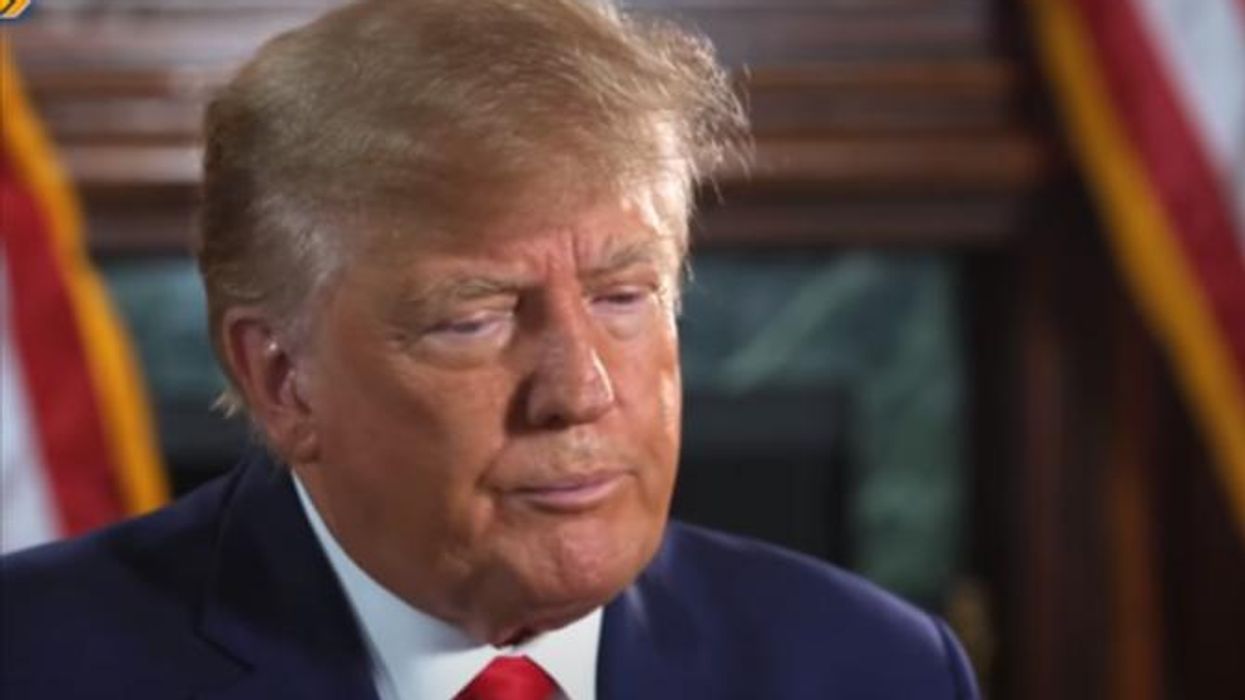 YouTube Screenshot
Former President Donald Trump went on a screeching rant Wednesday on his social media platform following reports that the U.S. Justice Department has launched a criminal investigation into his audacious efforts to overturn the 2020 presidential election results.
On Tuesday night, the Washington Post and New York Times released bombshell reports that federal investigators had begun digging for information on Trump's activities in the days between November 7, 2020 — when media outlets, including Fox News, called the 2020 election for Joe Biden — and January 6, 2021, the day a mob of Trump supporters charged through the U.S. Capitol's halls to halt the congressional certification of the election results.
The focus of the questioning, according to those media outlets, was on the scheme to deploy a slate of fake electors loyal to Trump in key battleground states where Biden defeated the ex-president.
"Prosecutors who are questioning witnesses before a grand jury — including two top aides to Vice President Mike Pence — have asked in recent days about conversations with Trump, his lawyers, and others in his inner circle," the Post reported.
Trump, who has for decades employed lies and misdirection to dodge the looming threat of accountability, launched into a multi-post tirade Wednesday morning on his struggling Truth Social site to air his grievances.
"Just more disinformation by the Democrats, like the Russia, Russia, Russia Scam, Impeachment Hoax #1, Impeachment Hoax #2, the long running Mueller Report, which ended in No Collusion, and so much more. " Trump wrote.
The former president went on to assail the Justice Department and repeat the lies and misinformation about the 2020 presidential elections that got him kicked off Twitter last year.
"Now that we have found the answers to these crooked, election changing events, why is the Justice Department not prosecuting those responsible?" Trump asked in a Truth Social post. "Plenty of time left!"
Trump asserted in his rant that the American people had forgotten that "this is all about a Rigged and Stolen Election."
"But rather than go after the people that Rigged and Stole it," Trump fumed, "they go after the people that are seeking Honesty and Truth, and have Freedom of Speech, and many other defenses, on their side!"
The former President added, "Justice Department should look at The Crime of the Century. Evidence is massive and irrefutable!!!"
Although the reported inquiries don't necessarily mean "the Justice Department has opened a criminal investigation into [Trump himself]," per the Times, Attorney General Merrick Garland has certainly not ruled out the possibility of indicting Trump and his cronies over the insurrection.
"We pursue justice without fear or favor. We intend to hold everyone — anyone who is criminally responsible for the events surrounding January 6 or any attempt to interfere with the lawful transfer of power from one administration to another — accountable," Garland told NBC News's Lester Holt.
The Trump Administration's Justice Department, led by former Attorney General William P. Barr, looked into the ex-president's outrageous claims of country-wide voter fraud and found nothing that would support Trump's claims, let alone overturn his defeat.
However, in an exercise in smoke and mirrors, Trump and his allies — many of whom are now in legal hot water for their roles in undermining American democracy — have continued to push the lies to this very day.
In his Truth Social rant, Trump also complained about the accelerating Fulton County, Georgia, investigation into his effort to pressure top Georgia election officials into "finding" enough votes to award him victory over Biden in the state.
"The Georgia phone calls were PERFECT," Trump wrote. "Many people and lawyers, on both sides, were knowingly on the one call, I assumed the call was taped, there were Zero complaints or angry 'how dare you' charges made during the call, and no 'hang ups' by anyone aggrieved or insulted at what was said."
He continued to lie: "I was just doing my job as President, and seeking Fairness and the Truth. The Election was Rigged and Stolen!".