As She Woos Hispanics, Clinton Moves Left On Immigration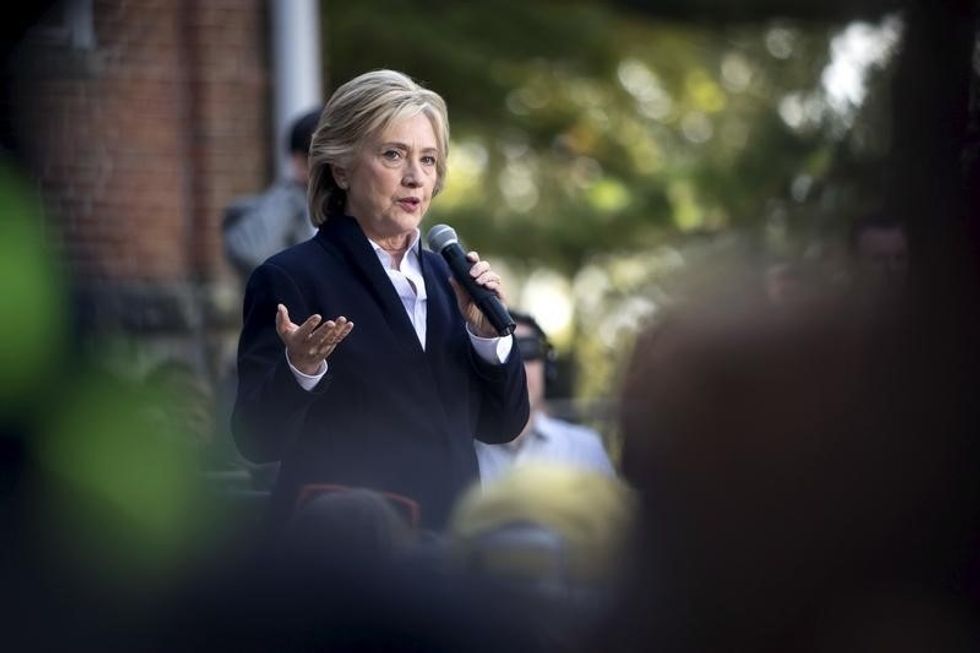 By Anita Kumar, McClatchy Washington Bureau (TNS)
WASHINGTON — Hillary Clinton wants to halt the deportation of immigrants in the country illegally, offer them a path to citizenship and allow them to obtain driver's licenses.
It wasn't always this way.
In past years, Clinton insisted she was "adamantly against illegal immigrants," voted as a senator to construct hundreds of miles of fencing along the border with Mexico to keep them out and opposed giving them driver's licenses.
As she faces unexpectedly tough competition for the Democratic nomination, Clinton has shifted — occasionally even reversed — her policies on immigration, moving steadily to the left of where she had been as a senator and first-time presidential candidate. In some instances, she has been vague or contradictory as she looks to woo crucial Hispanic voters.
"For me this is about what kind of people we all are and what kind of country we all have," she said at an immigration town hall meeting in Las Vegas last May. "So you know where I stand and there can be no question about it because I will do everything I can as president and during this campaign to make this case."
Some groups that have been pushing for a rewrite of the nation's immigration laws readily acknowledge that Clinton has changed, but they support her because she has always been for the broad goal of what they call comprehensive immigration reform. They say they are generally pleased with what she has been saying since she entered the race in the spring, including pledging to do more than President Barack Obama in several areas.
"Many of us are much more enthusiastic," said Frank Sharry, the executive director of America's Voice, an immigration advocacy group.
Groups searching for ways to reduce the number of immigrants in the country illegally, and sometimes even legally, question the motives behind her shifts.
"She's pandering to what she believes will win her votes of Hispanics," said Ira Mehlman, a spokesman with the Federation for American Reform, which advocates for increased border security and stopping illegal immigration.
Clinton's campaign shared some of her specific views but did not respond to a request to explain her approach to immigration, one of the issues Republicans say has led potential voters to call Clinton dishonest in recent polls.
It's not the first time Clinton has changed her position on an issue — she reversed course on same-sex marriage and the Iraq War — as she embraces issues that she hopes will appeal to the same coalition of female, minority, youth and gay voters that propelled Obama to victory.
Clinton already has a huge advantage over all other Democratic and Republican presidential candidates among registered Hispanic voters, according to a Univision poll released this summer. Of the Hispanic voters polled, 73 percent said they would back her. None of her Democratic rivals received double-digit support. In a general election matchup, 64 percent of those polled said they would back Clinton.
As the top five Democratic presidential candidates travel to Nevada for their first debate, the contentious issue of immigration takes on added significance in a state where nearly one-third of the population is Hispanic.
Eric Herzik, chairman of the political science department at the University of Nevada, Reno, said Clinton has failed to explain her decision to change her mind in past debates, but that she should be prepared to do that this time, perhaps even on immigration.
"You can make a mistake," he said. "You're allowed to."
A dozen years ago, Clinton declared that she was against "illegal immigrants," a view she no longer talks about.
Roy Beck, executive director of NumbersUSA, a group that advocates for greater immigration enforcement and which now gives Clinton an "F" grade based on 10 categories, said that Clinton had been more of a centrist years ago when she voted to secure the border, talked about punishing employers who hire those in the country illegally and backed a pathway to citizenship for immigrants in the country illegally.
"She's definitely changed," he said. "It's hard to believe she believes what she is saying."
Clinton had declined for months to take a position on a series of controversial executive orders by Obama until after he acted to protect immigrants from deportation if they were brought to the U.S. illegally as children, were parents of U.S. citizens or permanent residents who have been in the country for several years. Protesters urged her to take a stand, but she refused, once angering them by saying simply, "I think we need to elect more Democrats."
She eventually said she supported Obama's actions, and in one of her first campaign events of her second run she said she would do more than Obama to halt the deportation of immigrants who are in the United States illegally. Specifically, Clinton said she would stop the deportation of parents of so-called "Dreamers," children brought into the country illegally.
"I would do everything possible under the law to go even further," Clinton said.
White House press secretary Josh Earnest has said Obama went as far as he thought he could, and he could not explain why Clinton said she could do more. "There may be a legal explanation that they have that you should ask them about," he said.
In a recent Telemundo interview, Clinton went as far as faulting Obama for deporting so many people and "breaking up families" during his first term.
She also said the Obama administration's family detention centers need to be closed, saying she was "very worried" about the detention of children and called for more "humane treatment."
"They're fine for an emergency, but the emergency has passed, and we need to do more to help these families find more permanent solutions," she said.
Clinton says on her website what she will focus on: offering a path to citizenship, supporting comprehensive immigration reform, expanding Obama's executive actions and deporting only those who pose a violent threat to public safety.
She doesn't mention other issues where she has changed.
In 2007, when she ran for president the first time, she was criticized for a muddled response to a question at a time where she eventually opposed allowing immigrants here illegally to obtain driver's licenses. Her campaign said she now supports issuing licenses to them.
More recently, in 2014, as the number of children illegally crossing the southern border alone spiked, Clinton said they would be sent back to their home countries.
"We have to send a clear message," she said in June. "Just because your child gets across the border, that doesn't mean the child gets to stay. We don't want to send a message that is contrary to our laws or will encourage more children to make that dangerous journey."
The next month, Clinton softened her tone, telling the Fusion network's Jorge Ramos that she would deport children that "don't have a legitimate claim for asylum" or "some kind of family connection."
(c)2015 McClatchy Washington Bureau. Distributed by Tribune Content Agency, LLC.
U.S. Democratic presidential candidate Hillary Clinton speaks during a community forum campaign event at Cornell College in Mt Vernon, Iowa, October 7, 2015. REUTERS/Scott Morgan