As Trump Complains Democrats 'Do Nothing,' McConnell Holds Up 400 Bills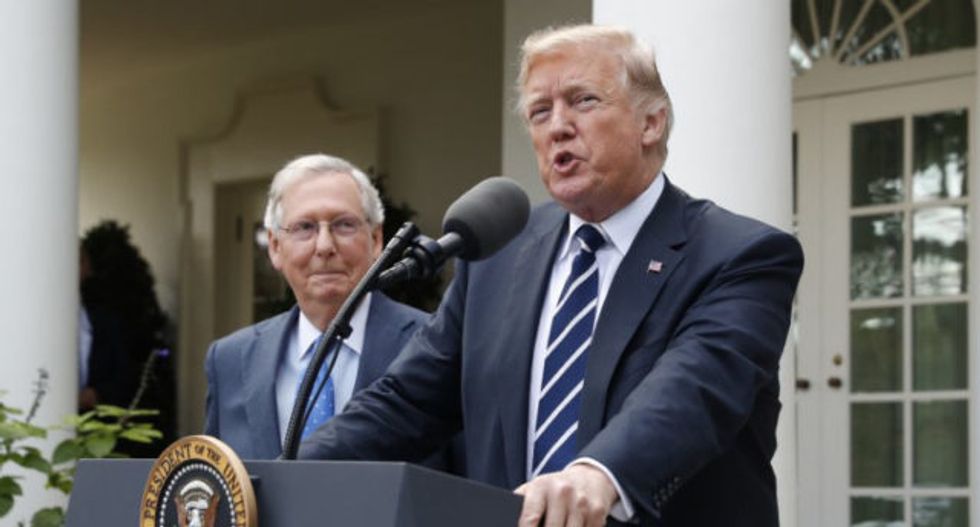 Donald Trump, lashing out over the continued revelations about his attempts to solicit foreign election help, slammed the Democrats on Friday as a "do nothing" party for their decision to move forward on impeachment.
"The Democrats are now to be known as the DO NOTHING PARTY!" he wrote.
At almost the precise moment Trump made those comments, Democrats were holding a press conference to highlight some of their legislative accomplishments so far this year.
Speaker Nancy Pelosi and her fellow House members used their weekly press conference Friday morning to note that it had been 200 days since they had passed H.R. 1, the For the People Act.
H.R. 1 passed on March 8 and has yet to be scheduled for a vote by Senate Majority Leader Mitch McConnell.
Pelosi mocked McConnell for describing himself as the "Grim Reaper" in holding up bills with popular backing and touted that the legislation is still active.
"You may think this is dead, over there, Grim Reaper — what a nice thing to say about yourself — but it is alive and well in the public," said Pelosi. "And the people know, and they will know more, that you are holding this up."
The bill was the Democrats' first piece of legislation after winning control of the House last November and was given its historically significant designation to indicate the importance of the election reforms within.
The legislation would enact various measures, including automatic voter registration, provide financing for election security against foreign attacks, and end partisan gerrymandering.
McConnell's hometown newspaper, the Lexington Herald-Leader, slammed him for having a "segregationist" stance by opposing the bill's provisions to assist voter protection.
H.R. 1 is one of around 400 bills that House Democrats have passed in the last nine months, only to see them held up by McConnell and Senate Republicans.
In addition to election security, Democrats have addressed gun violence, prescription drug costs, the minimum wage, and protecting insurance coverage for people with preexisting conditions, among myriad other issues.
While Trump has attempted to fight back against growing impeachment sentiment, he has tried to claim that executing oversight of his presidency has stopped Congress from working. As far as the House and Democrats go, that isn't true.
Published with permission of The American Independent.