As Trump Ranted On Twitter, Hicks Stonewalled Judiciary Committee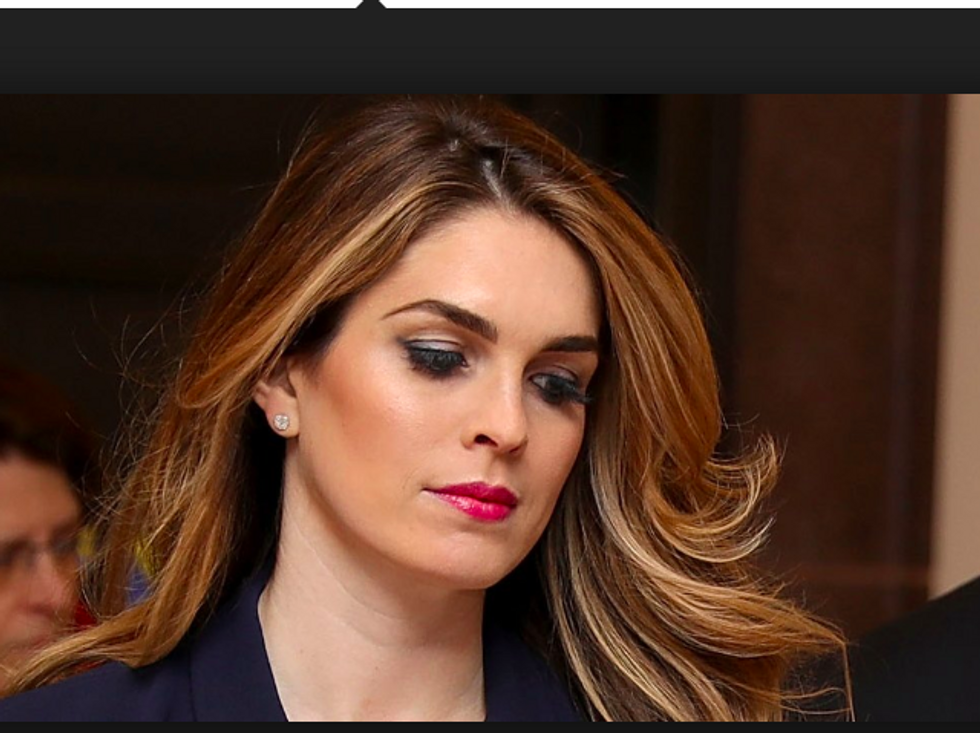 Former White House Communications Director Hope Hicks sat for an interview with the House Judiciary Committee on Wednesday — and Trump was completely undone by it.
As Hicks met behind closed doors to answer questions from House Judiciary Committee members about her comments to now-former special counsel Robert Mueller, Trump took to his favorite social media site to blast the Mueller report and Democrats' continued hearings dissecting the report's findings.
"The Dems are very unhappy with the Mueller Report, so after almost 3 years, they want a Redo, or Do Over," Trump whined on Twitter. "This is extreme Presidential Harassment. They gave Crooked Hillary's people complete Immunity, yet now they bring back Hope Hicks."
Trump went on to bring up ridiculous conspiracy theories about his former foe Hillary Clinton — who still lives rent-free in his head — and ask why Democrats aren't investigating his fever dream conspiracies about Clinton instead.
"Why aren't the Dems looking at the 33,000 Emails that Hillary and her lawyer deleted and acid washed AFTER GETTING A SUBPOENA FROM CONGRESS?" Trump shouted in caps lock, the way your crazy relatives do on social media platforms. "That is real Obstruction that the Dems want no part of because their hearings are RIGGED and a disgrace to our Country!"
Then Trump placed his finger firmly on the shift key.
"DEMOCRAT CONGRESSIONAL HEARINGS ARE #RIGGED!" Trump tweeted.
But House Democrats are doing exactly what Mueller intended by examining the findings of his report in an effort to determine whether any punishments for Trump are warranted.
And Hicks is a central figure in the report, with her name appearing 184 times, according to Politico's Kyle Cheney.
Hicks appears in the report so many times because she was a central witness to some of the efforts Trump made to obstruct Mueller's investigation — which Mueller detailed in his report.
Trump's childish freakout over Hicks' testimony on Wednesday likely isn't even warranted.
As Hicks sat behind closed doors answering questions, Democrats on the committee emerged from the room to call the interview a "farce," as White House lawyers were preventing Hicks from answering even basic questions, such as whether she told the truth to Mueller's investigators, Cheney reported.
"We're watching obstruction of justice in action," Rep. Ted Lieu (D-CA) told Cheney after emerging from the interview room, adding that the White House is "making crap up" to prevent Hicks from answering questions.
Democrats are merely doing their Constitutional duty in looking into the conclusions from Mueller's report to determine whether any further action, such as impeachment, is necessary.
Finally, Trump claimed that if Mueller's investigation hadn't been going on, he would be "winning by 20 points" but then said he's "winning anyway!"
Of course, that's demonstrably false. Poll after poll shows Trump's approval ratings are in the toilet, and that if the election were held now he'd lose to almost every top Democratic presidential hopeful.
But Trump is blocking those efforts at every turn, and then screaming about it in a juvenile manner whenever he can.
Does that sound like something someone who claims to have been "exonerated" would do?
Published with permission of The American Independent.
IMAGE: Former White House Communications Director Hope Hicks.