As Weiner Shrivels, de Blasio Rises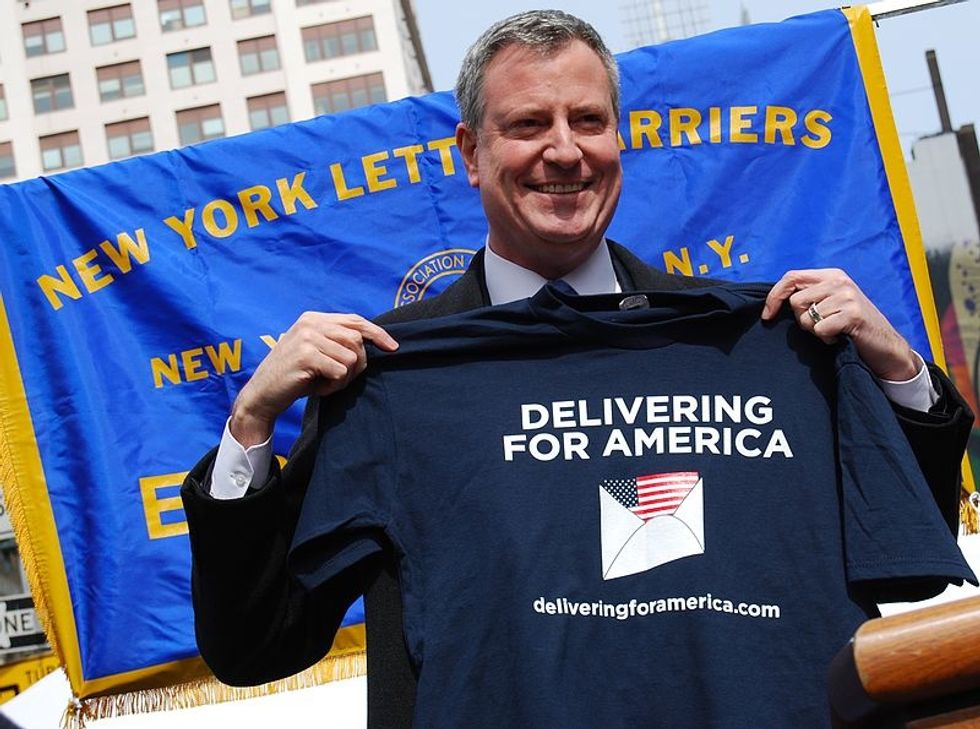 Bill de Blasio has surged to the front of the pack of Democratic candidates for mayor of New York City, finds a Quinnipiac poll released Tuesday.
The city's public advocate leads his closest competitor, City Council Speaker Christine Quinn, by 30-24. Former city comptroller Bill Thompson is in third with 22 percent, and onetime frontrunner Anthony Weiner is in fourth with 10 percent support.
Weiner's tumble from the lead in the race began when evidence of a post-scandal online affair emerged. Since then, 23-year-old Sydney Leathers, the 48-year-old Weiner's latest sexting partner, was outed and began a series of media appearances and money-making ventures including a song called "Weinerizer" and a sex tape.
Meanwhile, de Blasio has released a stirring ad featuring his biracial son that highlights his opposition to Mayor Michael Bloomberg's "Stop and Frisk" policy, which was recently ruled unconstitutional.
Based on his progressive credentials, The Nation issued a rousing endorsement of the former Clinton administration official:
Throughout the last twelve years, many of New York's hardest-hit communities have responded to the struggles and inequities of the Bloomberg era with smart ideas and savvy campaigns. As much as this has been a time of frustration, it has also been a time of grassroots creativity and hope. Now we have a mayoral candidate who has vowed to bring some of these ideas to City Hall—and if he can harness a broad coalition of progressive forces (and if just a few of the right stars align), he can win. Indeed, as we write this endorsement, de Blasio's campaign is gaining momentum.
The candidate's promise to have the rich "pay their fair share in taxes" goes along with his promise to break with the "Bloomberg era."
If no Democratic candidate gets 40 percent of the vote in the primary on September 10, the top two finishers will meet in a runoff in October.
An aggregate of all polling showed that Christine Quinn and Bill Thompson were the favorites to be in that position as of the release of the Quinnipiac poll.
Photo: Thomas Altfather Good via Wikimedia Commons