At Fox Town Hall, Buttigieg Brushes Off Trump Tweets: 'I Don't Care'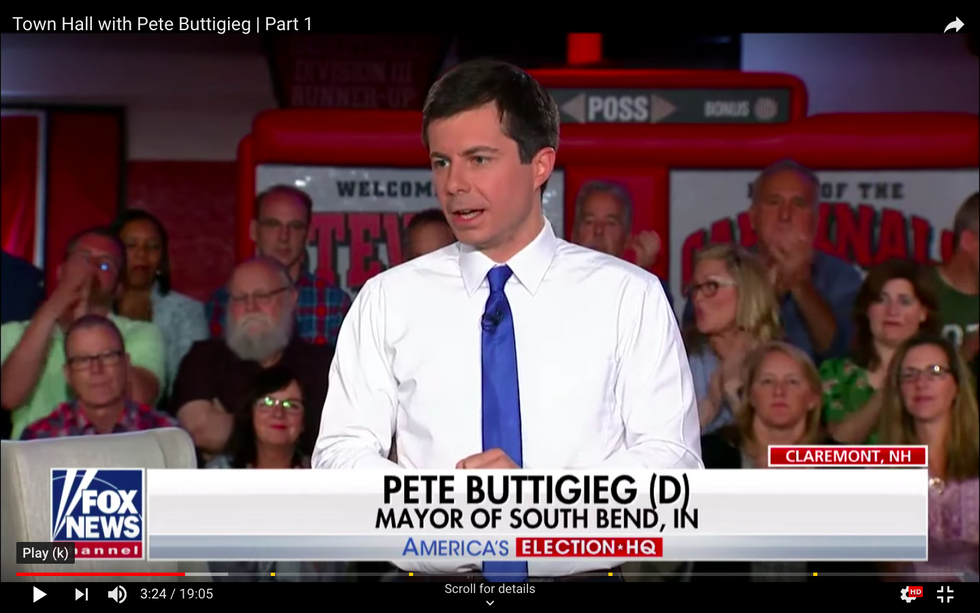 Reprinted with permission from Alternet.
South Bend, Indiana Mayor Pete Buttigieg, a Democratic candidate for president, on Sunday received a rousing applause from the Fox News town hall audience when asked about Donald Trump's Twitter attacks, saying simply, "I don't care."
Host Chris Wallace followed up on a question about the Democratic Party "possibly impeaching Trump" by asking Buttigieg how he would "deal with" the president — and his Twitter handle — in the general election.
"Let's talk less about policies than dynamic of running again Donald Trump," Wallace began. "As we see in 2016, he is a formidable and unconventional candidate, he is already making fun of your name, and your looks— comparing you to Alfred Newman. How would you deal with him … How would you handle insults and attacks and Tweets and that?"
"Tweets are — I don't care," Buttigieg replied as the audience roared.
"That gets a lot of applause," Wallace observed.
"It is an effective way to command the attention of media," Buttigieg continued. "We need to change the channel from the show he created. I get it, it is mesmerizing. It is hard to look away. It is the nature of grotesque things you can't look away."