At Hearing On Equality Bill, Republicans Spew Anti-LGTQ Bigotry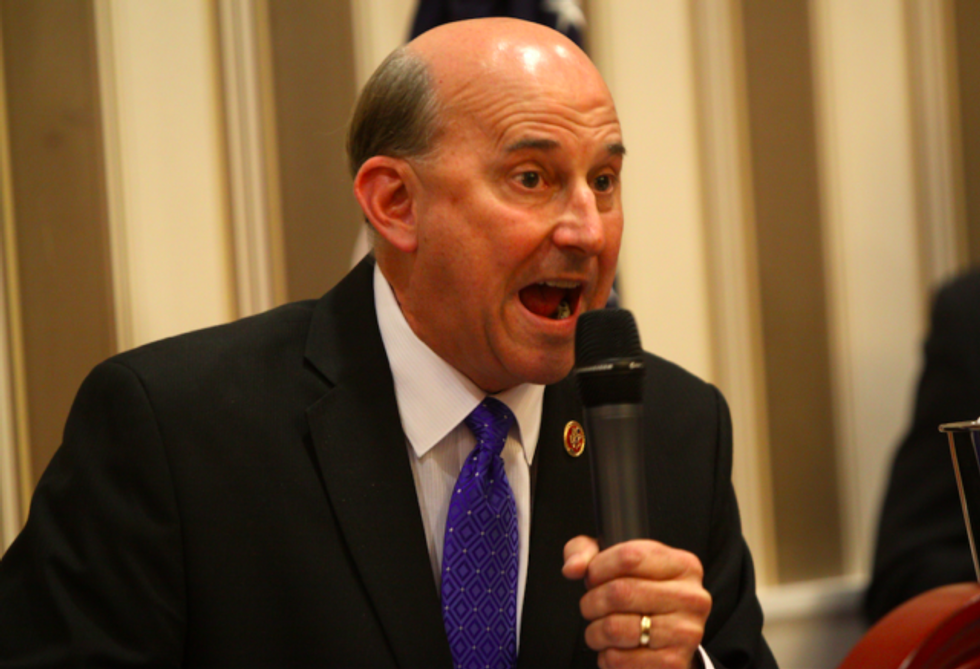 The House Judiciary Committee on Tuesday held a historic hearing on the Equality Act, a bill that would legally "prohibit discrimination on the basis of sex, gender identity, and sexual orientation, and for other purposes."
And while Democrats on the committee asked thoughtful questions of the witnesses — including two people who had been fired or denied medical care because of their sexual orientation or gender identity — Republicans instead built straw men arguments about why transgender individuals shouldn't receive the same protections as everyone else.
There was GOP Rep. Louie Gohmert, the Texas crackpot who argued that allowing transgender women into women's shelters with cisgender women (women who are not transgender) was a "war on women."
"Women they seem to have more post-traumatic stress disorder on sexual assault, and yet we're going to force them to have men in confined spaces in shelters where they're seeking a refuge away from men inflicting violence on them?" Gohmert said, grossly misgendering transgender women. "And because we're going to stand up here and say, 'Well it's just too bad we're going to force men to be into your spaces and you're going to have to like it I think is a war on women that should not be allowed.'"
Rep. Matt Gaetz, the Florida Republican who has gone to great lengths to protect Trump, suggested there are "bad actors" who would somehow pretend to be transgender to "exploit the provisions of this law for their own gain."
"Consider this possibility, if President Trump were to say, 'I am now the first female president.' Who would celebrate that?" Gaetz said, eliciting boos from onlookers in the hearing room. "Would those who support the legislation think that was a good thing? Or would they be dismayed?"
Of course, this is a ridiculous straw man argument. Transgender individuals are discriminated against and subjected to violence at higher rates than cisgender individuals. And the thought that someone would pretend to be transgender to get rights that everyone else already had makes absolutely zero sense.
Rep. Matt Gaetz, during a hearing on transgender rights, wonders what would happen if Trump were to declare himself the first female president. pic.twitter.com/uYFheZVjUN

— Alexander Nazaryan (@alexnazaryan) April 2, 2019
If you thought that was the worst of the comments from Republicans on the committee, well, you thought wrong.
Rep. Ken Buck (R-CO) made possibly the most insane and offensive remark of the day.
He asked Jami Contreras — a lesbian whose infant daughter was refused medical care by a doctor because the doctor didn't want to treat the child of a same-sex couple — whether a Jewish doctor should be forced to treat a Nazi.
Yes, Buck — who was just elected chairman of the Colorado Republican Party — compared a child of lesbian mothers seeking medical treatment to a Nazi.
Contreras was clearly caught off guard by such a hateful question, comparing her gender identity to a Nazi, that she asked other experts on the panel to weigh in. House Judiciary Committee Chair Jerry Nadler, a Jew himself, piped in to remind Buck that Nazis are not a "protected class."
Of course, at the end of the day, this bill would simply provide the same equality protections to LGBTQ individuals and women that cisgender men have enjoyed for centuries. And Republicans reverted to such patently absurd and vile hypotheticals because there is no good reason not to codify those rights into law.
"No one is hurt when trans people live authentically," the ACLU tweeted as Republicans spewed their vile bigotry. "Not in the restroom. Not in the locker room. Not on the court, field or track."
Published with permission of The American Independent.
IMAGE: Rep. Louie Gohmert (R-TX)