At Southern Border, Trump Delivers Another Angry Anti-Immigrant Rant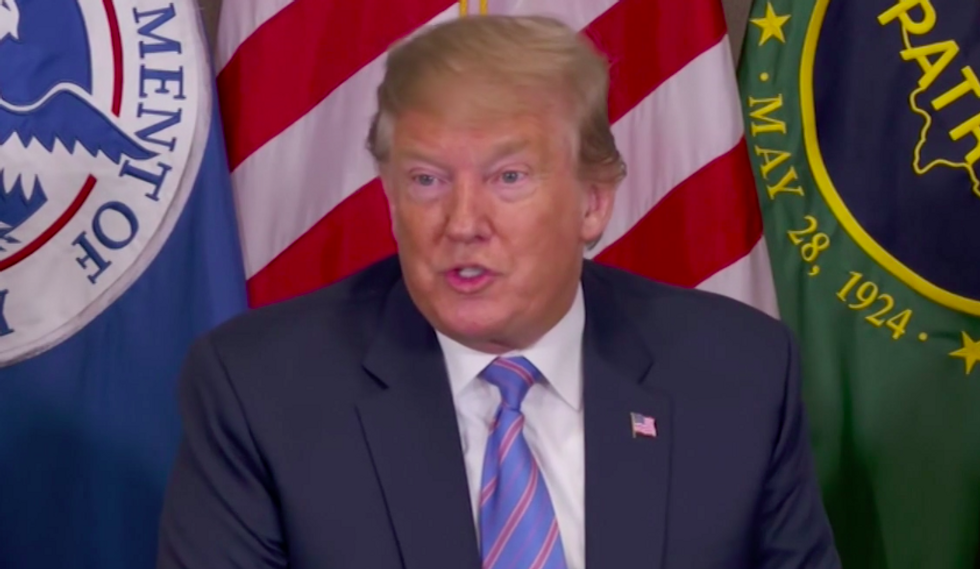 Trump's attacks on Central American migrants fleeing violence in their countries continued on Friday, when he falsely claimed that the United States is full and can no longer accept immigrants.
"The system is full. We can't take you anymore," Trump said. "Whether it's asylum. Whether it's anything you want. It's illegal immigration. Can't take you anymore. We can't take you. Our country is full. Our area is full. Our sector is full. We can't take you anymore, I'm sorry. So turn around. That's the way it is."
Trump made the remarks during a roundtable with Border Patrol officials in an area of California located on the U.S.-Mexico border.
Trump was visiting the specific area to hold a photo shoot in front of a segment of border fencing that already existed for years but that was rebuilt during Trump's presidency. Trump's own Homeland Security secretary admitted the visit was a stunt.
Yet Trump made the most of the stunt, spewing false comments about immigration, as well as vile and racist comments about migrants.
The U.S. is far from full. According to the most recent census, 47 percent of land in the United States is unoccupied. Not to mention, companies have struggled to find workers for jobs, meaning there is a need for more people in this country, unlike what Trump suggested.
But Trump's racist hatred of brown people is fueling his anti-immigrant policy agenda.
At the Friday event, he shamelessly accused all migrants coming to the U.S. of being gang members.
"I look at some of these asylum people, they're gang members," Trump said. "They're not afraid of anything. They have lawyers greeting them. They read what lawyers tell them to read, the lawyer tells them what to read, they're gang members. And they say, 'I fear for my life.' They're the ones causing fear for life. It's a scam, ok, it's a scam. It's a hoax."
There is no factual basis to say that every single migrant seeking asylum in the U.S. is a gang member. That's just patently absurd. Yet Trump is pushing that racist theory to scare his racist base in the hopes that they stick with him in the 2020 election.
Unfortunately for Trump, he already tried this gross strategy in the 2018 midterms, using Fox News — a.k.a. state television — to fear monger and gin up Republican votes.
However, that strategy failed miserably in 2018.
And there are no signs to say the failed strategy will work again roughly two years from now.
Published with permission of The American Independent.