At Taxpayer Expense, Trump Delivers Campaign Speech In Louisiana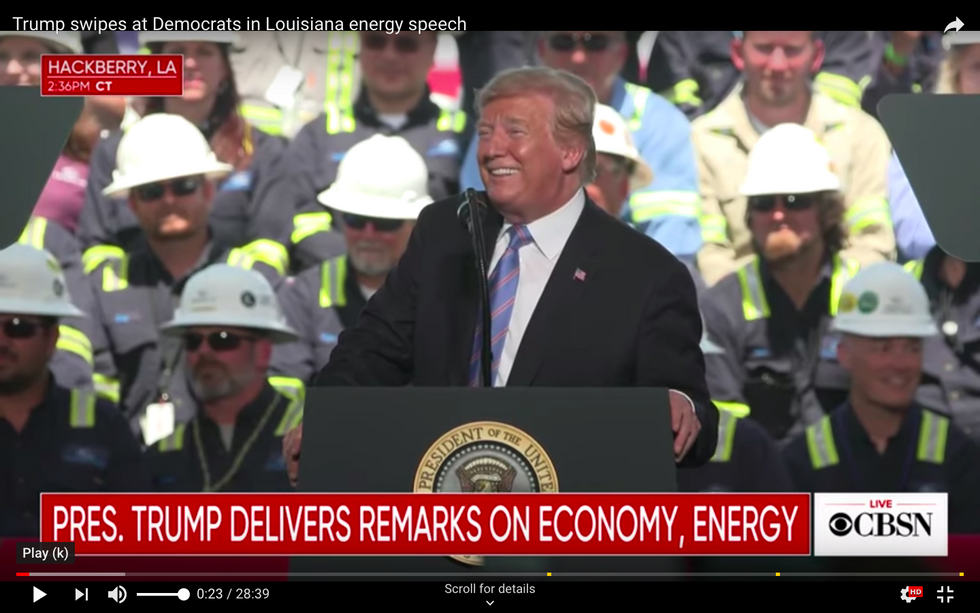 Trump on Tuesday traveled on the taxpayer's dime to Louisiana, where he was supposed to be giving a speech about "promoting energy infrastructure and economic growth" in America.
But Trump went off on inappropriate tangents on multiple occasions at the event, during which he attacked his potential 2020 Democratic rivals and even bribed Louisiana voters with a new bridge if only they reelect him to a second term.
"I think we're going to win it big," he said of the 2020 election. "I'm looking at the competition. You sort of dream about competition like that, but who knows. Who knows."
Trump then mentioned a number of the candidates running against him and gave commentary about their candidacies.
"I got Boot-Edge-Edge [South Bend Mayor Pete Buttigieg], I got 'em all," Trump said. "I got Beto — Beto's falling fast, what the hell happened? Remember about four weeks ago he said, 'I was made for this.' He was made for this, he was made to fall like a rock. What happened?"
He went on to attack former Vice President Joe Biden and Vermont independent Sen. Bernie Sanders.
"I don't know what the hell happened to Biden? I'm looking, I said that doesn't look like the guy I knew. What happened to him?" Trump said. "And Bernie? Bernie's crazy. But Bernie's got a lot more energy than Biden, so you never know… But it's energy to get rid of your jobs."
Then Trump turned to his racist attacks on Sen. Elizabeth Warren (D-MA).
"Pocahontas I think is probably out," Trump said. "Boy, you've got some beauties. Three-hundred-fifty million people and this is what we can do."
After that untoward rant, Trump then quite literally bribed the voters of Louisiana with a new bridge — but only if they vote for him in 2020.
"If we win this election — which is just 16 months away — we're giving you a brand new I-10 bridge," Trump said.
"We'll have it all set to go day one, right after the election," Trump added.
Aside from campaigning and bribing voters, a visibly sweaty Trump also went off on his usual tangents of congratulating himself on his 2016 Electoral College win and ripping on wind power and other clean energy policies.
Taxpayers should already be angry that their tax dollars went to fund such a rambling and chaotic speech.
But the fact that Trump used that hard-earned money to campaign is simply beyond the pale.
Published with permission of The American Independent.