AT&T-Time Warner Deal Sparks Calls For Scrutiny In Washington
@reuters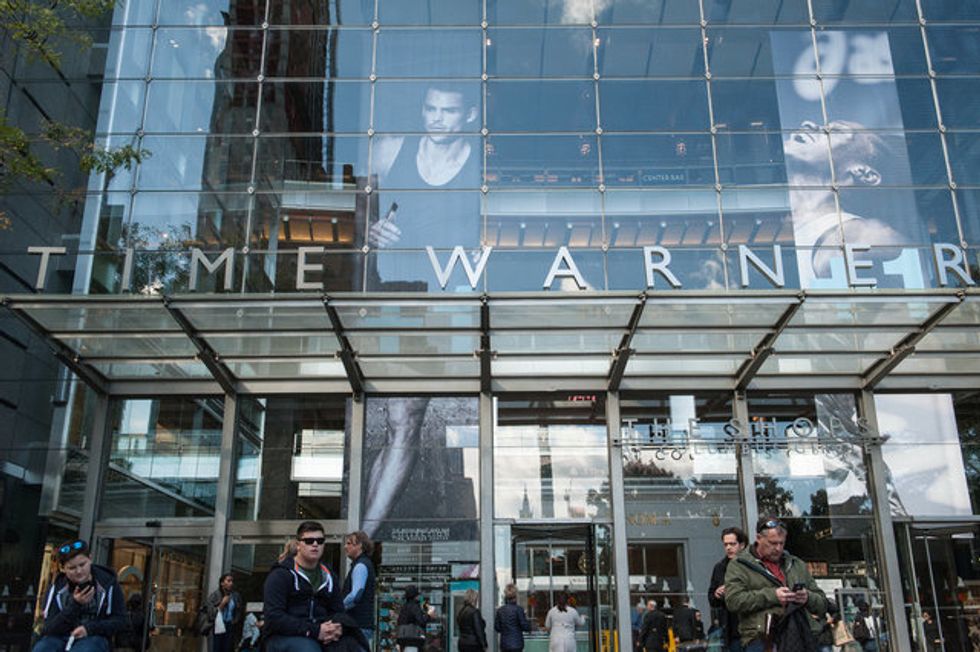 By Julia Edwards and Diane Bartz
WASHINGTON (Reuters) – AT&T Inc's proposed $85 billion takeover of Time Warner Inc generated skepticism among both Democrats and Republicans on Sunday, making it more likely that regulators will closely scrutinize the effort to create a new telecommunications and media giant.
The biggest deal of the year, announced just over two weeks before the Nov. 8 U.S. election, is a gamble on a victory for Democratic presidential candidate Hillary Clinton and a continuation of the status quo on anti-trust and regulatory enforcement.
The Republican candidate Donald Trump, who is trailing Clinton in the polls, has said he would block the takeover.
The billionaire businessman has railed against the media's role in what he has described as a "rigged" election and he thinks the acquisition of Time Warner, which owns CNN and Warner Bros, Hollywood's largest film and television studio, would concentrate too much power in one organization.
"AT&T, the original and abusive 'Ma Bell' telephone monopoly, is now trying to buy Time Warner and thus the wildly anti-Trump CNN. Donald Trump would never approve such a deal because it concentrates too much power in the hands of the too and powerful few," Trump economic advisor Peter Navarro said in a statement on Sunday.
Clinton, who has expressed misgivings about other corporate mega mergers, has not yet commented on the takeover. A spokesman Brian Fallon told reporters on Sunday there were "a number of questions and concerns" about the deal "but there's still a lot of information that needs to come out before any conclusions should be reached."
The Senate subcommittee on antitrust will hold a hearing on the acquisition sometime in November, said subcommittee chair Senator Mike Lee, a Republican, and the ranking Democrat, Senator Amy Klobuchar.
Tim Kaine, Clinton's running mate and a senator from Virginia, said lawmakers and regulators would have to review the deal and "get to the bottom" of questions over whether the merger would decrease competition.
"I'm pro-competition," Kaine said on NBC's "Meet the Press." "Less concentration, I think, is generally helpful especially in the media."
Kaine said he had not had a chance to review the details of the deal.
The U.S. Justice Department, not the president, has the power to reject such a deal if it violates antitrust laws. AT&T said it is unclear if the Federal Communications Commission will also have jurisdiction to review the deal.
A spokesman for the Justice Department declined to comment.
AT&T has described the deal as a "vertical merger" because there is no overlap between the two companies and hopes that such a tie-up will get the regulatory green light by the end of 2017.
"In the modern history of the media and the Internet, the U.S. government has always approved vertical mergers like ours, because they benefit consumers, strengthen competition, and, in our case, encourage innovation and investment," David McAtee, AT&T senior executive vice president and general counsel, said in a statement on Sunday.
The Time Warner takeover mirrors the 2013 $30 billion purchase of NBCUniversal by its rival Comcast , a deal which was cleared after regulators imposed concessions on the cable operator.
COMPETITORS ENVISION 'CLOSE' SCRUTINY
The cash and stock deal brings together two very different companies — one a telecoms company that traces its heritage back to Alexander Graham Bell, the other an entertainment company founded in the Hollywood of the 1920s.
But the tie-up, which is designed to boost the content AT&T can stream over its network, raises concerns that AT&T might try to limit distribution of Time Warner material.
Competitors such as NBCUniversal, Twenty-First Century Fox Inc and the Walt Disney Co. could find that their content could be put at a disadvantage, some consumer advocacy groups suggested.
"A transaction of this magnitude obviously warrants very close regulatory scrutiny," said Zenia Mucha, chief communications officer for Disney.
NBC Universal, which is owned by Comcast Corp , and Fox declined to comment on the merger.
Netflix Chief Content Officer Ted Sarandos, speaking on Saturday at the Institute on Entertainment Law and Business conference at the University of Southern California, said he expected a close examination of the deal by regulators.
"How it impacts anybody will be highly dependent on how it emerges," Sarandos said, according to media reports. "Those are pretty powerful assets. I'm sure it will come under a great deal of scrutiny."
CONGRESSIONAL EXAMINATION
Senators Lee and Klobuchar said their subcommittee would "carefully review" the merger to make sure it does not harm consumers.
Lawmakers may pursue inquiries into the merger and build support for or against it, but it is ultimately up to the Justice Department to approve, block or place conditions on the deal.
Two of the biggest congressional critics of the mega-mergers among media companies and elsewhere in the U.S. economy said late on Saturday that they would take a hard look at this deal.Senator Richard Blumenthal, who is on the Senate Judiciary Committee, noted the proposed acquisition would combine a wireless company, a pay-TV provider and a studio."I will be looking closely at what this merger means for consumers and their pocketbooks and whether it stands up to ‎the rigorous review standards set by the Department of Justice's antitrust division in the last few years," he said.Senator Al Franken, who is also on the Judiciary Committee, said that the deal raised "immediate flags.""I'm skeptical of huge media mergers because they can lead to higher costs, fewer choices, and even worse service for consumers," he said. "And regulators often agree, like when Comcast unsuccessfully tried to buy Time Warner Cable, a deal that I fiercely opposed."
(Additional reporting by David Shepardson in Washington and Jessica Toonkel in New York.; Editing by Bill Trott and Mary Milliken)
Photo: Signage that reads Time Warner is seen at the Time Warner Center in New York City, October 23, 2016. REUTERS/Stephanie Keith