Attackers In China Had Sought To Leave Country, Says Party Chief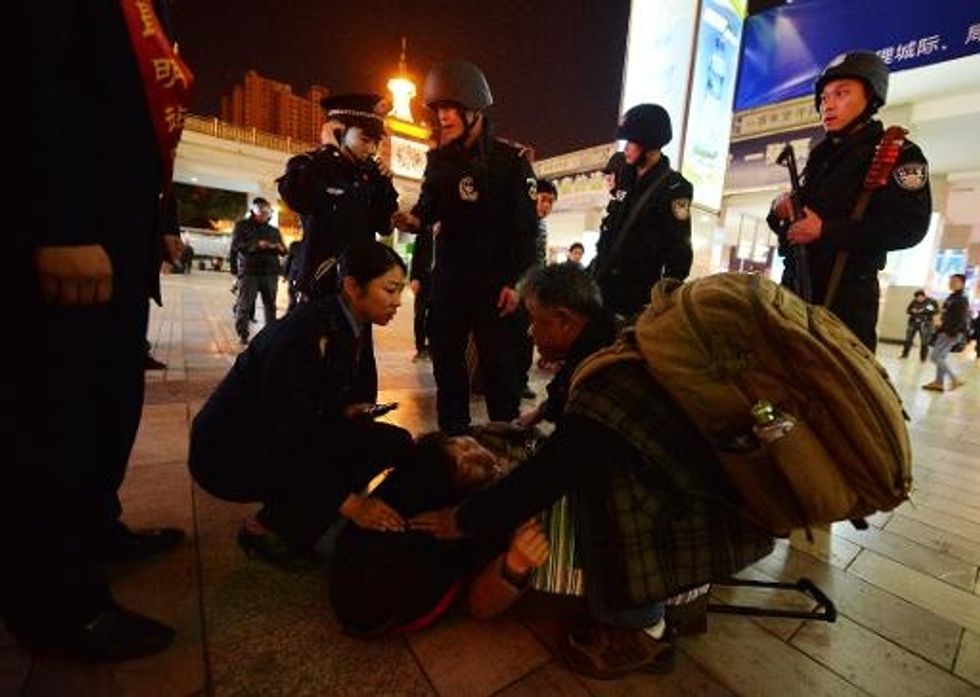 By Julie Makinen, Los Angeles Times
BEIJING — The eight knife-wielding attackers who went on a deadly rampage in a southwestern China train station had tried to leave the country several times but were unable to and then decided to "carry out 'jihad'" in the city of Kunming, the Communist Party chief in Yunnan province said.
Four of the assailants — three men and a woman — were shot to death by police at the scene of Saturday's attack at the Kunming train station that left 29 other people dead, and another female suspect was wounded and detained. On Monday, officials announced that the three remaining suspects, all men, had been captured.
Yunnan Party Chief Qin Rongguang, attending a political conference in Beijing, said the three suspects detained after the mass knifing were apprehended in Honghe, a district about 160 miles southeast of Kunming, capital of Yunnan. They apparently had spent some time in Honghe, traveling to Guangdong province — which borders Hong Kong — and then returning to Yunnan.
"Their plan in Honghe was if they couldn't leave … they would carry out 'jihad' in the train station or the bus station in Kunming," he told China National Radio on Tuesday. "We're tracking the people who had contacts with those eight."
Authorities have described the attackers as separatists from the northwestern province of Xinjiang, which has a large population of Uighurs, a Turkic-speaking Muslim minority. It was unclear from Qin's comments where the suspects were from originally and why they were unable to leave China, though many Uighurs complain they have trouble obtaining passports and other travel documents.
Qin conceded that security in Kunming had serious flaws, saying the railway police officers who are charged with protecting the station and the square in front of it where the assailants freely entered didn't have weapons and were understaffed. They belong to an independent unit separate from the city's police force, he added.
"We didn't have enough knowledge or awareness on anti-terror work," he said. "We didn't expect this before. And we also had some problems with our information collection."
A SWAT team was dispatched to the scene and arrived 10 minutes after the attack began, state-run CCTV reported. One member of the squad, who was armed with an automatic rifle, shot five of the attackers, killing four of them.
"I didn't have time to think. I fired at them as fast as I could. It took me about 15 seconds," the officer told state-run China Daily newspaper, which did not give his name.
Qin's comments come on the heels of a report by Radio Free Asia, quoting an unnamed Uighur in Kunming as saying the eight had come to Yunnan last year following a police crackdown in the Xinjiang province of Hotan. They may have been seeking to cross into neighboring Laos but abandoned their plans after other Uighurs were caught on the border last year, another Uighur in Kunming told RFA on condition of anonymity.
Pictures of the four assailants slain at the scene as well as the captured female suspect began circulating online Tuesday. The young, attractive face of the detained woman surprised many people.
"Her face was full of innocence," opined one person under the name Jiaozuo Taizi. "But there's desperation and fear coming out of her eyes."
Said another: "What a pitiful and innocent expression she has! She must have been brainwashed. She's not even 18 years old I think. Please do not sentence her to death. Give her good education and it would be really precious if we can change this beauty's mind!"
The World Uyghur Congress, based in Germany, released a statement expressing condolences to the victims and saying it "unequivocally condemns" the violence in Kunming. The group's president, Rebiya Kadeer, also urged the government to ensure that Uighurs do not face "indiscriminate reprisals."
Many Uighurs complain that they are excluded from job opportunities in favor of Han Chinese and that government policies restrict their ethnic and religious practices.
"Peaceful dissent against repressive government policies targeting Uighurs is legitimate, so the Chinese government must not conflate this constructive criticism with the events" on Saturday, Kadeer added. "It is absolutely vital the Chinese government deal with the longstanding and deteriorating human rights issues facing Uighurs if tensions are to be reduced."
AFP Photo/ Mark Ralston