Australia Authorities Foil Islamic State Plot For Public Beheadings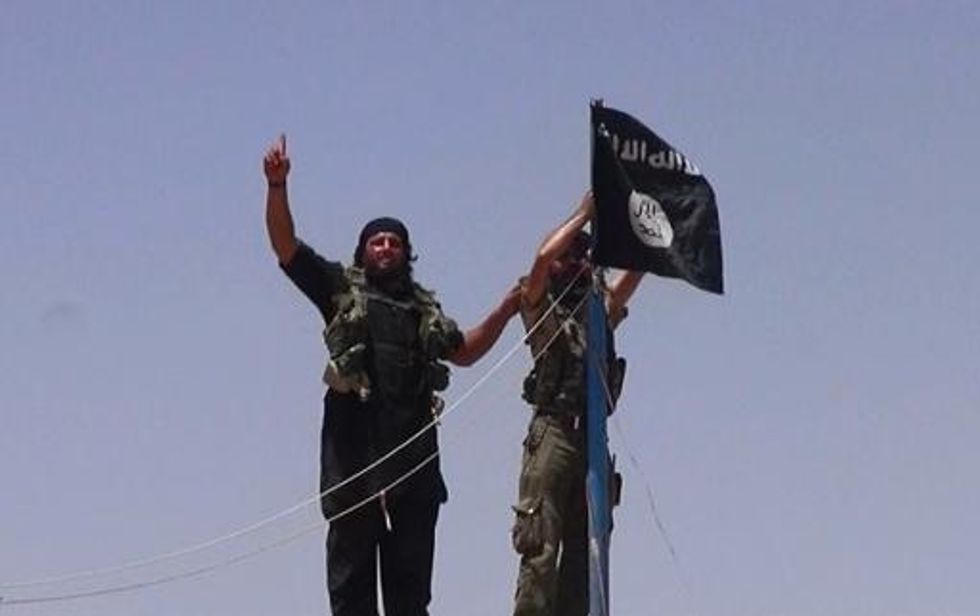 By Benita Van Eyssen, dpa
SYDNEY — The threat posed by fundamentalist group Islamic State beyond the Middle East hit home in Australia Thursday when police said they foiled a plot by local jihadists to carry out public beheadings on the orders of the most senior Australian member of the group.
The plot to pull people off the street and execute them on camera was uncovered when phone communications of Sydney resident Omarjan Azari were intercepted two days ago, police said.
The order for the attack on Australian soil came from Mohammad Ali Baryalei, who reportedly has close ties to Islamic State leader Abu Bakr al-Baghdadi.
Azari was one of 15 suspects arrested early Thursday in a counter-terrorism operation, the biggest Australia has ever seen. Most of the suspects are Australians of Afghan descent, broadcaster ABC reported.
Hundreds of police and intelligence officers in New South Wales and Queensland carried out a series of pre-dawn raids on residences and premises in Sydney and Brisbane.
The Australian Federal Police (AFP) and the Australian Security Intelligence Organization (ASIO) said the operation was launched when intelligence indicated the beheadings plan was being prepared.
Attorney General George Brandis said there was a likelihood an attack would have happened if police and intelligence services did not act on Thursday. The men had been under surveillance since May, he said.
Prime Minister Tony Abbott said calls for an attack had come from an Australian in the Middle East to the jihadist network in Australia his government has been trying to crush.
"So this is not just suspicion. This is intent and that's why the police and security agencies decided to act in the way they have," Prime Minister Tony Abbott said.
Baryalei, a former bouncer and actor from Sydney, is wanted by authorities in Australia on suspicion that he has recruited many young Australians for militant groups in the Middle East.
He is one of the more high-profile figures among the estimated 60 Australians authorities say have joined groups such as Islamic State and Al-Nusra Front in Iraq and Syria. In July, an man reported to be an 18-year-old from Melbourne was named by Islamic State as the suicide bomber who killed several people.
Australia has been vocal in condemning Islamic State. On Sunday, it agreed to join the U.S.-led military intervention against the group in Iraq and the deployment is already under way.
Canberra has left the door open to expanding its involvement to Syria. Political commentators have warned the Middle East deployment could have repercussions at home.
The Abbott government elevated Australia's terrorism level to "high" on Friday but said there was no specific intelligence of particular plots. The level had been set to "medium" for 11 years.
Authorities reiterated however that the threat of so-called homegrown terrorist problem was seen to be getting worse, posing a risk to national security.
The government recently brought in new anti-terrorism laws aimed at preventing citizens from joining jihadist conflicts abroad. Reports said the passports of most of the 15 suspects detained Thursday had been confiscated under the new measures.
Their arrests came after two Brisbane men were charged with recruiting jihadist fighters and funding the Al-Nusra Front in Syria. One is the brother of a man who became the first Australian suicide bomber in Syria.
Media reports said the two men detained in a raid on an Islamic Center in the G20 host city had links to the suspects detained in Sydney.
Muslims in Australians have said they fear being targeted by the new terrorism measures and the clampdown on Islamist extremists in Australia.
On Sunday Grand Mufti Ibrahim Abu Mohammed again spoke out against Islamic state, in an interview with the Fairfax Media group. He also warned young Muslims not to trust "Sheik Google and Sheik YouTube."
Social media is a key tool of Islamic State. Several radicalized Australians who have joined militant groups have been using the medium quite openly.
Australia is home to Muslims from all over the world, including the descendants of Afghan, Syrian, Iraqi, Indonesian, and Malaysian immigrants.
"It puts a lot of pressure on Muslims living in Australia. There are reports of Muslim women being threatened in Sydney and Adelaide," said Raihan Ismail, a researcher at the Australian National University told ABC television.
"I was walking with my daughter and someone called me a terrorist."
"The overwhelming majority of Muslims living in this country oppose the radical extremists and Islamic state."
Dozens of Muslim women have reported their children to authorities to sabotage "terror tourism" plans, The Australian newspaper reported this week.
AFP Photo
Interested in world news? Sign up for our daily email newsletter!