Bachmann Shares Another Wild Conspiracy Theory About Obama, Clinton, U.N.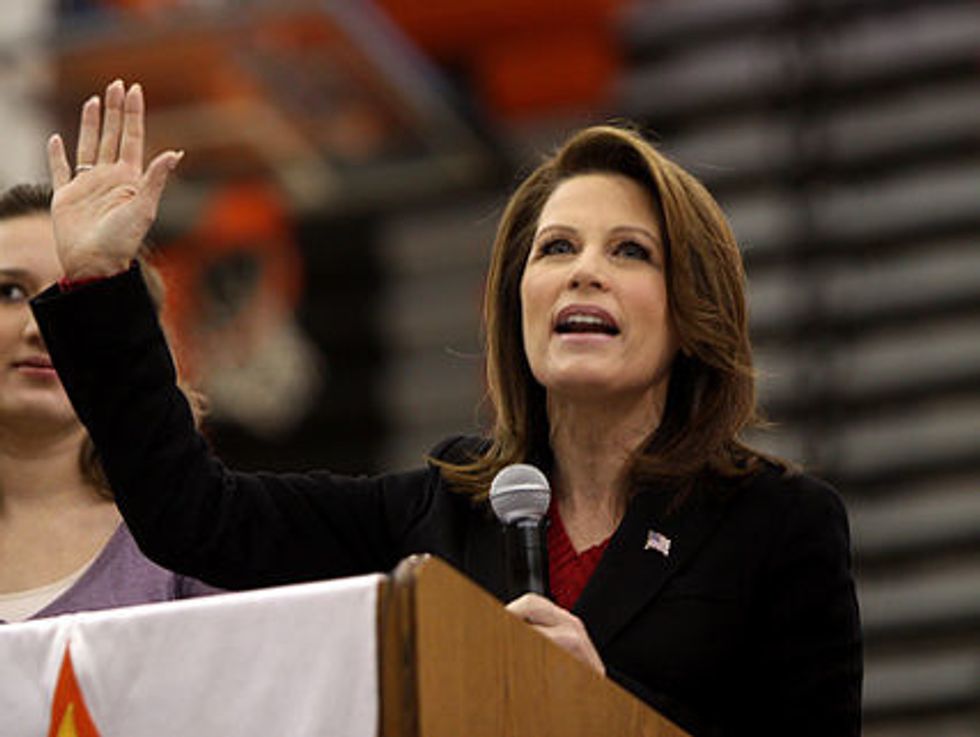 Michele Bachmann stopped by Jan Markell's extremist right-wing radio show this weekend to share her latest unhinged conspiracy theory: that President Barack Obama is attempting to impose Sharia law in the United States, and Secretary of State Hillary Clinton wants to override the First Amendment through a U.N. treaty.
Right Wing Watch has audio of the interview, which really must be heard to be believed.
Bachmann began by warning that "President Obama, if you look at nearly every decision he has made about this issue, it is to lift up the Islamists and to take down Israel," before claiming that Obama has enacted "Islamic speech codes" in the United States to shut down any and all criticism of the religion:
Not just verbal speech, but written, a cartoon, a painting, whatever it is, if it is in any way construed as being against Islam that is where the confrontation comes from the Islamist world and they want to stop anyone in the world from saying anything negative about Islam. Which means there is only one free speech right and that would belong to the Islamists. Everyone else would lose their right of speech and expression.

The reason why this is important is because this is the whole game, it is game over if we who are in the non-Islamist world lose the right to criticize what the Islamist does, because the Islamist tries to advocate Islamic Sharia law and so anything that we would say in the future, once you criminalized anti-Islamic speech, anything that we would say that would be critical in any way of anything Islam does would be considered criminalized.
Of course, the United States' commitment to Israel has never wavered under the Obama administration, and the decimation of al Qaeda over the past four years hardly squares with Bachmann's assertion that the president's every move is designed to "lift up the Islamists." Putting those facts aside, however, how does Bachmann think that Obama could get away with such a blatant violation of the First Amendment? As with most right-wing conspiracies, the shocking answer lies in the United Nations.
"Secretary of State Hillary Clinton, she helped to formulate and write and pass UN Resolution 16/18, which calls for the criminalization — anti-free speech measures," Bachmann says. "She's already signed this. While a UN resolution doesn't bind United States law, how in the world could the president allow the Secretary of State to sign a resolution that indicates that we are willing to take away the free speech rights of the American people?"
Ignoring the fact that the U.N .Resolution in question does not limit free speech at all, Bachmann went on to explain that
U.N. Resolution 16/18 which Hillary Clinton signed, presumably with the affirmation of President Obama..that's the first step in a big step for taking away from you and me and all of your listeners our right of free speech and expression, religious practice, freedom of assembly, freedom of the printing press but even more importantly, it will empower the Islamist to use that against us.
This is not the first time that Bachmann has accused Clinton of being complicit in an "Islamist" plot; in July she spearheaded a campaign accusing Clinton's deputy chief of staff Huma Abedin of conspiring with the Muslim Brotherhood. That attack was so far over the line that fellow Republican John McCain — who usually loves a good conspiracy — took to the Senate floor to denounce Bachmann's "sinister accusations."
If Bachmann persists with this type of paranoid rambling, she may suffer consequences for it in the 2014 elections. Unlike most of her colleagues in the Republican Party's Crazy Caucus, Bachmann faced a serious electoral challenge in 2012; she edged Democrat Jim Graves by less than 5,000 votes out of more than 350,000 cast. Graves has said that he'll "keep an open mind" about a rematch, unless Bachmann "really changes her modus operandi and starts serving the people" — and that certainly doesn't seem to be the case so far.
Photo credit: Associated Press