Bad Weather Stalls AirAsia Wreckage Search; Seven Bodies Recovered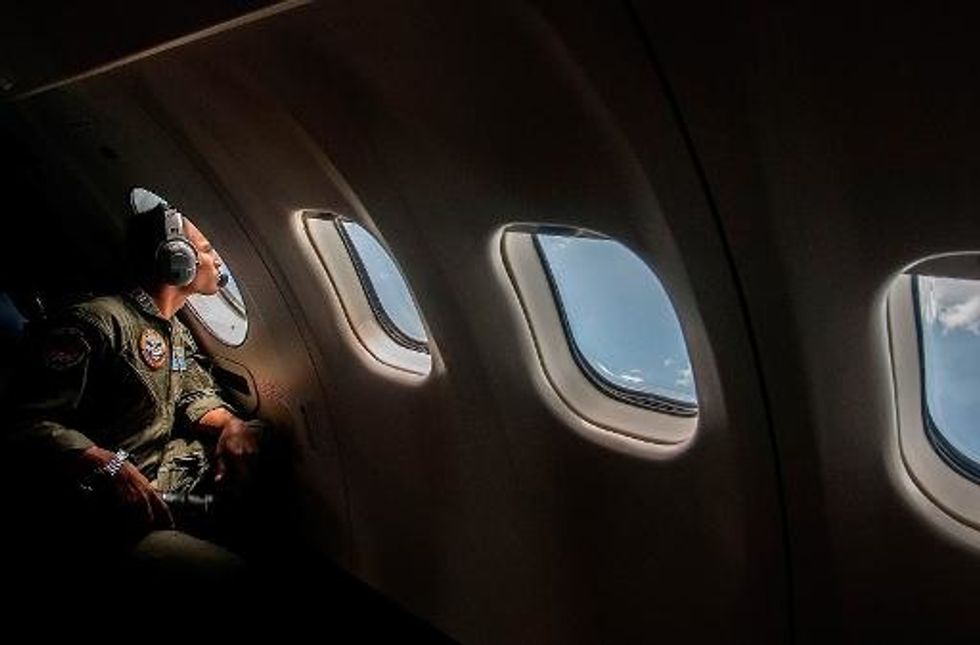 By Shashank Bengali and Ahmad Pathoni, Los Angeles Times (TNS)
JAKARTA, Indonesia — Fighting high winds and choppy waves, recovery teams lifted seven bodies from Indonesian waters Wednesday as naval officials reportedly obtained the first sonar image showing a crashed Indonesia AirAsia jet lying upside down under the sea.
A day after officials confirmed that debris in the Java Sea belonged to Flight 8501, the recovery effort accelerated but was hampered by rough weather similar to what the ill-fated jet encountered on its flight to Singapore on Sunday with 162 people aboard.
"The waves are three meters high (about ten feet) and the wind is 20-24 nautical miles per hour," Col. Yayan Sofyan, an Indonesian navy officer aboard the Bung Tomo ship, told Metro TV.
"This situation is making it difficult for evacuation."
Wet conditions and low visibility — common during the ongoing monsoon season in Southeast Asia — have grounded many of the helicopters participating in the multi-nation recovery effort, officials said. Plans to deploy deep-sea "frogmen" divers were scuttled due to "the weather, strong winds and high seas," said Air Vice Marshal Sunarbowo Sandy, a search official.
Meteorologists said that winds could increase on Thursday to as high as 50 mph, possibly prolonging the agonizing wait for relatives who had gathered in the Indonesian city of Surabaya, the flight's originating point, to identify bodies.
Early Wednesday, recovery crews pulled the body of a flight attendant, identified as Khairunnisa, still clad in AirAsia's signature bright red uniform. (Many Indonesians go by only one name.) Two others also had been identified through personal information found on their bodies but the others had not yet been named, Yayan said.
A total of four men and three women were recovered, their bodies intact, search chief Bambang Soelistyo said.
By dusk, five of the seven bodies were still aboard ships in the Java Sea because it was too windy for helicopters to transport them to land.
Two bodies reached the airport in Surabaya in simple caskets bearing cards with the numbers "001" and "002." A military honor guard solemnly marched the caskets across the tarmac and placed them inside waiting hearses.
There were conflicting reports about whether one of the bodies was found in life jacket, which could have indicated that some passengers knew the flight was in danger. Detik.com, an Indonesian website, quoted a search official as saying a man's body was found near a life jacket but not wearing it.
Experts said the majority of the 155 passengers and seven crew members likely would not be recovered until dive teams could access the plane's fuselage because they were likely still strapped into their seats. The pilot would have ordered all aboard to wear seat belts as the aircraft ran into a severe thunderstorm and turbulence less than halfway through the two-hour flight to Singapore, experts said.
"The fact that six or seven bodies have floated to the surface and been recovered could indicate a number of things — that they weren't strapped in, or their seats may have broken up in the crash and that freed them," said Geoffrey Thomas, editor in chief of AirlineRatings.com, an airline safety website.
According to multiple reports, an Indonesian navy ship on Wednesday obtained a sonar image of what was believed to be the body of the Airbus A330-200 underwater. The Tempo.co news website reported that the image showed the plane upside down in about 100 feet of water off Indonesia's Borneo island.
On Tuesday, search officials said surveillance planes had seen "an object that formed a shadow under the sea in the shape of an aircraft," suggesting much of the plane's body could be in one piece at the bottom of the Java Sea, which has an average depth of about 150 feet.
AirAsia Chief Executive Tony Fernandes did not confirm that the fuselage had been found and urged patience as the recovery operation progressed.
"There are a lot of rumors going around," Fernandes told a news conference. "I can confirm that I think the search-and-rescue team has been doing a fantastic job. The weather is not looking good for the next two or three days. The ships are going to operate 24 hours."
AFP Photo/ Juni Kriswanto