Baltimore Cop Says Freddie Gray Ask For Help During Fatal Ride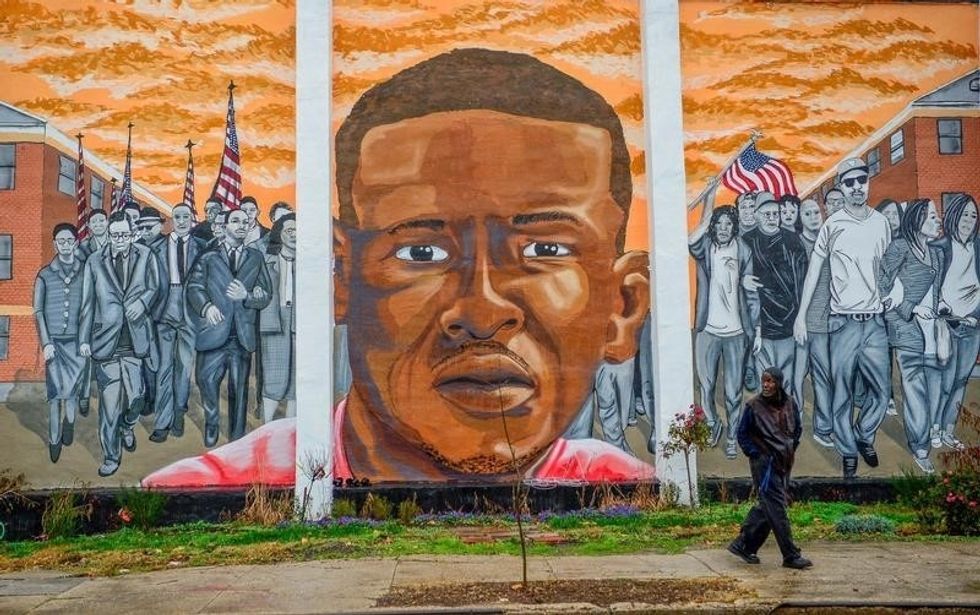 A Baltimore police officer testified on Monday that black detainee Freddie Gray asked for help while being transported in a police van, where he suffered a broken neck.
The officer, William Porter, took the stand in the trial of Officer Caesar Goodson, 46, the van's driver. Prosecutors contend Goodson gave Gray a "rough ride" and he is accused of second-degree depraved heart murder and other charges in Gray's death in April 2015.
His death triggered protests and rioting in Baltimore and stoked a U.S. debate on police treatment of minorities. Goodson is the third of six officers to go on trial, and his attorneys argue that Gray caused his own fatal injuries.
Porter testified in Baltimore City Circuit Court that he responded to a call to assist Goodson at the fourth stop the van made while transporting Gray. He found Gray, who was shackled, lying on his stomach on the van's floor, his head toward the front of the vehicle.
"What if anything did Mr. Gray say?" asked prosecutor Michael Schatzow.
"I said, 'What's up?' He said, 'Help,'" Porter said. "'What do you need help with?' 'Help me up.'"
No medical aid was sought, and Porter, whose trial on a manslaughter charge ended in a hung jury in December, helped put Gray onto a bench inside the van. Gray was not buckled into a seat belt, a violation of department procedures.
Schatzow read from a statement that Porter gave internal affairs investigators in which Porter said he had told Goodson that Gray should he taken to a hospital.
Asked if Goodson had agreed, Porter paused, then said: "Sure."
A medical examiner's report concluded that Gray was fatally injured between the second and fourth stops that Goodson made. Prosecutors had been expected to call Porter to help establish a timeline on Gray's transport.
Goodson's charge of second-degree murder is the most serious one against the officers accused in Gray's death. He also faces manslaughter and other charges.
Goodson waived a jury trial and Judge Barry Williams will decide the case. The trial began on Thursday.
Porter's testimony in a case in which he also faces trial was the result of a lengthy legal battle that reached Maryland's highest court.
Porter faces a retrial in September. Williams acquitted one officer, Edward Nero, in a second trial.
(This version of the story corrects to read fourth stop, not fifth, in fourth paragraph.)
Writing by Ian Simpson in Washington; Editing by Dan Grebler
Photo: A man, who declined to offer his name, walks past a mural of Freddie Gray in the Sandtown-Winchester neighborhood of Baltimore, December 17, 2015.  REUTERS/Bryan Woolston