Band Of Outsiders: Minor-League Republicans Make Their Case In Warmup Debate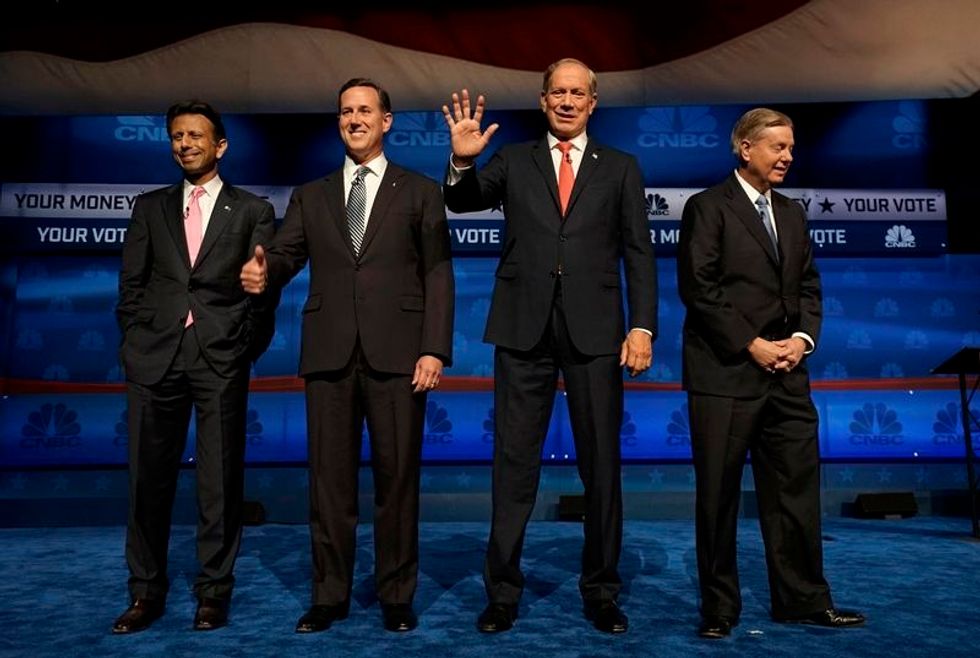 They call it the undercard debate. But it could just as easily be described as an island of misfit Republicans.
Whether by choice or circumstance, none of the four men onstage for the warmup debate seemed to fit in with their party. Most of them railed against the state of the current GOP field, and — by insinuation — the unfortunate matter of their low standing within it.
Louisiana governor Bobby Jindal accused Republicans of failing to honor conservative principles and said that the party was in danger of becoming a second liberal party.
"The Republicans never want to fight," he said.
In his closing remarks, he directly addressed conservatives (he emphasized the word), most likely the evangelical base in Iowa — where Jindal is polling eighth. The American people, he said, were ready to turn to real conservatism, rather than the fickle brand offered by the GOP.
Jindal, a Catholic whose campaign has emphasized the right of Christians to ignore the Supreme Court's ruling on marriage equality, left no question as to who he considers his base. "As Christians, we believe that the tomb is empty," he said, and that America's best days are ahead — thereby wedding right-wing religiosity to the idea of American patriotism.
Jindal recited his now-familiar script of touting his record as governor of Louisiana, where, he bragged, he cut 26 percent in state spending and slashed 30,000 state jobs.
He dismissed the lost job holders as "bureaucrats," although the majority of the gutting of the state's payroll came from Jindal's decision to privatize the state's charity hospital system.
He also boasted that he had — in his formulation — slimmed the government economy while growing the private economy. This, despite the fact that Louisiana's private-sector employment growth has lagged behind the the national average, and since 2009 his state's annual GDP growth has averaged 0.5 percent (compared with a national average annual growth rate of 1.9 percent). (Jindal took office in January 2008.)
On the other side of the spectrum, former New York governor George Pataki, and relative party moderate, was an outsider in his own right: He expressed his exasperation that the GOP refused to acknowledge the overwhelming scientific evidence that climate change was both real and man-made, and that serious candidates promulgated paranoid claptrap about the dangers of vaccines.
"It's not appropriate," he said. "It's uncontroversial."
Pataki said he wanted the federal government to incentivize innovative responses to climate change in the private sector. He spoke of the need to "embrace science" and "create new technologies that we can export" and "grow our economy."
Sen. Lindsey Graham from South Carolina also decried his party's recalcitrance on climate change, saying that rather than deny its existence, Republicans should be pursuing "a solution that would be good for the economy."
Graham stood out for his single-minded hawkish determination to pivot every answer to a jeremiad about fighting wars abroad — in a debate nominally devoted to the economy. With his characteristic stream of self-deprecating humor, he asserted that no other candidate was prepared to "win a war that we cannot afford to lose."
"Make me commander-in-chief and this crap stops," he said.
Santorum focussed on his concern for the working-class, the industrial sector, and people with low wages; he made clear his wish and intention to "get American workers on the side of the Republican party."
Graham may have summed the mood of the evening up most succinctly: "I'm tired of losing," he said, referring to Republicans' failures to win the White House in 2008 and 2012.
The implication was clear: The 10 top-tier candidates that were following them on stage were actually part of the problem.
Photo: Republican U.S. presidential candidates (L-R) Louisiana Governor Bobby Jindal, former Senator Rick Santorum, former New York Governor George Pataki and Rep. Lindsey Graham pose while attending a forum for lower polling candidates held by CNBC before their U.S. Republican presidential candidates debate in Boulder, Colorado October 28, 2015.  REUTERS/Rick Wilking