Bannon Denounces 'Treasonous' Trump Tower Meeting With Russians In New Book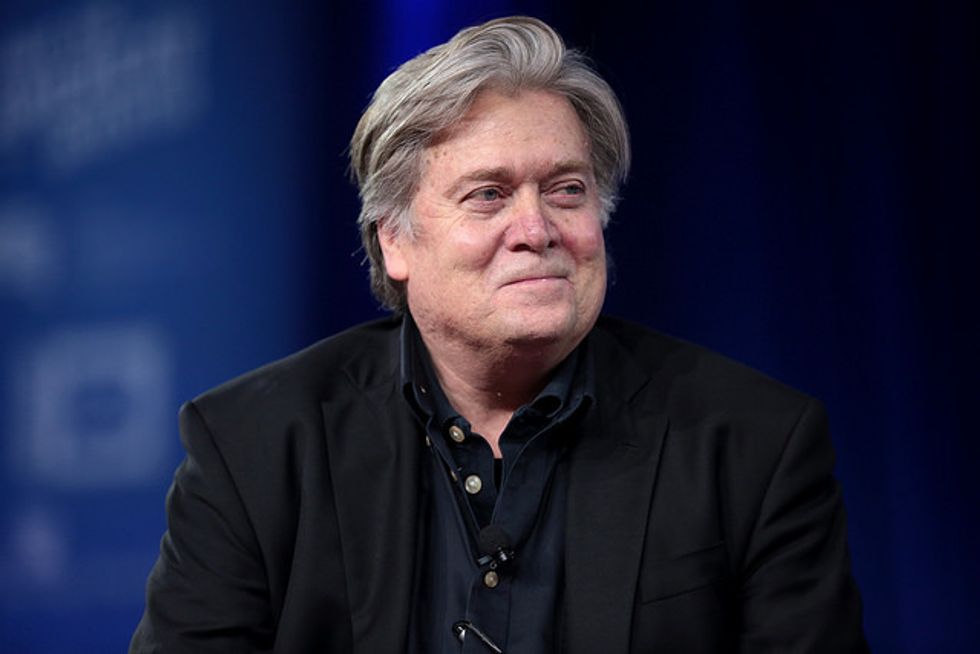 In a new book, former White House strategist Steve Bannon denounces the Trump campaign's 2016 meeting with a Kremlin-linked lawyer as "treasonous," "unpatriotic," and "bad shit ". The Breitbart executive also says revelations about "money laundering" will emerge from ongoing investigations of Russian interference in the presidential race. And he warns of the fate of the president's eldest son: "They're going to crack Don Junior like an egg on national TV."
The Guardianextracted Bannon's devastating remarks from Fire and Fury: Inside the Trump White House, by media critic and author Michael Wolff that the British newspaper obtained before publication. Wolff was granted extensive access by the president and his associates, whom he interviewed for many hours.
According to the Guardian, Bannon derided Donald Trump, Jr., campaign manager Paul Manafort, and Trump son-in-law Jared Kushner for meeting in July 2016 with a group of Russians led by lawyer Natalia Veselnitskaya, who offered negative information about Democratic presidential nominee Hillary Clinton.
After the New York Times revealed that meeting — and the series of emails that arranged it — Bannon told Wolff why he thought the invitation to the Russians was both wrong and stupid:
"The three senior guys in the campaign thought it was a good idea to meet with a foreign government inside Trump Tower in the conference room on the 25th floor – with no lawyers. They didn't have any lawyers…
"Even if you thought that this was not treasonous, or unpatriotic, or bad shit, and I happen to think it's all of that, you should have called the FBI immediately."
As for the FBI — and special counsel Robert Mueller's investigation of Russian hacking and Trump campaign collusion — Bannon seems to have predicted disaster.
"You realize where this is going. This is all about money laundering. Mueller chose [federal prosecutor Andrew] Weissmann first and he is a money-laundering guy. Their path to fucking Trump goes right through Paul Manafort, Don Jr and Jared Kushner … It's as plain as a hair on your face."
"It goes through Deutsche Bank and all the Kushner shit," Bannon told Wolff. "The Kushner shit is greasy. They're going to go right through that. They're going to roll those two guys up and say play me or trade me," evidently referring to Trump Jr. and Kushner. As the Guardian notes, Mueller's probe has subpoenaed records from Deutsche Bank, the German financial giant that has loaned hundreds of millions of dollars to both Kushner and Trump.
Bannon assured Wolff that he had no contact with any Russians and knows nothing of interest to investigators about Kremlin meddling. (That may or may not be true, although Mueller is reportedly investigating the role of Cambridge Analytica, a data-mining firm that aided the Trump campaign and is associated with Bannon and his funders and political allies in the billionaire Mercer family.)
Yet Bannon's unbridled attack on his former campaign colleagues is stunning not only because he hints at serious crimes, but because his Breitbart websites have defended Trump and echoed the president's claims that the Mueller probe is "Fake News," even demanding that Trump dismiss the special counsel. He is reported to have urged Trump to curb Mueller by slashing the special counsel's budget, refuse his document requests, and curtail cooperation with his office.
Such assaults on Mueller don't fit Bannon's claim to be a super-patriot — especially if he believes, as he reportedly told Wolff, that the Trump campaign's conduct was "treasonous."