Barr Nomination: Will Partisan Politics Trump Justice?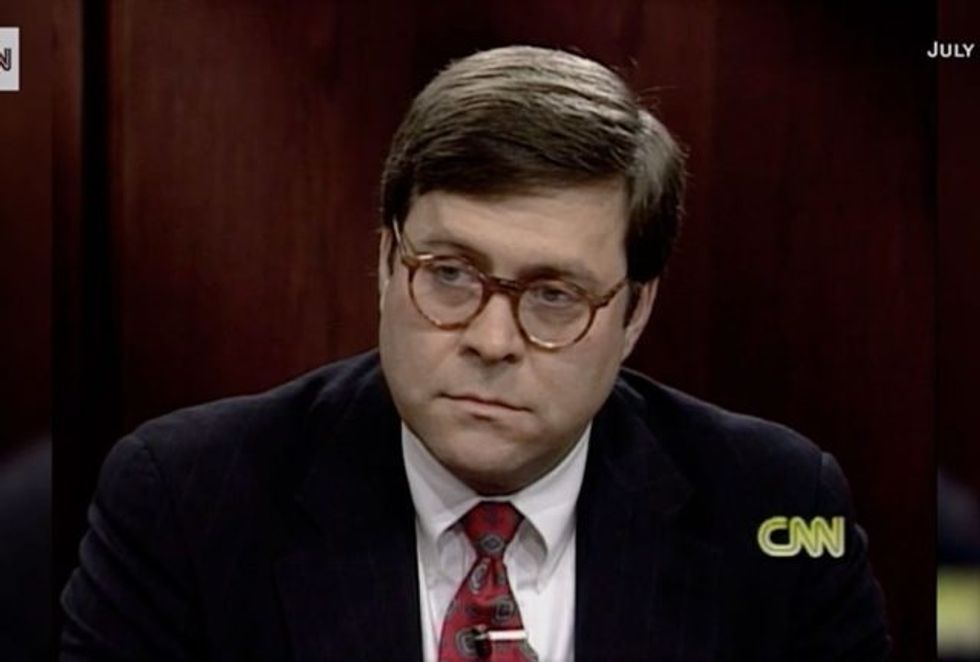 This article originally appeared on Creators.
Certain figures in Washington develop a gold-plated image over the years, praised so often in reputable media outlets as men (almost always men) of integrity that their reputations become unassailable. Nobody criticizes them, because they are defined above criticism. Often enough, these figures prove less perfect than advertised — think Clark Clifford or Kenneth Starr.
Such a fellow is William Barr, whose nomination by President Trump for United States attorney general will come before the Senate Judiciary Committee next week. His name is almost invariably adorned with adjectives like "prominent" and "respected." These days, it is also usually noted that he is one of the youngest lawyers who ever served in the office to which he again aspires, named by the late former President George H.W. Bush, of blessed memory, et cetera.
Given this uplifting consensus, it may seem churlish to mention some basic facts about Barr. Contrary to the sugar coating routinely applied by pundits to the Ronald Reagan-George H.W. Bush era, the Justice Department that Barr once headed was rife with political intrigue. (An attorney general predecessor of his — one Edwin Meese, still at large — barely escaped prison.)
The most blatant episode occurred one month before the 1992 presidential election, when Barr suddenly seized control of a minor matter in Little Rock, Arkansas. He ordered FBI agents in the Little Rock office to open an investigation of tiny Madison Guaranty Savings & Loan — no later than Oct. 16! — a move that was clearly designed to set up Bill and Hillary Clinton for embarrassment. Barr issued this order despite the fact that Charles Banks, the U.S. Attorney in eastern Arkansas, had determined there was no plausible evidence of any wrongdoing by the Clintons.
Barr's partisan directive plainly violated Justice Department strictures against any legal action that might influence a federal election. His intrusion enraged Banks — a Republican appointee — who dictated a sharply worded letter that left no doubt about his suspicions.
Banks declared that he would not participate in this "intentional or unintentional attempt to intervene into the political process of the upcoming presidential election" and warned that this "amounts to prosecutorial misconduct and violates the most basic fundamental rule of Justice Department policy." He closed by promising to direct "any press inquiry from any source whatsoever" to Barr.
Before he was nominated by Trump, he auditioned for the job by suggesting publicly that special counsel Robert Mueller has no legal basis to investigate the president for obstruction of justice. This worrisome opinion will no doubt be explored by Democrats on the Senate Judiciary Committee, who fear that Barr will interfere with the Russia investigation.
They should also ask Barr why he believes that the Uranium One conspiracy theory — which claims that then-Secretary of State Hillary Clinton approved a Russian takeover of U.S. uranium reserves in exchange for donations to The Clinton Foundation — merits investigation by the Justice Department. "To the extent it is not pursuing these matters," he said last year, "the department is abdicating its responsibility."
Uranium One is a political hoax, albeit a hoax that Steve Bannon once contrived to place on the front page of The New York Times. It is false in every aspect, from the motives of the Clintons, to the process for approving the uranium asset sale by federal officials — which Hillary Clinton could not have controlled as secretary of state, and which continued after she left office. So for Barr to promote this fraud means either that he is very stupid or that he is willing to misuse the Justice Department's investigative authority. And nobody thinks Barr is stupid.
So senators on the judiciary committee should ask why he uttered that remark. What evidence does he possess about Uranium One? What sources have informed his strange opinion? And will he pursue investigations to vindicate a political agenda?
It wouldn't be the first time.
To find out more about Joe Conason and read features by other Creators Syndicate writers and cartoonists, visit the Creators Syndicate website at www.creators.com.