Battle Over Pre-Existing Conditions Imperils Republicans
@FAWFULFAN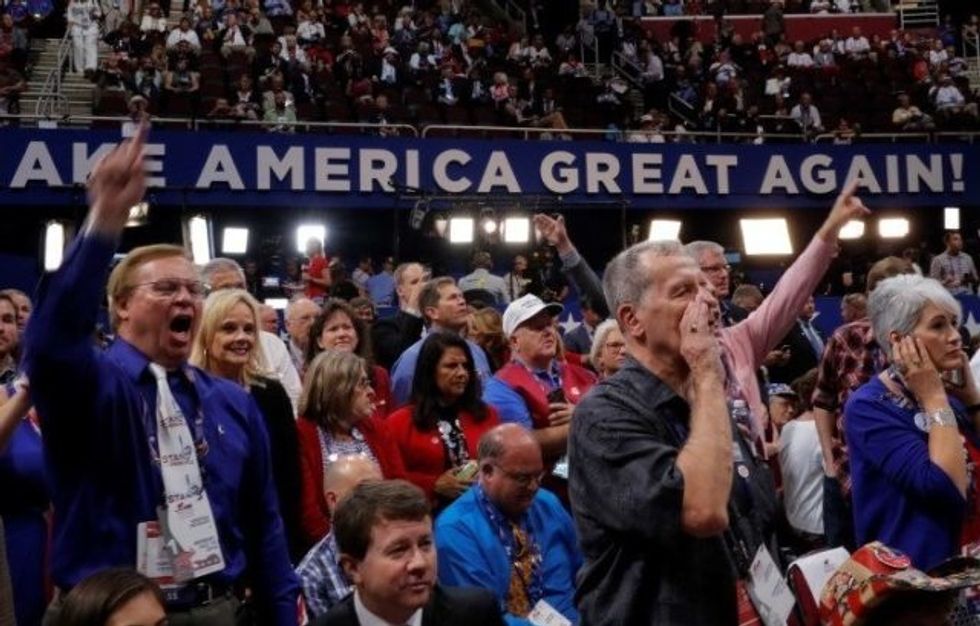 Reprinted with permission from AlterNet.
Republican state attorneys general thought they had a perfect way to flex their muscles after the GOP tax scam bill was passed: sue to overturn the Affordable Care Act's protections for pre-existing conditions, on the premise that the regulations are not "severable" from the individual mandate — which Republicans are again arguing is unconstitutional.
The suit is completely meritless and has been derided as ridiculous by even conservative legal scholars, but the Texas federal judge who heard the case appears inclined to let it move forward, so it could well work its way through the courts.
Whatever ends up happening with the case, however, Politico reports that it has had one key consequence: it has thrown many of the elected attorneys general who backed it into political jeopardy:
With a blue wave already forecast for this November's midterm elections, and the battle over the Affordable Care Act now playing out in the courts rather than in Congress, Democrats seeking to claim as many as a half dozen attorney general seats are using a lawsuit brought by 20 Republican AGs to abolish Obamacare as a political battering ram — highlighting its threat to the health law's popular protections for people with pre-existing conditions.

The lawsuit has already injected unexpected energy and cash into many of the 30-plus races across the country for state attorneys general — a dozen of which are seen as competitive. Democratic challengers in battleground states like Florida, Wisconsin, Georgia and Arizona are attacking the incumbents for bringing the lawsuit and vowing to withdraw their states from the case or join with states defending Obamacare.

Many are cutting ads saying the lawsuit could threaten health coverage for tens of millions of people with preexisting conditions, from children with cancer to adult diabetics, and holding rallies featuring people who struggled to obtain insurance before Obamacare due to a health condition.
One of the Republican attorneys general who is now facing heat at home for going after President Barack Obama's landmark insurance protection is the brains of the lawsuit, Ken Paxton of Texas. Already politically wounded by three felony indictments for securities fraud, Paxton faces a serious Democratic challenger in Justin Nelson, an Austin attorney and University of Texas law professor who has clerked for Supreme Court Justice Sandra Day O'Connor. Defeating Paxton is a tall order in a state that has not elected any Democrat to statewide office since 1994, but at least one recent poll has found the race within one point.
In fact, the fight over the ACA lawsuit is spilling over into other state races around the country.
In Wisconsin, Democratic gubernatorial candidate Tony Evers has challenged Scott Walker — who authorized his attorney general Brad Schimel to join the suit — to remove his state from the proceedings. Meanwhile, two of the attorneys general involved in the suit, Missouri's Josh Hawley and West Virginia's Patrick Morrisey, are both running for Senate. Incumbent Sen. Claire McCaskill (D-MO), who was one of the original votes to pass the ACA, has raked Hawley over the coals for hypocritically claiming he supports pre-existing conditions, while Sen. Joe Manchin (D-WV), in a throwback to his famous 2010 ad of himself shooting a cap-and-trade bill, recently released a new ad of himself shooting the Obamacare lawsuit.
All things considered, Republicans may live to regret picking a fight over one of the ACA's most popular provisions in an election year.
Matthew Chapman is a video game designer, science fiction author, and political reporter from Austin, TX. Follow him on Twitter @fawfulfan.