Bears Are On The Ballot In Maine As Hunting Methods Are Debated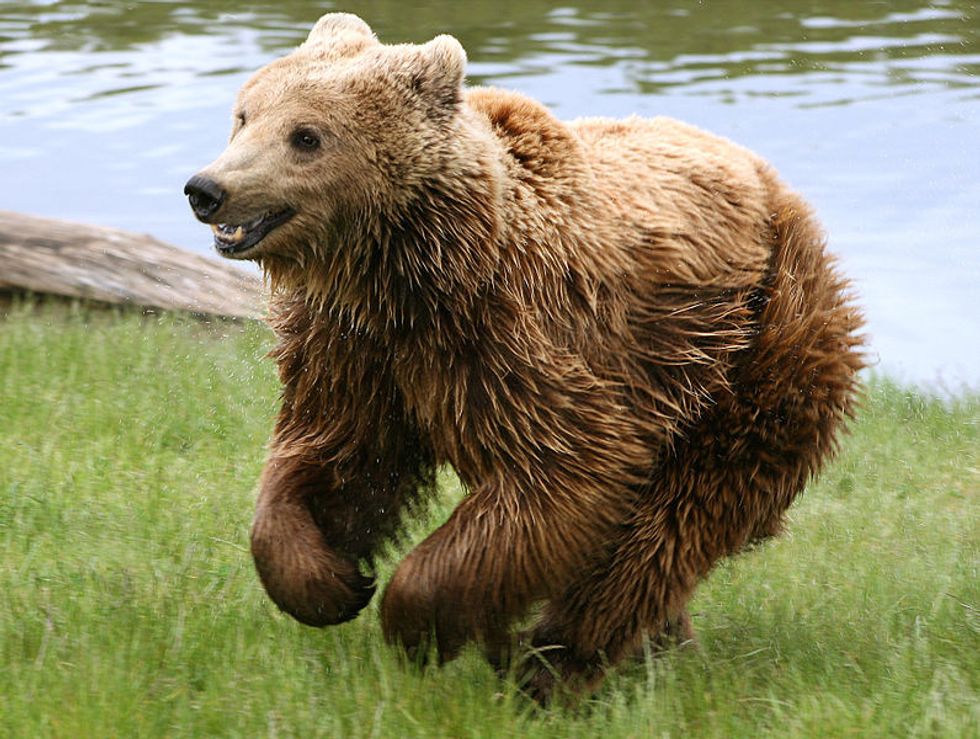 By Tina Susman, Los Angeles Times
NEW YORK — It has been a big year for bears in the news, especially in Maine, where voters on Nov. 4 face a question that has bedeviled other bear-heavy states: how to keep the species' population at bay in the face of pressure from animal rights groups lobbying to ban certain hunting methods.
The campaign around the Maine Bear Hunting Ban Initiative, which will appear on the ballot as Question 1, has shed light on Maine's unique status in the wildlife world. It remains the only state in the Lower 48 where hunters may use bait, traps, and dogs to nab bears.
Voters are being asked whether these methods should be banned except to protect property, public safety, or for research.
"We think we've got a great case to make," the Humane Society's chief executive, Wayne Pacelle, said in a heated televised debate Oct. 14. "The fact is, you don't need to use these methods to hunt the animals. Hunting is supposed to give the animals a chance, and this stacks the deck so badly."
The Humane Society supports the coalition backing the initiative, which is led by a group called Mainers for Fair Bear Hunting.
Opponents led by a group called Save Maine's Bear Hunt say the Humane Society's involvement shows that this is a fight being bankrolled by outside lobby groups with a broader agenda of ending sport hunting nationwide. Save Maine's Bear Hunt supporters include the state's Department of Inland Fisheries and Wildlife, which estimates Maine has more than 30,000 black bears.
"We have one of the largest bear populations in the country, certainly on the East Coast," said James Cody, the campaign manager for Save Maine's Bear Hunt. Cody said 93 percent of the kills in last year's bear hunt involved one of the three methods that could be banned.
The use of bait, in which hunters put out buckets filled with junk food and sweets such as donuts and syrup, was cited in 72 percent of kills, according to state wildlife officials.
Eliminating the methods would send bear numbers soaring, and it would devastate the state's bear-hunting industry, Cody said.
Each side has garnered at least one celebrity endorsement: Bill Maher supports Question 1; Ted Nugent opposes it.
The Portland Press Herald and the Bangor Daily News have urged "no" votes; the Portsmouth Herald urged a "yes" vote.
Heavy-hitters on the "no" side include the National Rifle Association, the AFL-CIO and Gov. Paul LePage. They face a massive infusion of campaign funds from the Humane Society, the ASPCA and other animal advocacy groups.
Opponents of Question 1 would seem to have momentum on their side, given some recent incidents in states with big bear numbers. The most notorious of these occurred last month in New Jersey, where a 22-year-old hiker was attacked and killed by a black bear.
Officials killed the bear, which a police report described as a large male weighing 250-300 pounds.
Also last month, a Santa Barbara County, Calif., woman fought off a black bear that attacked her while she was walking her dogs. Earlier this month, officials say a black bear devoured the remains of a man who had suffered a heart attack outside his remote home in Northern California.
Mystery still surrounds the discovery of a dead black bear cub in New York City's Central Park earlier this month. Wildlife officials said the animal appeared to have been hit by a vehicle, but nobody has been able to explain how the bear's body got to the park, which has no known bears.
Not all the stories have been so grim. Smokey Bear celebrated his 70th birthday and took his message of fire safety onto social media.
But the Maine debate underscores a national reality: Black bear populations have increased, thanks to conservation efforts to protect the species, and so too have bear-human encounters in many areas.
In New Jersey, where Ridgewood police last month captured a black bear roaming near an elementary school, wildlife officials say reports of bear sightings have increased 23 percent over last year. The bear captured in Ridgewood was released back into the wild after it climbed a tree and was shot with a tranquilizer gun.
The latest polls show the "no" side ahead in Maine by a few percentage points, but supporters of Question 1 are hoping that a Maine judge rules in favor of their motion for an injunction to prevent the state's wildlife department from using public funds to fight the ballot measure.
That ruling is expected this week.
Photo via Wikicommons
Want more national news? Sign up for our daily email newsletter!