Beginners Embrace Skiing After Overcoming Fear, Impatience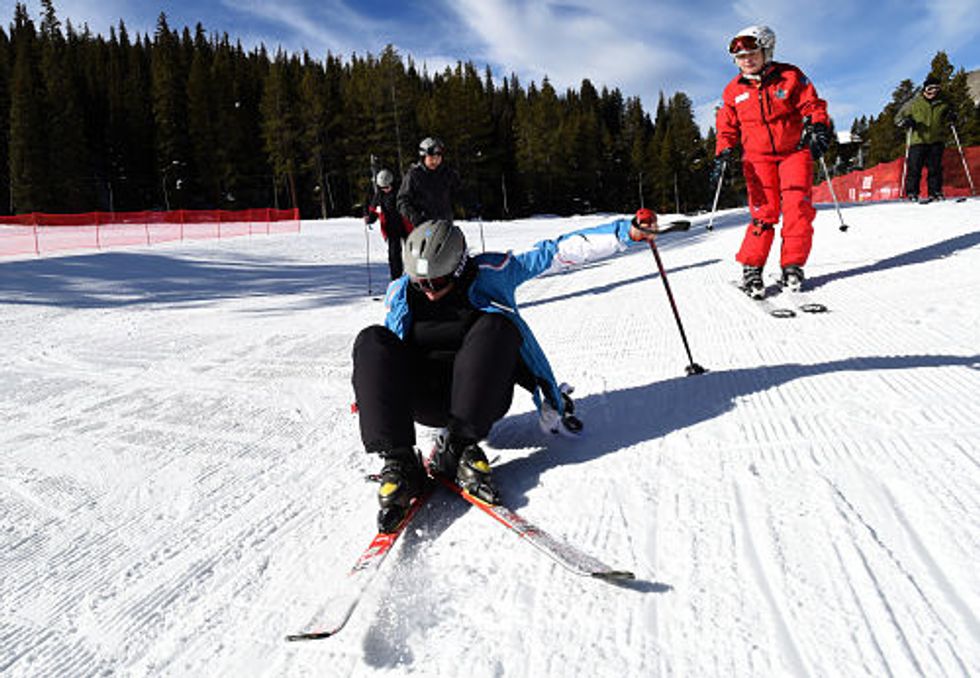 By Lance Benzel, The Gazette (Colorado Springs, Colo.) (TNS)
For Tiffanie Miller of Denver, the path from "never-ever" to bunny hill bomber came with the squeeze of an orange — so to speak.
Miller, 30, was among a half-dozen adults who learned a new vocabulary — and a suite of new skills — during a recent edition of Copper Mountain's ski school. One key lesson was to imagine an orange lodged between the ski boots and the shins — and then to lean forward with enough force to juice it.
It's timeless advice meant to spur beginners to forgo their instinct to lean back on their skis and instead lean forward, into gravity's pull.
Counterintuitive though it sounds, that tip and a few others had Miller carving turns down Green Acres by lunchtime.
Copper's 2-year-old learning area boasts gentle slopes, a slow-moving drag lift and lots of instructors on hand for safety. But for beginners, it's a blast.
"I love it," Miller said after coming to a controlled stop at the base of the hill. "It's that fear and exhilaration of: I could have fallen, but I didn't. You're just gliding down over the snow."
Colorado's $12 billion snow sports industry depends on first-time skiers discovering that thrill and keeping the money flowing in.
Last season produced record- setting numbers for skiing and snowboarding in Colorado, with 12.6 million visits to the state's 25 ski resorts.
To maintain the momentum, the Colorado Ski Country USA trade association touted January as "Learn to Ski Month" and broadcast deals offered by its 21 member resorts to nudge the uninitiated into action. Virtually all ski areas offer lessons, and first-time adult skiers are sure to have company.
Instructor Lynda Shenk calls them "never-evers," and it's her job to make sure they have a good time during their "first-evers."
That generally means confronting two obstacles that can doom a ski lesson: fear and impatience.
"We're a society that wants instant gratification, and skiing is a sport that takes time," Shenk told six members of a class, including Miller.
The day began with an orientation before students headed outside to try on their skis and learn basic movements.
The first few runs were made in a shallow bowl with a forgiving grade. Once students demonstrated they could turn in each direction, they graduated to riding a drag lift to the top of the bunny hill, where instructors guided them down an S-curve marked off with orange fencing.
As Andy Lee of Alamo, Calif., learned the tactic of "pizza" — which involves turning ski tips inward to slow forward progress — he worried that he was being shown up in the worst way: by a toddler.
"We just dropped our 3-year-old off at the kids' school," he said. "She'll probably be zigzagging down by the end of the day."
Kim Jacoby, 53, of Grinnell, Iowa, was the sole beginner in a group outing of 120 members of the Eastern Iowa Ski Club, which makes two trips a season.
While experienced peers spent the day exploring Copper's steeper slopes, she was set on improving her performance from an earlier lesson.
"I spent more time on my butt than I spent on my skis," she said. Within a couple of hours of her second outing, she had written a new chapter in her development as a skier.
"I got over my fear. I love it," she said.
Miller likewise was left beaming at the end of the final run of the morning session.
Anxious at first, she had a word of advice to others struggling with a fear of the sport: Get out there and get over it.
"Your fear is what's holding you back from a great experience," she said.
Said Jacoby: "You're never too old to try something new."
Photo: Alice Virts falls while coach Lynda Shenk watches her during an adult ski lesson at Copper Mountain in Colorado. (Christian Murdock/Colorado Springs Gazette/TNS)