Behind Stormy's 'Explosive' New Charges Against Cohen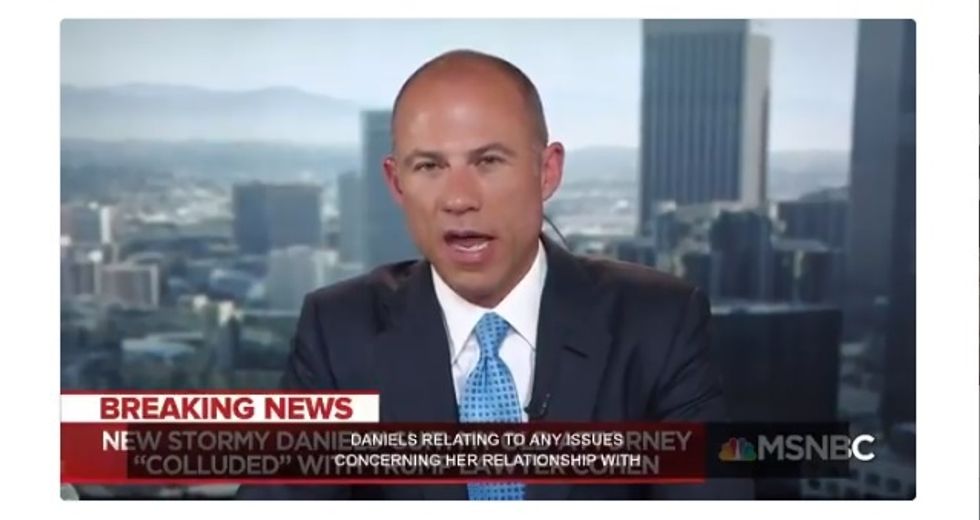 Reprinted with permission from AlterNet.
Stephanie Clifford, better known as porn star Stormy Daniels, brought a new lawsuit today against President Donald Trump's lawyer and fixer Michael Cohen. She alleges that Cohen colluded with her previous lawyer, Keith Davidson, in her negotiations over a hush money agreement she signed to keep quiet about an affair she says she had with Trump.
Michael Avenatti — Clifford's new lawyer — took to MSNBC's "Deadline: White House" on Wednesday to explain the accusations made in the new lawsuit. The court filing includes text messages that allegedly show a close relationship between Cohen and Davidson and coordination between the two on Clifford's media strategy.
"It is one of the largest sins you can engage in as an attorney," Avenatti told host Nicolle Wallace. "These text messages are explosive."
The messages show that Davidson and Cohen allegedly communicated about Clifford appearing on Fox News with Sean Hannity — who happens to be another of Cohen's clients.
"Keith Davidson, instead of representing Stormy Daniels, was more interested in colluding with his 'pal' — as one of the text messages notes — Michael Cohen, and was more interested in assisting Michael Cohen and Donald Trump in basically lying to the American people about what happened," Avenatti said, who added that he believes Trump knew about this coordination.
"These text messages show that the prior denials by Mr. Trump and Mr. Cohen relating to what Mr. Trump knew and about the honesty of my client were absolute lies," Avenatti said in a separate statement. "There was a significant cover-up here as part of an attempt to deceive the American people and Mrs. Trump and we intend on getting to the bottom of it."
Davidson has denied the charges and says Avenatti has only brought them up to distract from his own personal baggage.
Watch the clip below:
"It is one of the largest sins you can engage in as an attorney … these text messages are explosive" – @MichaelAvenatti on Stormy Daniels' new lawsuit claiming Michael Cohen and her former attorney Keith Davidson were communicating & coordinating
w/ @NicolleDWallace pic.twitter.com/pr2lWDefPZ

— Deadline White House (@DeadlineWH) June 6, 2018
Cody Fenwick is a reporter and editor. Follow him on Twitter @codytfenwick.