Excerpt: Behind The Secretly Funded Right-Wing Attack On The Clinton Foundation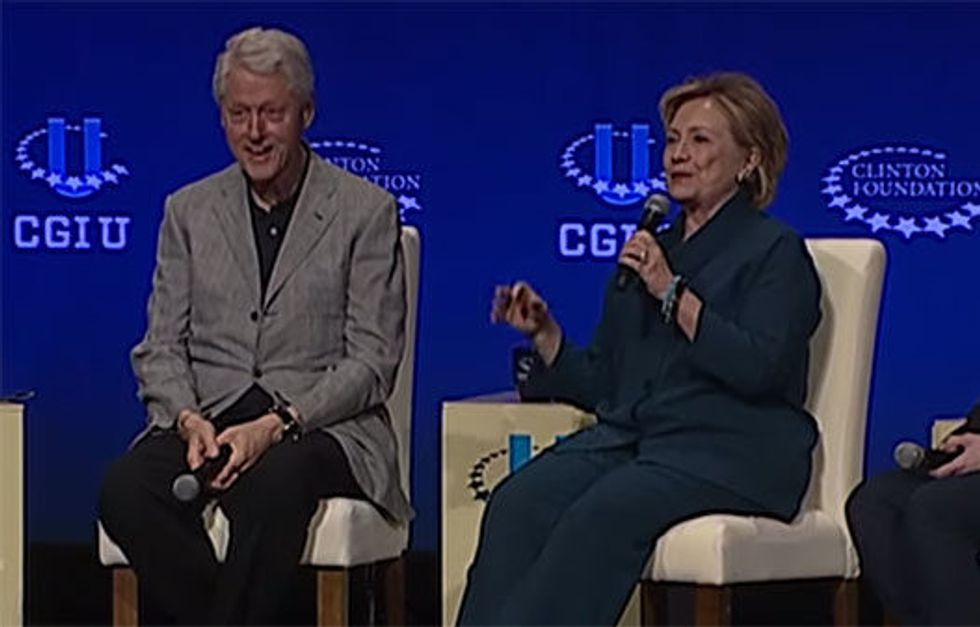 This excerpt from Man of the World: The Further Endeavors of Bill Clinton opens in the spring of 2015, just before the publication of Clinton Cash – a book created in a shadowy right-wing think-tank to wound Hillary Clinton — then considered the most formidable potential Democratic presidential nominee — by attacking the Clinton Foundation. With Democratic nominee Clinton and her relationship with the foundation likely to come under renewed scrutiny during the final weeks of the presidential campaign, it seems equally appropriate to examine its most determined and least scrupulous critics, who are now closely associated with Donald Trump's campaign.
—– 
Few American authors would dare to imagine the publicity bonanza that the editors of the New York Times bestowed on Peter Schweizer's Clinton Cash: The Untold Story of How and Why Foreign Governments and Businesses Helped Make Bill and Hillary Rich. During the weeks leading up to its publication in early May—and only days after Hillary announced her presidential candidacy—the Times published not one but two articles promoting and implicitly endorsing the book—which, as its title indicated, purported to expose the Clintons' enrichment by foreign interests.
It was the kind of publicity that money literally could never buy.
On April 19, the paper led its politics section with a story by Amy Chozick that described Clinton Cash as "the most anticipated and feared book of a presidential cycle still in its infancy." The author's background as a Republican partisan and former speechwriter for George W. Bush and Sarah Palin, wrote Chozick, would be used by Clinton supporters to discredit him as yet another in a long line of biased critics—but that might be more difficult, she added, because Schweizer "writes mainly in the voice of a neutral journalist and meticulously documents his sources . . . while leaving little doubt about his view of the Clintons."
Beyond that affirmation of his methods, Chozick reported that both the Times and the Washington Post—as well as Fox News Channel—had entered into "exclusive" deals with Schweizer to pursue "story lines" in his book. To anyone in the Clinton camp who remembered the Whitewater "scandal," which began with investigative stories in the Times and the Post, this collaboration between the two leading print outposts of the "liberal media" and hostile Republican sources looked all too familiar.
Scores of readers noticed the incongruous arrangement in Chozick's story and protested to Margaret Sullivan, the Times public editor. Sullivan posted a column four days later, expressing her distaste for the "exclusive" deal with Schweizer, while expressing complete faith in the paper's editors to handle such material properly.
But that same day, Sullivan's mild demurral was overshadowed as the Times presented the fruit of its collaboration with Schweizer on the front page of its print edition and in the top spot on its website—a 4,400-word story vaguely headlined "Cash Flowed to Clinton Foundation Amid Russian Uranium Deal," by investigative reporters Jo Becker and Mike McIntire, which explored the disposition of uranium mining rights in Kazakhstan and the United States by a group of Canadian investors that had once included foundation donor Frank Giustra—and that left those strategic reserves in Russian hands.
Before joining the Times staff, Becker had shared a Pulitzer Prize at the Washington Post. She also had shared a byline on the January 2008 Times investigation of Giustra's uranium deal in the Central Asian nation and his connections with Clinton. Whatever other motives might have inspired the paper's deal with Schweizer seven years later, the Times editors leapt at a chance to revisit that story—which had provoked an embarrassing public correction in Forbes magazine.
The April 23 story revisited the first Times investigation in detail, even repeating one of its most easily checked errors: the claim that Giustra and Clinton had flown together on Giustra's jet to Almaty, the Kazakh capital. (Actually, Clinton and his staff had arrived four days later on another friend's plane.)
But the new story hinted at a more serious accusation: Through a complicated series of deals, Russia had gained control of a portion of U.S. uranium reserves through a Vancouver-based firm called Uranium One, while the Canadian investors who profited had given millions to the Clinton Foundation. The Russian acquisition of those American mines had been approved by the Clinton-led State Department, while those Canadian donations "flowed."
The story noted that any such deal required the approval of "a number of United States government agencies." It mentioned that some of the story's information had been "unearthed" by Schweizer, "a former fellow at the right-leaning Hoover Institution and author of the forth- coming book Clinton Cash," who had "provided a preview of material in the book to the Times," which added its own extensive reporting.
"Whether the donations played any role in the approval of the uranium deal is unknown," the reporters acknowledged. But on the pages of the Times, even the suggestion that donations from Giustra or other investors influenced Hillary amplified Schweizer's theme. They also reported that Bill Clinton had received $500,000 for a speech delivered in Moscow to a bank connected with Uranium One.
The story's insinuation was bolstered by the reporters' discovery that $2.3 million from the Uranium One investors had not been disclosed on the foundation's website, but made public only in Canadian tax records. A Times editorial the same day complained about the "messiness" of Hillary's connection with her husband's foundation, and urged her to impose tighter restrictions on its fundraising.
The question that the Times failed to raise, let alone answer, is why anyone interested in the Russian uranium deal would have sought to influence the secretary of state—when her department had only one vote out of nine on the Committee on Foreign Investment in the United States that had to approve the deal.
While Clinton Cash attributed a "central role" to Hillary, she hadn't participated at all in the Uranium One deliberations. According to the assistant secretary of state who represented her on the panel, "Mrs. Clinton never intervened with me on any CFIUS matter." Knowledgeable observers of CFIUS believe its decisions are dominated by the Pentagon and the Treasury Department, which chairs the committee, not State. And the nine agencies on CFIUS had unanimously approved the sale of the remainder of Uranium One to the Russians in 2013, several months after Hillary had left the government. That sale also required additional approvals from the Nuclear Regulatory Commission and Canadian regulators.
In short, cultivating the Clintons would have guaranteed nothing for the Uranium One investors. They had given well over $2 million during a period of several years, but a foundation spokesman—and Giustra—insisted that Canadian and provincial tax laws forbade disclosure of their names without their specific consent.
As for Giustra, the Uranium One investors were his friends and former partners, and he was assuredly a very big Clinton donor. But he had divested all of his Uranium One stock almost three years before the Russian sale went through.
Yet somehow all those exculpatory details were ignored in the subsequent coverage on cable TV and talk radio, where Clinton's opponents talked loosely of "bribery"—often during interviews with Schweizer, whose book debuted on May 24 as the number two Times nonfiction bestseller and stayed on the list for several weeks.
…
The Times's promotion of Schweizer encouraged a seemingly endless series of attacks on the Clinton Foundation from almost every direction. Journalists who had paid only fleeting attention to the foundation's work over more than a decade proclaimed their concern about its finances, transparency, and efficiency.
Commentators with very little knowledge of any of the foundation's programs, still unable to distinguish the Clinton Global Initiative from the Clinton Health Access Initiative, confidently denounced the entire operation as dubious. Others glancingly recognized the good achieved by the foundation before moving on to denounce the Clintons' "greed." And media stars who had eagerly participated in Clinton Global Initiative events, broadcasting gushy interviews with Bill Clinton, suddenly voiced angry suspicions, unproven accusations, and inventive theories.
…
Much of the most damning material in Clinton Cash, however, turned out to be either factually inaccurate, melodramatically exaggerated, or both. Within weeks after publication, major media outlets reported significant errors discovered in its pages.
Time magazine debunked Schweizer's chapter on the Uranium One deal, noting that his book had mustered "little evidence" of outside in- fluence on government decision-making, and offered "no indication of Hillary Clinton's personal involvement in, or even knowledge of, the [CFIUS] deliberations."
According to ABC News' investigative team, its "independent review of source material . . . uncovered errors in the book, including an instance where paid and unpaid speaking appearances were conflated," although "those same records supported the premise that former President Clinton accepted speaking fees from numerous companies and individuals with interests pending before the State Department." Yet ABC also found that the book "offers no proof that Hillary Clinton took any direct action to benefit the groups and interests that were paying her husband [for speeches]."
NBC News correspondent Andrea Mitchell poked gaping holes in a section that implied Hillary had promoted Boeing's multibillion-dollar sale of aircraft to Russia, in exchange for the company's $900,000 donation to the Clinton Foundation two months later.
As Mitchell pointed out, the aviation giant had donated to the foundation's Haiti projects for years, and the State Department had been promoting Boeing interests abroad long before Hillary took over. On camera, the Sunlight Foundation's Bill Allison said, "There's no—there's no evidence that she changed the policy based on, you know, the donations to the foundation."
BuzzFeed found five major errors in a chapter on Haiti, which purported to show that Digicel entrepreneur Denis O'Brien had received a large State Department contract after arranging hundreds of thousands of dollars in speaking fees for Bill Clinton. But the dates were wrong, the State Department project had been funded mostly by the Gates Foundation, and it turned out that Clinton had delivered most of the listed speeches for free—except one that earned a donation to the foundation.
Yahoo News derided as "circumstantial" a chapter claiming that the mobile phone manufacturer Ericsson had been exempted from Iran sanctions by the State Department, after paying Bill Clinton $750,000 to deliver a speech at a Hong Kong telecom conference. The Obama White House, not State, had made the sanctions decision.
Perhaps the ugliest distortion involved Schweizer's misuse of two truncated quotes from Clinton's own colleagues to minimize the role he had played in combating the AIDS pandemic. To suggest slyly that Clinton "may take a little more credit than he is due," the author plucked that phrase out of a much longer quote from former State Department official Princeton Lyman, who had praised Clinton effusively and felt outraged by the misrepresentation of his words.
Schweizer played a similar trick with a quote he lifted from a long statement by World Bank president Jim Yong Kim, a founder of Partners in Health. His aim was to portray Clinton as a mere "middle- man"—when in fact Kim declared the former president "absolutely one of the most important people in the global response to HIV/AIDS."
Beyond the most hostile political circles, the verdict on Clinton Cash was that Schweizer had failed to prove the corrupting influence of speaking fees or foundation contributions on Hillary's decisions as secretary of state. "We cannot ultimately know what goes on in their minds and ultimately prove the links between the money they took in and the benefits that subsequently accrued to themselves, their friends, and their associates," his book conceded in the end. Instead, he urged authorities with more investigative power than a mere journalist could muster to bring the Clintons to justice. But no prosecutor, and not even a Republican-led congressional committee, showed any inclination to accept that challenge.
…
If Schweizer was not the world's most competent journalist, however, he was prolific and ideologically reliable, as indicated by the tendentious titles of his previous books listed on Amazon: Do As I Say (Not As I Do): Profiles in Liberal Hypocrisy (Doubleday, 2005); Architects of Ruin: How Big Government Liberals Wrecked the Global Economy— And How They Will Do It Again if No One Stops Them (Harper, 2009); and Makers and Takers: Why Conservatives Work Harder, Feel Happier, Have Closer Families, Take Fewer Drugs, Give More Generously, Value Honesty More, Are Less Materialistic and Envious, Whine Less . . . and Even Hug Their Children More than Liberals (Doubleday, 2008). For several years he had written agitprop for the extreme right-wing Breitbart News websites.
For conservative funders seeking to take down the most formidable Democratic presidential contender, Schweizer offered not just audacity and experience but his own nonprofit. As president of the Government Accountability Institute in Tallahassee, Florida, he could accept millions of dollars in tax-exempt funds for research, promotion, and expenses (including his $200,000 annual salary) from foundations and individuals.
And unlike the Clintons, who had disclosed decades of tax returns and more than 300,000 foundation donors, Schweizer didn't have to reveal any of his funders.
When the Government Accountability Institute first appeared on the scene during the 2012 election cycle, the new "nonpartisan" entity almost immediately launched a series of harsh attacks on President Obama that were later determined to be inaccurate by the Washington Post fact-checkers. Eventually, researchers uncovered at least one important source of the money behind the "institute"—an eccentric right-wing hedge-fund executive named Robert Mercer and his daughter Rebekah, based in New York, whose family foundation had given millions of dollars to Schweizer in 2013 and 2014.
The extent of Mercer's specific support for Clinton Cash is not known, although it seems to have been the main project of GAI during that period. But when HarperCollins editor Adam Bellow, a friend of Schweizer, brought in the book, Schweizer alerted the publisher that GAI's wealthy supporters were prepared to spend big to promote the book. Without seeking approval from HarperCollins for ads or media outlets, the GAI ran its own Clinton Cash publicity campaign.
The GAI has yet to release its 990 IRS form for 2015, so any specific expenditures on advertising for Clinton Cash remain secret. So does the disposition of the book's advance and royalties. If Schweizer spent his nonprofit's money promoting a book whose proceeds accrued to him personally, that would appear to represent precisely the kind of self-dealing for which he had indicted the Clintons. In 2013, the organization disclosed spending more than $100,000 for advertising on the Breitbart website—a company that happened to be chaired by Stephen Bannon, who also chairs the GAI board [and in August 2016 was appointed by Donald Trump to manage his presidential campaign].
Excerpted from Man of the World: The Further Endeavors of Bill Clinton, by Joe Conason. Copyright © 2016 by Joe Conason. Used by permission of Simon & Schuster.. All rights reserved. No part of this excerpt may be reproduced or reprinted without permission in writing from the publisher.