Belgium Identifies Brussels Bomb Suspect, Suicide Bombers: Media
@reuters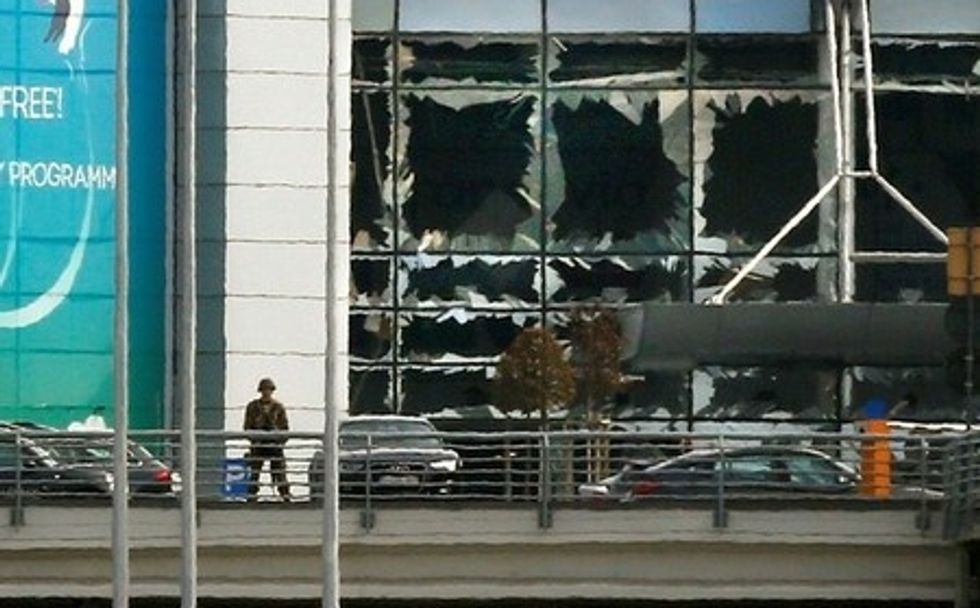 BRUSSELS (Reuters) – Belgian police have identified a prime suspect in Tuesday's Brussels blasts and two suspected suicide bombers, linking them directly to Islamic State militants behind last November's Paris attacks, Belgian media reported on Wednesday.
Najim Laachraoui, 25, is believed to be the man seen on CCTV pushing a baggage trolley alongside the bombers and then running out of the Brussels airport terminal.
Earlier some media reported that he had been captured in the Brussels borough of Anderlecht, but they later said the person detained was not Laachraoui.
Police and prosecutors refused immediate comment but the federal prosecutor was due to hold a news conference at 1200 GMT.
The death toll in the attacks on the Belgian capital, home to the European Union and NATO, rose to at least 31 with some 260 wounded, Health Minister Maggie De Block said on VRT television. It could rise further because some of the bomb victims at Maelbeek metro station were blown to pieces and victims are hard to identify.
One of the suspects seen on CCTV pushing baggage trolleys at Brussels airport just before the explosions was identified as Brahim El Bakraoui, public broadcaster RTBF reported. It said his brother, Khalid, blew himself up on the metro train.
Both had criminal records for armed robbery but had not previously been linked by investigators to Islamist militants.
Laachraoui is wanted in connection with the Paris attacks. His DNA was found on at least two explosives belts used in those attacks and at a Brussels hideout used last week by prime Paris suspect Salah Abdeslam, who was arrested last Friday after a shoot-out with police.
RTBF said Khalid El Bakraoui had rented under a false name the apartment in the city's Forest borough, where police hunting Abdeslam killed a gunman in a raid last week. He is also believed to have rented a safe house in the southern Belgian city of Charleroi used to mount last November's Paris attacks.
The Syrian-based Islamist group claimed responsibility for Tuesday's attacks, four days after Abdeslam's arrest in Brussels, warning of "black days" for those fighting it in Syria and Iraq. Belgian warplanes have joined the coalition in the Middle East, but Brussels has long been a center of Islamist militancy.
Security Review
The attacks sent shockwaves across Europe and around the world, with authorities racing to review security at airports and on public transport, and rekindled debate about European security cooperation and police methods.
Prime Minister Charles Michel canceled a trip to China and convened his inner cabinet to discuss security. Belgium observed a nationwide minute's silence at noon (1100 GMT). King Philippe, the premier and European Commission President Jean-Claude Juncker attended a memorial event at Commission headquarters.
More than 1,000 people gathered around an improvised shrine with candles and street paintings outside the Brussels bourse.
The Brussels blasts fueled political debate across the globe about how to combat militants.
"We can and we will defeat those who threaten the safety and security of people all around the world," said U.S. President Barack Obama.
Donald Trump, the front-runner for the Republican nomination to succeed Obama in November's U.S. election, suggested suspects could be tortured to avert such attacks.
Police searched an apartment in the northern Brussels borough of Schaerbeek late into the night, finding another bomb, an Islamic State flag and bomb-making chemicals.
Local media said authorities had followed a tip from a taxi driver who may have driven the bombers to the airport.
An unused explosive device was later found at the airport and a man wearing a light-colored jacket and a hat, believed to be Laachraoui, was seen running away from the terminal after the explosions.
Closing In
Security experts believed the blasts, which killed about 20 people on a metro train running through the area that houses EU institutions, were probably in preparation before Friday's arrest of locally based French national Abdeslam, 26, whom prosecutors accuse of a key role in the Nov. 13 Paris attacks.
He was caught and has been speaking to investigators after a shootout at an apartment in the south of the city a week ago, after which another Islamic State flag and explosives were found. It was unclear whether he had knowledge of the new attacker whether accomplices may have feared police were closing in.
Islamic State said in a statement that "caliphate soldiers, strapped with suicide vests and carrying explosive devices and machine guns" struck Zaventem airport and Maelbeek metro station.
It was not clear, however, that the attackers used vests. The suspects were photographed pushing bags on trolleys, and witnesses said many of the airport dead and wounded were hit mostly in the legs, possibly indicating blasts at floor level.
The two men in dark clothes wore gloves on their left hands only. One security expert speculated they might have concealed detonators. The man in the hat was not wearing gloves.
About 300 Belgians are estimated to have fought with Islamists in Syria, making the country of 11 million the leading European exporter of foreign fighters and a focus of concern in France and other neighbors over its security capabilities.
Reviving arguments over Belgian policies following the Paris attacks, in which 130 people were killed in an operation apparently organized from Brussels, French Finance Minister Michel Sapin spoke of "naiveté" on the part of "certain leaders" in holding back from security crackdowns on Muslim communities.
Belgian Foreign Minister Didier Reynders retorted that each country should look to its own social problems, saying France too had rough high-rise suburbs in which militants had become radicalized.
Life began to return to normal in Brussels on Wednesday, with some public transport working and cars returning to the European district, but the metro system remained closed and the airport was still shut to travelers.
(Editing by Paul Taylor and Janet Lawrence)
Photo: A soldier stands near broken windows after explosions at Zaventem airport near Brussels, Belgium, March 22, 2016. REUTERS/Francois Lenoir