Ben Carson Connects With Iowa's Evangelicals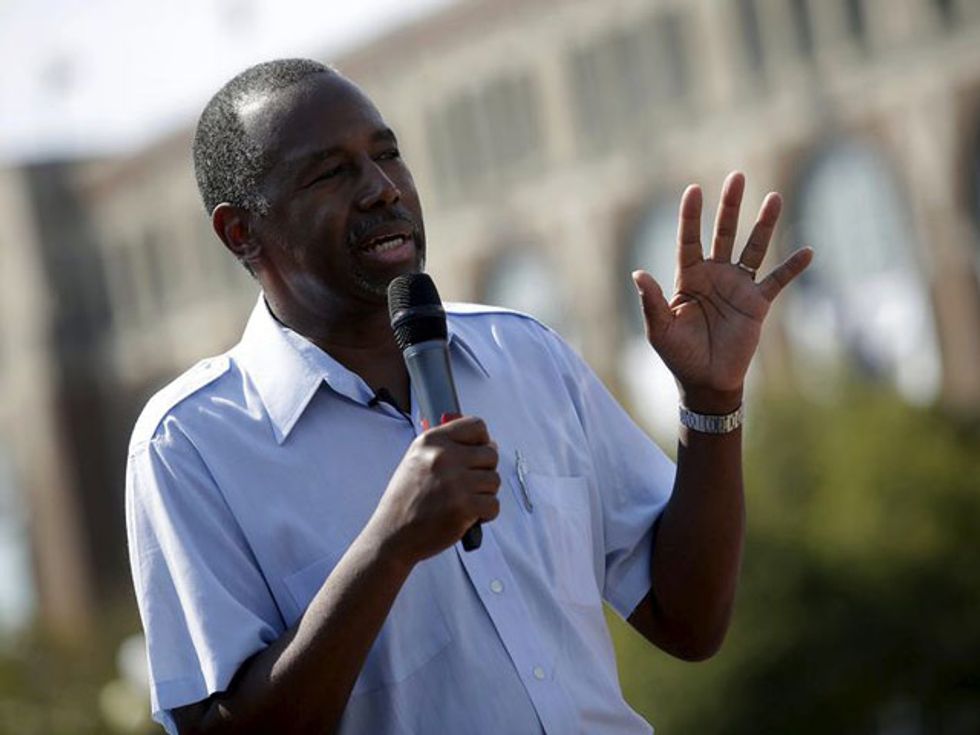 By Seema Mehta, Los Angeles Times (TNS)
SIOUX CITY, Iowa — Earlier this spring, Ben Carson spoke to graduating high school seniors and their parents in a dim church sanctuary here, impressing them with the tale of how his poverty-stricken, violent Detroit childhood led him to become a world-renowned neurosurgeon — and of how faith played a crucial role in his journey.
Carson hadn't formally declared he was seeking the Republican presidential nomination when he visited the Morningside Assembly of God, a Pentecostal congregation in this town 160 miles northwest of Des Moines. His life story left a deep impression on many of the parishioners.
"Humility. Smart and humble. And I believe in his leadership skills," David Drew, the Woodbury County sheriff, said after morning services Sunday.
As he climbed onto his motorcycle, Drew, 55, contrasted Carson's manner with that of another leading Republican candidate, Donald Trump. Carson "might not be the guy out there rah-rahing, but he has that quiet resolve. I'm very impressed by him."
Carson recently surged to the top of polls in Iowa and nationally, largely with the support of evangelicals. The crucial question for the mild-mannered physician and author is whether he can sustain his popularity until the first votes are cast three months from now. Polling this early is not predictive, and the vast majority of Iowans are undecided.
In the last two Iowa caucuses, former Sen. Rick Santorum of Pennsylvania and former Arkansas Gov. Mike Huckabee rode the support of evangelical voters to success here, but they failed to secure the GOP nomination because they couldn't expand their base.
Carson, though, has advantages those two didn't have — notably, strong fundraising. He raised nearly $21 million in the third quarter of 2015, topping the Republican field.
He also has a sprawling field operation created by a super PAC supporting his bid. And he is viewed favorably by nearly all of the voters who support another candidate or are undecided, both in national and Iowa polling.
Carson is light on specific policies, instead assuring voters that the steady hand he displayed in the operating theater is best to guide the nation. It's a campaign driven by personality rather than policy, said former Iowa GOP Chairman Matt Strawn.
"Even though he hasn't been here quite as much as some of the other candidates, because of his books, because of his media persona, caucus-goers, even though they haven't spent a lot of time with him personally, feel like they really know him as a person," said Strawn, who has not endorsed a candidate.
"When you think about the slice of the Iowa caucus electorate he's targeting — Christian conservatives, evangelical activists — ultimately, when those voters make their decision about who to support, they want to know who you are and that they've looked into your soul," Strawn said.
Carson wasn't expected to be a dominating factor in the GOP race. He had never held elected office. He didn't have a national political profile. But in conservative communities like Sioux City, and before congregations like Morningside's, he was well-regarded before he announced his White House aspirations.
"Ben Carson is not a newcomer … to evangelicals, home-schoolers especially. They've known him for a long period of time, and the reason they admire him so much is not because he's running for president. It's because they like his narrative," said Steffen Schmidt, a political science professor at Iowa State University.
"He is one of those people who absolutely has a base in a part of American society that transcends politics," he said.
Home-schooling families routinely use Carson's books in their curriculum, Schmidt said. Carson has written several faith-based books, including an autobiography, "Gifted Hands," that was made into a television movie starring Cuba Gooding Jr.
Outside Morningside church, Laura Armstrong, an Akron, Iowa, mother who home-schools three children, said she hasn't settled on a candidate but is leaning toward Carson because of "his strong Christian values." Her husband, Troy, a school bus driver, said the Lord will guide them in whether to support Carson.
Schmidt said Carson has to find a way to gain traction with other portions of the GOP, though he thought it would be difficult for the neurosurgeon to appeal to libertarians or establishment Republicans whose priority is the economy.
"He is not a natural candidate for those groups," Schmidt said. "That's what he's got to work on, to see where he can expand his base."
In Iowa, Carson's campaign has fewer staff — seven people — on the ground than some of his competitors, though they receive high marks from political observers for connecting with voters by doing things such as grilling hot dogs outside church services and handing out water to runners during races.
A super PAC backing Carson has been active for well over a year and has one of the largest field operations in the state, with 28 people working out of an office in Johnston, a suburb of Des Moines. The staffers have distributed Carson's latest book, "Rx for America," to nearly 100,000 Iowans and have spoken with 18,000 registered Republicans on the phone.
The super PAC — which can raise unlimited amounts from individual donors but cannot coordinate directly with the Carson campaign — gives out barn signs, T-shirts and lawn signs. It has rented billboards around the state touting Carson; one will be erected outside the Des Moines airport next week that reads, "Welcome to Iowa! This is Carson Country."
"What we decided to do is to educate about Dr. Carson, to bring his name ID up, and get as many books in people's hands as possible before the caucus," said Tina Goff, the Midwest regional director for the super PAC.
Carson, a first-time candidate, has made headlines for some questionable remarks, including that a Muslim should not be president and that being gay is a choice. He also stands behind his assertion that Joseph, a biblical figure, built the Egyptian pyramids to store grain.
Carson's support never wavered. Instead, his backers blame the media.
"They're twisting his words. You need to listen to the whole context of what he's saying," said Lindsey Fritz of Le Mars, Iowa. "You can pick and choose parts of what anybody's saying to make them sound bad."
Fritz, a surgical technician, added that she had read Carson's books and watched the movie about his life.
"I'm Ben all the way. He's so smart and honest, and he just has a realistic point of view, and he has no political background, really, but I think that might be just what we need," said Fritz, 32. "He has no agenda."
(c)2015 Los Angeles Times. Distributed by Tribune Content Agency, LLC.
File photo: Republican presidential candidate Ben Carson speaks at the Iowa State Fair in Des Moines, Iowa August 16, 2015. REUTERS/Joshua Lott