Bernie Sanders Tells Colbert He Is Not Dropping Out, Will Continue To Campaign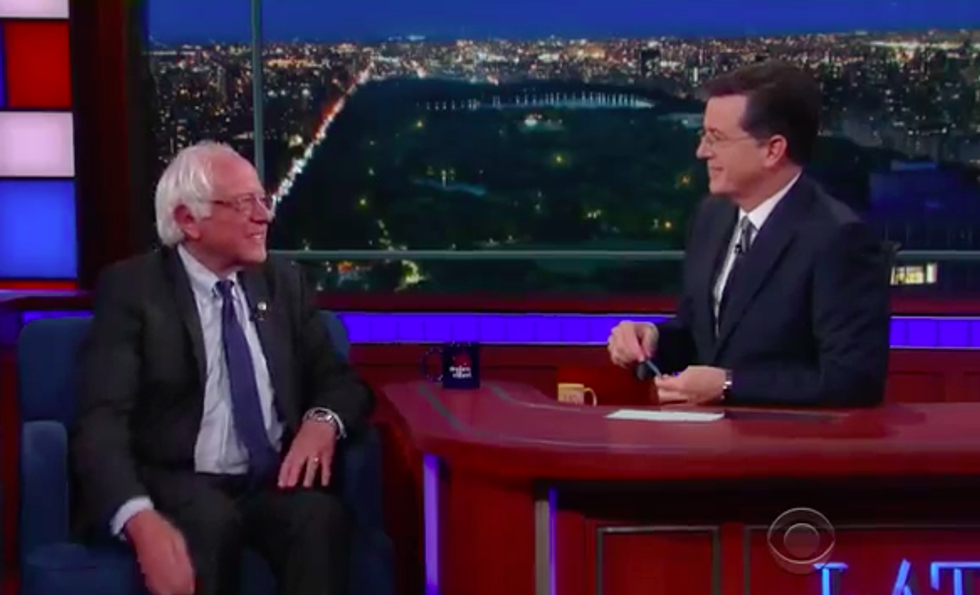 Last night, Senator Bernie Sanders stopped by The Late Show with Stephen Colbert to clarify that he is not yet endorsing the presumptive Democratic nominee Clinton.
When asked about the status of his campaign, Sanders said he is still a candidate and will "absolutely" continue his campaign for the presidency of the United States.
"The struggle for social justice will continue" Sanders said to enthusiastic cheers from the audience, adding that although he understands he will most likely not be the nominee, he is in talks with the Clinton campaign to make sure his "12 million supporters" will be heard. He said moving towards making public colleges and universities tuition-free is at the top of his list.
The Vermont senator also reflected on his campaign": "You learn so much and you see so much of what goes on in America that is rarely seen on TV. There are beautiful, beautiful people out there who love this country and want to transform this country. That was the most gratifying aspect of this whole thing." He told Colbert.