Betsy DeVos Embarrassed Herself On '60 Minutes'
@AlterNet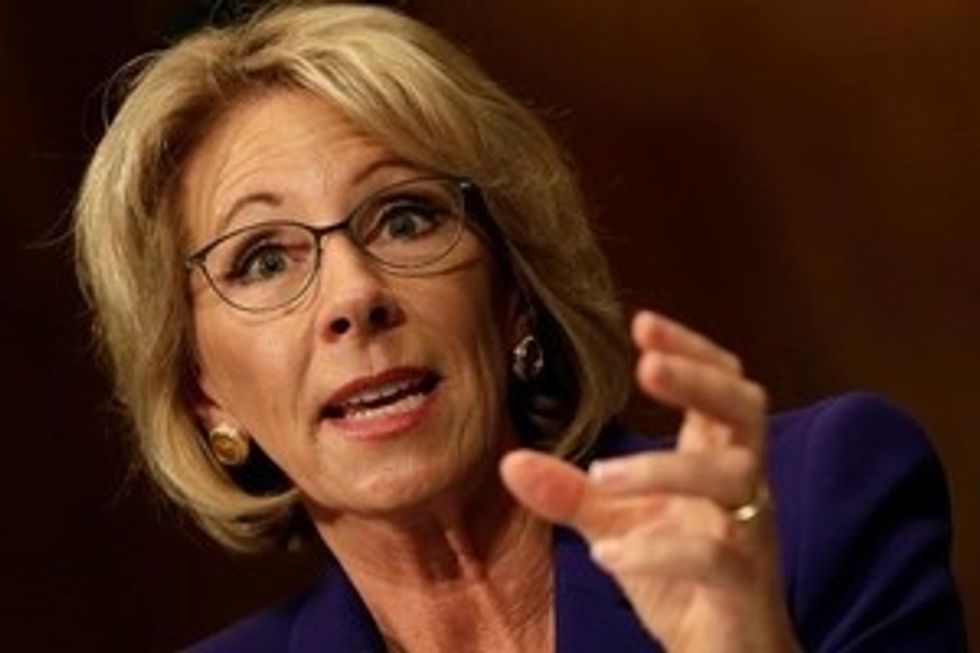 Reprinted with permission from AlterNet.
By Jake Johnson / Common Dreams
Education Secretary and multi-billionaire Betsy DeVos firmly believes that her ascent to the top of the list of President Donald Trump's "most hated" cabinet secretaries is simply the result of one big misunderstanding, but in an interview on CBS's "60 Minutes" Sunday night, DeVos bolstered critiques of her right-wing agenda by failing to answer basic questions and admitting that she hasn't even bothered to visit struggling schools.
"I can't say overall that they have all gotten better," DeVos admitted of Michigan's schools. Pressed by CBS's Lesley Stahl to explain why the so-called "school choice" model she has championed has produced such poor results in her home state of Michigan—where DeVos spent millions on the expansion of charter initiatives and other privatization schemes—the education secretary couldn't muster much of a response.
When Stahl asked DeVos if she has visited the schools that are struggling thanks to lack of funding and failed charter experiments—problems that the Trump White House is looking to worsen with devastating cuts to public education funding—she responded that she has "not intentionally visited schools that are underperforming."
"Maybe you should," Stahl said.
Watch:
Sec. of Education Betsy DeVos struggles to answer fairly basic questions on school performance on 60 Minutes pic.twitter.com/lFVq3USwUW

— Axios (@axios) March 12, 2018
Lawmakers and other critics seized upon the "60 Minutes" interview as further evidence that DeVos is the antithesis of what Americans should expect from the head of the Department of Education.
"Betsy DeVos is disliked because she wants to privatize public education, is rolling back civil rights in education, and supports arming teachers in schools," Rep. Pramila Jayapal (D-Wash.) wrote on Twitter in response to Sunday's interview. "It is that simple."
Others echoed Jayapal and expressed alarm—but not surprise, given both her abysmal Senate confirmation hearing last year and her actions over the past several months—at DeVos's inability to respond to even the simplest questions about the state of education in the U.S.
As a reward for her performance—which Sen. Elizabeth Warren (D-Mass.) argued earns her the title "worst Secretary of Education this country has ever seen"—President Donald Trump placed DeVos in charge of the new Federal Commission on School Safety, which is set to explore possible "solutions" to school shootings, including arming teachers.
every day is a competition to see which cabinet secretary can prove themselves as the most grossly unqualified person for the job https://t.co/tqgAozMlUK

— Ashley Feinberg (@ashleyfeinberg) March 12, 2018
The fate of over 50+ million public school students lies in the hands of Betsy DeVos who confesses that she does not visit underperforming schools. Her inability to answer very basic questions makes clear she knows virtually nothing about public education. https://t.co/UhPLFn7EU2

— Kristen Clarke (@KristenClarkeJD) March 12, 2018
Stop. Allowing. Oligarchs. To. Control. Our. Education. System. https://t.co/ZlttyaImhB

— People For Bernie (@People4Bernie) March 12, 2018
Senate hearing "Do you think… if your family had not made hundreds of millions of dollars of contributions to the R Party, that you would be sitting here today?"

DeVos: "… I do think that there would be that possibility."

Not "absolutely." Not "of course."

Even she knew. https://t.co/ALH8JurEEW

— John Nichols (@NicholsUprising) March 12, 2018
Jake Johnson is a staff writer for Common Dreams. Follow him on Twitter: @wordsofdissent