Bipartisan Legislators Urge Biden To Evacuate Imperiled Afghan Allies
@TUSK81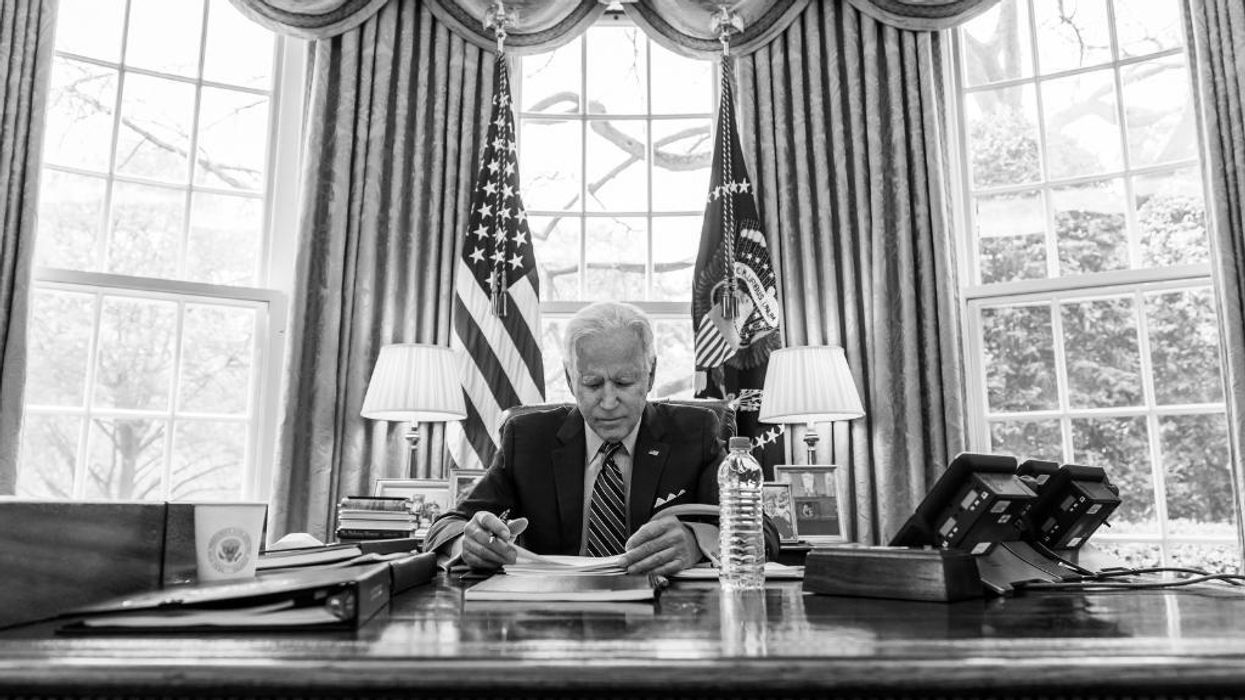 Photo from official @POTUS Twitter
Reprinted with permission from Daily Kos

A bipartisan coalition of House members that includes U.S. military veterans is continuing to call on the Biden administration to quickly evacuate Afghan allies ahead of the withdrawal of U.S. military forces from Afghanistan in September, writing in a follow-up letter to President Joe Biden that "[o]ur Afghan friends and allies are at greater risk than ever before."
"In the past month, we have been closely following your developing withdrawal plans," members of the Honoring Our Promises Working Group write. "We appreciate the complexity of ending the War in Afghanistan, but we are increasingly concerned that you have not yet directed the Department of Defense be mobilized as part of a concrete and workable whole of government plan to protect our Afghan partners."
While the working group was created earlier this year with a goal of expanding the special visa program benefiting Afghans who assisted U.S. military, they say the approaching withdrawal deadline necessitates immediate action from the Biden administration. "The current SIV process will not work. It takes an average of 800+ days, and we plan to withdraw in less than 100 days." That timeline threatens to leave behind thousands of applicants who put their lives at risk to aid our military, lawmakers say.
"After examining this situation through multiple hearings, briefings, and our own offices' research and outreach, our bipartisan working group has concluded that we must evacuate our Afghan friends and allies immediately," they write. "No U.S. entity—to include the Department of Defense, Department of State, USAID, et al.—has the ability or authority to protect them in Afghanistan after our withdrawal. It would be a moral failure to transfer the responsibility to protect our Afghan partners onto the shoulders of the Afghan Government. The time is now to honor our promise and evacuate Afghan SIV applicants."
Like veterans groups and refugee resettlement groups, the working group noted the U.S. has evacuated a large number of vulnerable people in the past, and has the capability to do so again. "The United States has conducted evacuations at a far greater scale before," legislators write, including the evacuation of roughly 130,000 Vietnamese refugees during the Ford administration. Smaller evacuations also occurred during the Clinton administration, including 20,000 Kosovar Albanians in 1999. "We have experience with this type of evacuation in times of crisis, and the current environment in Afghanistan clearly merits such action," legislators said.
"If we fail to protect our allies in Afghanistan, it will have a lasting impact on our future partnerships and global reputation, which will then be a great detriment to our troops and the future of our national security," legislators tell the Biden administration. "Veterans in Congress understand this firsthand: when we recruited our Afghan friends, we promised to have their backs. The Honoring Our Promises Working Group stands ready to provide support and oversight for this critical mission." A full list of working group members is available here.
In its letter to the Biden administration last month, Lutheran Immigration and Refugee Service (LIRS) said "the U.S. must fulfill its commitments to our Afghan allies and work urgently to ensure their and their families' safety. Veterans' groups, national security experts, and legislators agree that we must honor this commitment. Our allies put their lives on the line to support our troops because they believed in the U.S. mission. We must show Afghans and the rest of the world that the U.S. will follow through on our word."
"Through their allegiance and faithful service, these wartime allies and their families have long been the targets of anti-American violence and persecution," LIRS President Krish O'Mara Vignarajah warned in her recent op-ed in The Washington Post. "The omnipresent threat of retribution, tragically, has only grown in the face of imminent U.S. withdrawal."