Biden Says Obama Won't Be Able To Pick The 'Most Liberal Jurist'
@reuters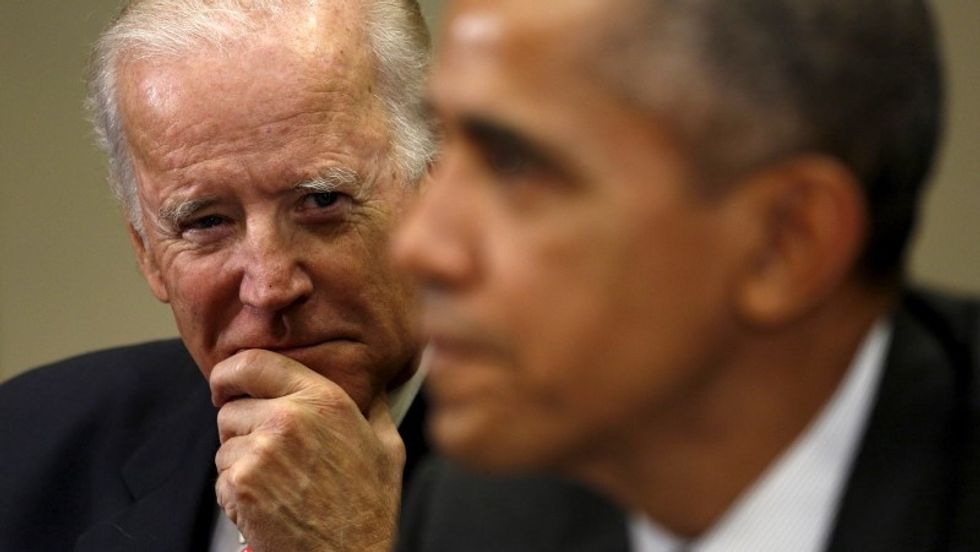 By Ayesha Rascoe
WASHINGTON (Reuters) – President Barack Obama cannot select the most liberal possible candidate for the U.S. Supreme Court and should seek a "consensus" pick who could attract Republican support, Vice President Joe Biden said on Thursday.
A fierce political fight is brewing as the Democratic president prepares to name a successor to conservative Justice Antonin Scalia, who died on Saturday. Obama's nominee could change the court's balance of power. Scalia's death left it with four conservative and four liberal justices.
Senate Democratic leader Harry Reid told MSNBC in an interview that he spoke with Obama on Thursday about the nomination and expected the president to name his choice in "a little over three weeks."
Many Republicans, led by Senate Majority Leader Mitch McConnell, have said the seat should remain vacant until Obama's successor takes office next January so voters can have a say in the selection when they choose a new president in the Nov. 8 election.
    "The Senate gets to have a say," Biden, a former senator, told Minnesota Public Radio in an interview broadcast on Thursday. "In order to get this done, the president is not going to be able to go out, nor would it be his instinct anyway, to pick the most liberal jurist in the nation and put them on the court."
The Senate, whose Republican majority would be unlikely to embrace any selection seen as particularly liberal, must confirm nominees picked for lifetime appointments to the nation's highest court.
"There are plenty of judges who are on high courts already who have had unanimous support of the Republicans. This should be someone who, in fact, is a consensus and whereby we can generate enough support to get a person passed," Biden said.
In a separate interview broadcast on MSNBC, Biden said he would be deeply involved in advising Obama but that he had no desire himself to be named to the high court. Biden told MSNBC the president had sought his advice but they had yet to discuss potential candidates.
White House spokesman Josh Earnest told reporters Obama would draw on Biden's perspective, noting the vice president had served as Senate Judiciary Committee chairman and presided over confirmation hearings for past Supreme Court nominees. Those included the contentious 1991 hearings for Justice Clarence Thomas.
'GET ON WITH IT'
Separately, retired Supreme Court Justice Sandra Day O'Connor, the first woman to serve on the court and a nominee of Republican President Ronald Reagan, took issue with Republicans who are demanding that Obama's successor pick the person to fill Scalia's vacancy.
"I don't agree," O'Connor, 85, told an Arizona television station. "We need somebody in there to do the job – and just get on with it."
Some Republican senators have urged their leaders at least to allow the customary Judiciary Committee confirmation hearings to proceed on any Obama nominee.
"I do believe that the nominee should get a hearing," Senator Lisa Murkowski told reporters in her home state of Alaska on Wednesday.
She added: "That doesn't necessarily mean that ends up in a vote" by the Senate to confirm the nominee.
Senators Dean Heller of Nevada and Thom Tillis of North Carolina this week also indicated support for allowing the Senate to consider Obama's nominee.
Obama will not attend Scalia's funeral on Saturday, a decision that provoked criticism from some conservatives. Earnest rebuked critics who he said "want to use the funeral of the Supreme Court justice as some sort of political cudgel."
Earnest noted Obama would pay his respects by going to the Supreme Court building on Friday when Scalia's body will be lying in repose, and Biden would represent the Obama administration at the funeral.
Obama's presence at public events requires a massive retinue of Secret Service agents and security measures, while Biden's "security footprint" is a little bit lighter, Earnest said, noting the White House had sought a "respectful arrangement."
A CBS News poll and a Wall Street Journal/NBC News poll showed Americans closely split along partisan lines on whether Obama should name Scalia's successor.
(Additional reporting by Roberta Rampton, Lawrence Hurley, Richard Cowan and John Whitesides; Writing by Will Dunham; Editing by Bernadette Baum, Howard Goller and Peter Cooney)
Photo: U.S. Vice President Joe Biden listens as President Barack Obama holds a meeting with members of his national security team and cybersecurity advisors on new actions to enhance the nation's cybersecurity, including measures that are outlined in the President's FY2017 Budget proposal at the White House in Washington February 9, 2016. REUTERS/Kevin Lamarque