Biden Seeks Action On 'Irregular' Migration And Fentanyl Smuggling In Mexico
@AFP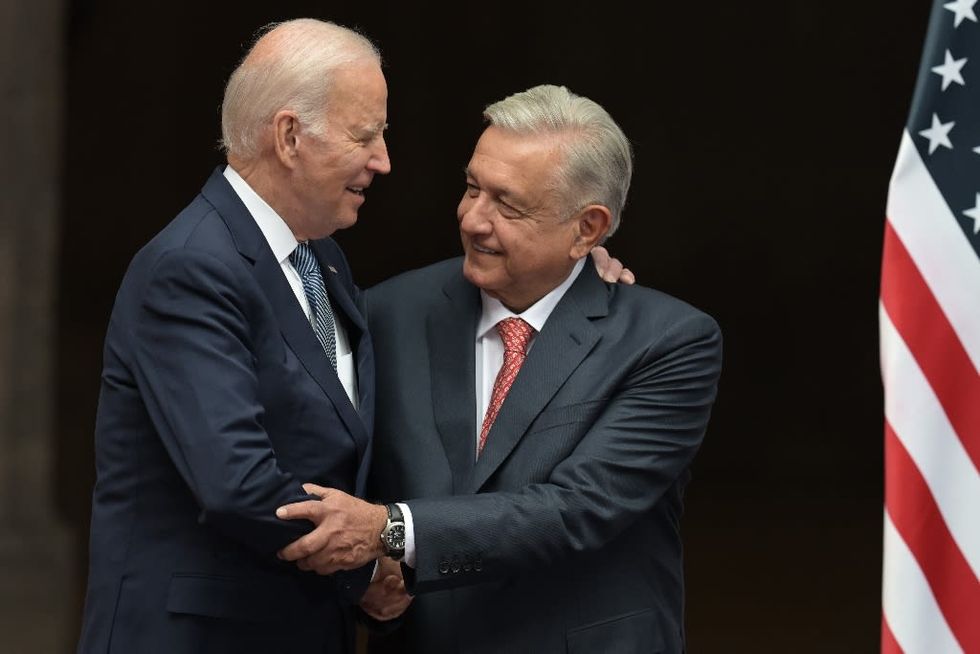 President Joe Biden shakes hands with President Andres Manuel Lopez Obrador at the National Palace in Mexico City
Mexico City (AFP) - US President Joe Biden on Monday sought tougher action on illegal migration and drugs in talks with his Mexican counterpart Andres Manuel Lopez Obrador, as strains showed in the neighbors' approach to tackling the crisis.
Biden is visiting Mexico for the first time as president to meet Lopez Obrador and also hold three-way talks with Canadian Prime Minister Justin Trudeau at what is dubbed the "Three Amigos" summit.
Biden said that one of his priorities was discussing "the plague of fentanyl, which has killed 100,000 Americans so far," referring to the often-deadly opioid smuggled across the border by Mexican drug cartels.
Another vital issue was "how we can tackle irregular migration, which I think we're well on our way to doing," he said at the start of the talks, calling Mexico a "true partner."
While Lopez Obrador gave Biden a warm welcome on his arrival at the presidential palace, his tone hardened at the formal talks, where the Mexican leader appealed for a change in US attitudes toward the region.
"It is time to end this oblivion, this abandonment, this disdain for Latin America and the Caribbean," Lopez Obrador said.
Biden defended Washington's record, saying it had spent "tens of billions of dollars" in the past 15 years alone that had benefited the region.
"The United States provides more foreign aid than every other country just about combined," he said.
"Unfortunately, our responsibility just doesn't end in the Western Hemisphere," Biden added.
The White House said after the meeting that the two leaders had discussed "increased cooperation to prosecute drug traffickers and dismantle criminal networks, disrupt the supply of illicit precursor chemicals used to make fentanyl, shut down drug laboratories, and prevent trafficking of drugs, arms, and people across our shared border."
They also "reaffirmed their commitment to implement innovative approaches to address irregular migration... and to address the root causes of migration," a statement said.
'Where are our rights?'
On his way to Mexico, Biden made a politically charged visit to the southern US border for the first time as president.
He stopped for several hours in the border city of El Paso, Texas, meeting with US officials and inspecting a section of the tall fencing that snakes along the frontier.
"They need a lot of resources. We're going to get it for them," Biden told reporters after his visit to a customs post.
Just ahead of Biden's arrival in Mexico, a line of migrants, some with children in their arms, were deported from El Paso to Ciudad Juarez.
Venezuelan Jose David Melendez told AFP that he had been apprehended by border guards at a church where he was taking refuge.
"The police officers from the border patrol came and hit us, made us run, pointed guns at us, pointed at children with firearms. Where are our human rights?" the 25-year-old said.
On Thursday Biden announced an expansion of powers to expel people showing up at the border without clearance.
At the same time, a legal, strictly enforced pathway will be created for up to 30,000 migrants a month from Cuba, Haiti, Nicaragua and Venezuela.
Asked whether the quota could be increased, White House National Security Advisor Jake Sullivan said Washington wanted to see how the changes unfold, adding: "I don't think we have a fixed number in mind."
Handshakes and Hugs
Lopez Obrador and his wife Beatriz Gutierrez greeted the US president and Jill Biden at the National Palace for a welcome ceremony notable for its smiles, enthusiastic handshakes and even hugs.
The first wives delivered a joint message in English and Spanish emphasizing the two countries' shared values.
In 2021, the United States and Mexico announced a revamp of their fight against drug trafficking to address the root causes of migration, encourage economic development and bolster curbs against cross-border arms smuggling.
Mexico is plagued by cartel-related bloodshed that has seen more than 340,000 people murdered since the government deployed the military in the war on drugs in 2006.
Days before Biden's visit, Mexican security forces captured a son of notorious drug kingpin Joaquin "El Chapo" Guzman, who is serving a life sentence at a US prison.
Climate change and cooperation in clean energy technologies will also be on the summit agenda, with Mexico hoping to benefit from Washington's efforts to reduce its reliance on Asia-based manufacturers.