Biden Seeks To Calm China Air Zone Tensions
@AFP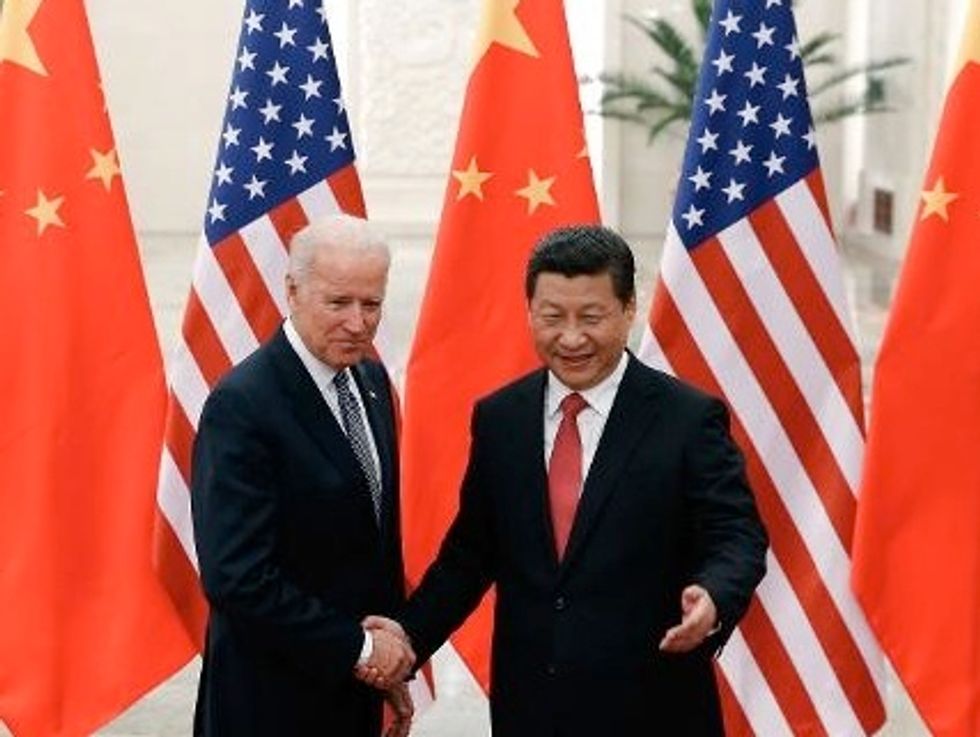 Beijing (AFP) – U.S. Vice President Joe Biden told Chinese President Xi Jinping Wednesday that their countries' relationship will affect "the course of the 21st century" as he tried to ease tensions over an air zone declared by Beijing.
Biden's trip, which began in Japan and ends in South Korea, follows a furore over Beijing's declaration of an "air defense identification zone" (ADIZ) covering the East China Sea including islands disputed with Japan.
It demonstrates the challenges Washington — which has declared a foreign policy "pivot" towards Asia — faces in dealing with an ever more assertive China, the world's second-largest economy, while maintaining a security alliance with Beijing's great rival Japan.
"This is a hugely consequential bilateral relationship that is going to play a significant part in affecting the course of the 21st century," Biden told Xi.
"This new model of major-country cooperation ultimately has to be based on trust, and a positive notion about the motive of one another."
The meeting between the two, who are said to have a good personal rapport, lasted two hours, far longer than the scheduled 45 minutes.
Xi called Biden an "old friend" and told him : "You have long been committed to the growth of China-U.S. relations and I commend you for the large amount of work you have taken."
Relations had generally maintained "positive development", he said, noting that the region and globe were undergoing "complex changes" and "regional hot spot issues keep cropping up".
It was a marked change of tone for Biden after he said at a press conference with Japanese Prime Minister Shinzo Abe Tuesday that the U.S. was "deeply concerned by the attempt to unilaterally change the status quo in the East China Sea".
Beijing provoked widespread anger late last month by declaring an ADIZ in which all aircraft had to be subject to China's orders or face unspecified "defensive emergency measures".
Washington, Tokyo and Seoul all sent military or paramilitary planes into the zone in defiance of Beijing's rules, while the U.S. reiterated its security pact with Japan.

The decades-old argument over East China Sea outcrops which Beijing calls Diaoyu and Tokyo calls Senkaku flared after Japan bought some of the islands from their private owners in September 2012.
Since then, China has sent ships and aircraft to nearby waters while Japan has scrambled fighter jets on hundreds of occasions, raising concerns of an unintended clash.
Beijing has accused the U.S. and Japan — which both have ADIZs — of double standards over its own zone, saying the real provocateur is Tokyo.
It also accuses Japan of being unwilling to negotiate by refusing even to acknowledge that a dispute exists over the islands, which Tokyo controls but Beijing regards as part of its territory.
An editorial in the state-run China Daily on Wednesday said U.S. support for Japan would undermine Biden's credibility in China.
"Despite trying to present the image of being an impartial mediator, Washington has obviously taken Japan's side," it said.
"He should not expect any substantial headway if he comes simply to repeat his government's previous erroneous and one-sided remarks."
Analysts say that despite the rhetoric the two Asian powers — the world's second- and third-largest economies — have strong incentives to avoid conflict, and China may have been looking to stake out a diplomatic position with the zone.
Beijing is ramping up its military spending and capabilities and increasingly sees itself as a global heavyweight.
When Xi — whose slogan of a "Chinese Dream" encapsulates a national rise — met America's Barack Obama in June, he called for a "new model of great power relations".
Biden and Chinese leaders — he is also expected to meet Premier Li Keqiang — were unlikely to let ADIZ friction derail broader efforts to strengthen relations, said Graham Webster, a Beijing-based fellow at the Yale Law School China Centre.
"I don't think it will be the main topic of conversation on this trip despite the recent news," he said.
The overarching goal from such senior meetings was "about continuing the spirit of high-level cooperation and bilateral work in the common interest", he added.
AFP Photo/Lintao Zhang