Biden: Trump's Got A 'Silver Spoon In His Mouth'… And His Own Foot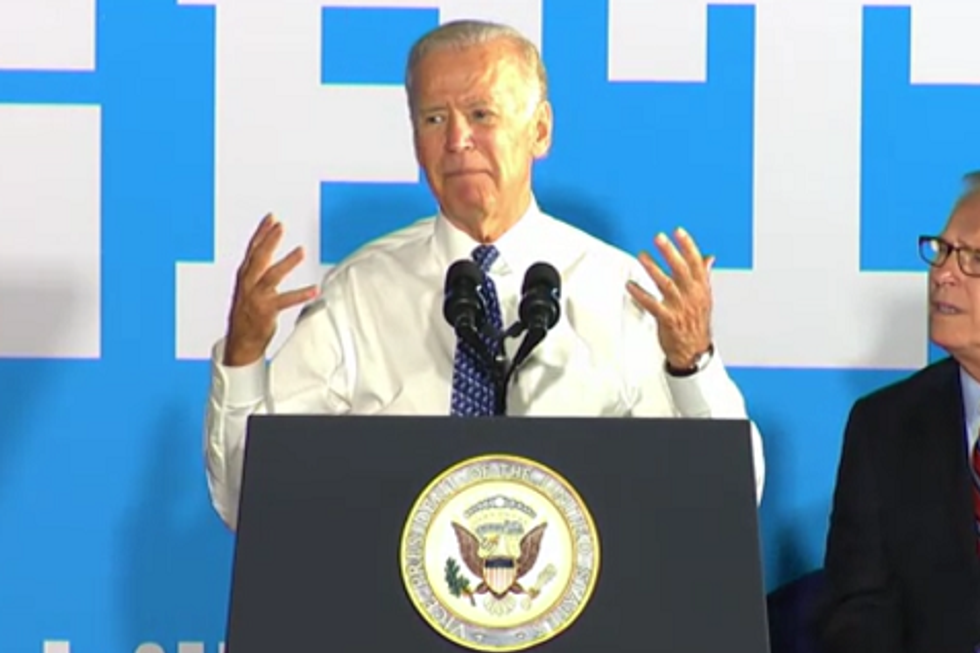 In a campaign stop for Hillary Clinton in Ohio this week, Vice President Joe Biden went off-script to discuss the importance of the middle class and rip Donald Trump's character: "This is a guy born with a silver spoon in his mouth that he's now choking on because his foot's in his mouth along with the spoon."
Biden began by criticizing Trump for "the way he treats people." He focused on the GOP nominee's inability to relate to the American middle class.
"Think about growing up in your house, at your kitchen table, if you ever talked about people like he does. I'm not joking, I really, genuinely mean this: If you ever sat there and talked about how cool it was that John down the street got fired. 'You're fired,' a phrase he's made famous. 'You're fired.'"
"I'm being deadly earnest here, this part's not the campaign speech, man, this is about the character of the person we're talking about electing as president of the United States."
Biden further blasted Trump for being "thoroughly, totally, completely uninformed" and said he altered his schedule to meet with foreign leaders to reassure them of the U.S.'s commitment to NATO after Trump's comments.
"For the first time he is causing nations to wonder whether or not we will keep our word," Biden.
Biden's remarks were reminiscent of a sentiment we've heard before about a major presidential candidate. In her Democratic National Convention keynote address in 1988, Ann Richards, Texas governor from 1991-1995, criticized George Bush senior for his seemingly sudden interest in the American future: "Poor George. He can't help it — he was born with a silver foot in his mouth."
Watch Biden's comments, below:
Photo and Video via Reuters