Big Ammo Stash Found In White House Intruder's Car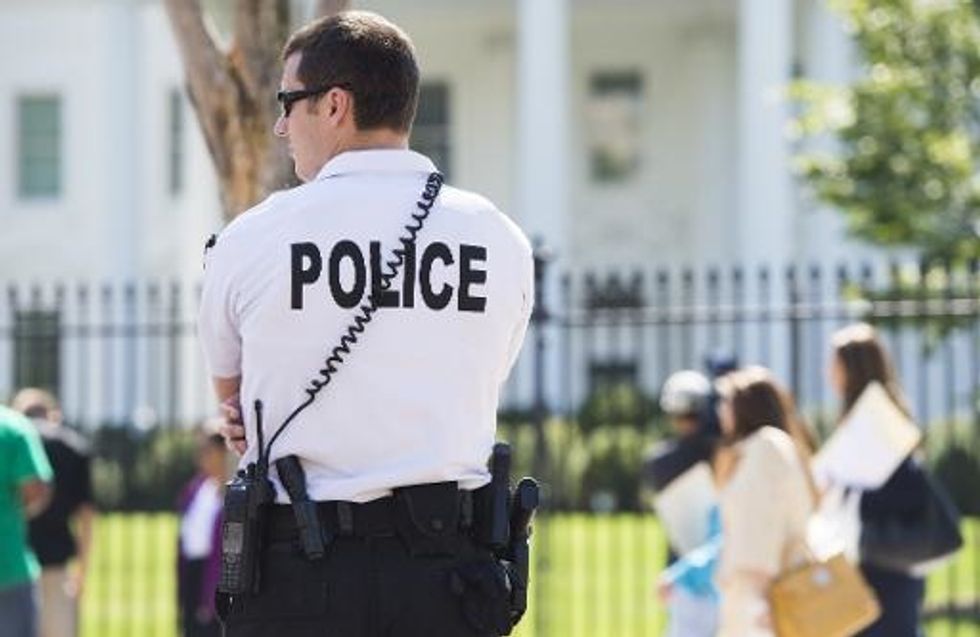 Washington (AFP) — A homeless U.S. army veteran who jumped a fence and ran into the White House with a knife had more than 800 rounds of ammunition in his car, a court heard on Monday.
Omar Gonzalez, 42, appeared in U.S. District Court as Barack Obama's spokesman said the president is "obviously concerned" by Friday's stunning security breach.
Wearing an orange prison jumpsuit, Gonzalez stood impassively as U.S. prosecutor David Mudd revealed that investigators had found the ammunition — "in boxes and magazines" — during a search of a car that was parked near the White House.
Also discovered were two hatchets and a machete, said Mudd, who made no mention of any firearms but described the accused as homeless, penniless and a flight risk.
Gonzalez was arrested on Friday after he evaded the outer layer of security around the U.S. presidential residence, carrying a folding knife, and made it inside before being tackled.
A native of Texas who twice served in Iraq, he is charged with unlawfully entering a restricted building or grounds while carrying a deadly or dangerous weapon.
If convicted, he faces up to 10 years in prison.
Mudd revealed that Gonzalez had been free on bail following his arrest in July in the nearby state of Virginia on felony charges of eluding arrest and possession of a sawed-off shotgun.
On that occasion, he said, police found "numerous firearms" in Gonzalez's vehicle, including a sniper rifle, plus a map tucked into a Bible with the White House and a Masonic temple circled.
Gonzalez was also stopped, but not arrested, outside the White House in August with a hatchet in his rear waist band. Police searched his car, but only found camping gear and two dogs.
– 'Danger to president' –
"Mr Gonzalez's preoccupation with the White House and accumulation of a large amount of ammunition… renders him a danger to the president," Mudd told Judge John Facciola, who set October 1 for a detention hearing.
Gonzalez was assigned a public defender to represent him, but an offer of a mental health assessment was declined.
Earlier Monday, as the Secret Service reviewed its security practices, White House spokesman Josh Earnest said Obama had been repeatedly briefed on Friday's incident.
"His family lives in the White House, and so he is obviously concerned by the incident that occurred on Friday evening," he said.
"At the same time, the president continues to have complete confidence in the professionals at the Secret Service."
Obama, who had set off for a family weekend at his Camp David retreat in Maryland shortly before the incident, later said that he thought the Secret Service did "a great job."
"I am grateful for all the sacrifices they make on my behalf, and on my family's behalf," he told reporters.
Earnest said the review by the elite presidential protection branch would test the feasibility of what he called the "positioning of tactical and non-tactical assets inside and outside the fence line."
It would also look at Secret Service staffing, procedures, and physical and technical security enhancements, he said.
The drama has whipped up intense media and public interest, prompting Homeland Security Secretary Jeh Johnson to warn against jumping to premature conclusions.
– 'No rush to judgement' –
"I encourage all of us to not rush to judgement about the event and not second-guess the judgement of security officers who had only seconds to act, until all the facts are in," he said.
U.S. lawmakers are also scrutinizing the incident, setting up a September 30 meeting of the House Oversight and Government Reform Committee to examine the circumstances of the breach.
The fence-jumper's former stepson told CNN that Gonzalez suffers from post-traumatic stress disorder (PTSD) and paranoia.
Extra Secret Service officers were in evidence around the presidential mansion and adjacent Lafayette Park on Monday.
Earnest said the ceremonial front door — through which large groups of tourists routinely file on White House tours — would from now on be secured when not in use.
AFP Photo/Saul Loeb
Interested in more national news? Sign up for our daily email newsletter!